As the whole country dealt with the impact of a long-drawn and protracted global health crisis in 2021, the Company stayed committed to providing people with a safe and healthy workplace at all times.
NAC has an Occupational Safety and Health (OSH) management system, ISO 45001 certified, which guided the intensified Safety Awareness Campaigns along with the continuous implementation of Safety Programs, and provision of PPE (including COVID-19 PPE), and intensive implementation of COVID-19 protocols.
The subsidiaries also intensified the walkaround inspections and audits on all areas of operations, including contractors. In addition, engineering controls were implemented, such as the installation of barriers, handwashing facilities, and Isolation Areas. The Company made adaptations that addressed work arrangements (work-from-home or modified work schedules), travel restrictions, Daily Health Checklist, workplace disinfection, COVID-19 Vaccination Drive, mandatory Antigen Testing, information dissemination, Vitamin C distribution, provision of face mask and face shield. In most cases, the Company practiced stringent health protocols at a level even higher than those required by the Department of Health or by the COVID-19 Inter-Agency Task Force (IATF).
Onsite, employees were supported with clinic services, First-Aid provision, Immunization/ Vaccination Programs (for Flu, Pneumonia, Hepatitis and Tetanus Toxoid), Periodic Physical Examination/APE, IECs, monthly immune system supplements (Vit. C, Vit. B Complex, Vit. D), doctor consultation, monitoring of various health conditions (blood sugar, blood pressure, etc.), Rapid Antigen testing for employees, 24/7 emergency services.
Our people's active cooperation and adherence to the minimum health protocols for COVID-19 were solicited through clear and constant communications using various channels such as pep talks, IECs, toolbox meetings, and promotion through social media. Regular and frequent decontamination of offices, equipment and common areas was also conducted, along with temperature check and health assessment upon entry at the mine site.
OSH personnel on duty monitored the site, while the Central Safety and Health Committee (CSHC) of all mine sites stepped up their drive to ensure the consistent execution of the safety programs at all times and in every situation.
The CSHC is composed of the Resident Mine Manager, at least one safety engineer, and representatives across Divisions, Groups, Departments, Sections, the union, and contractors. The CSHC implements standard processes and constantly monitors issues and employee concerns relating to health and safety. Safety Officers conduct regular inspections to ensure compliance with the Company's safety rules and regulations.
Seeking to ensure that employees have a voice in these Health and Safety Committees, employees are proactively sought for input and suggestions.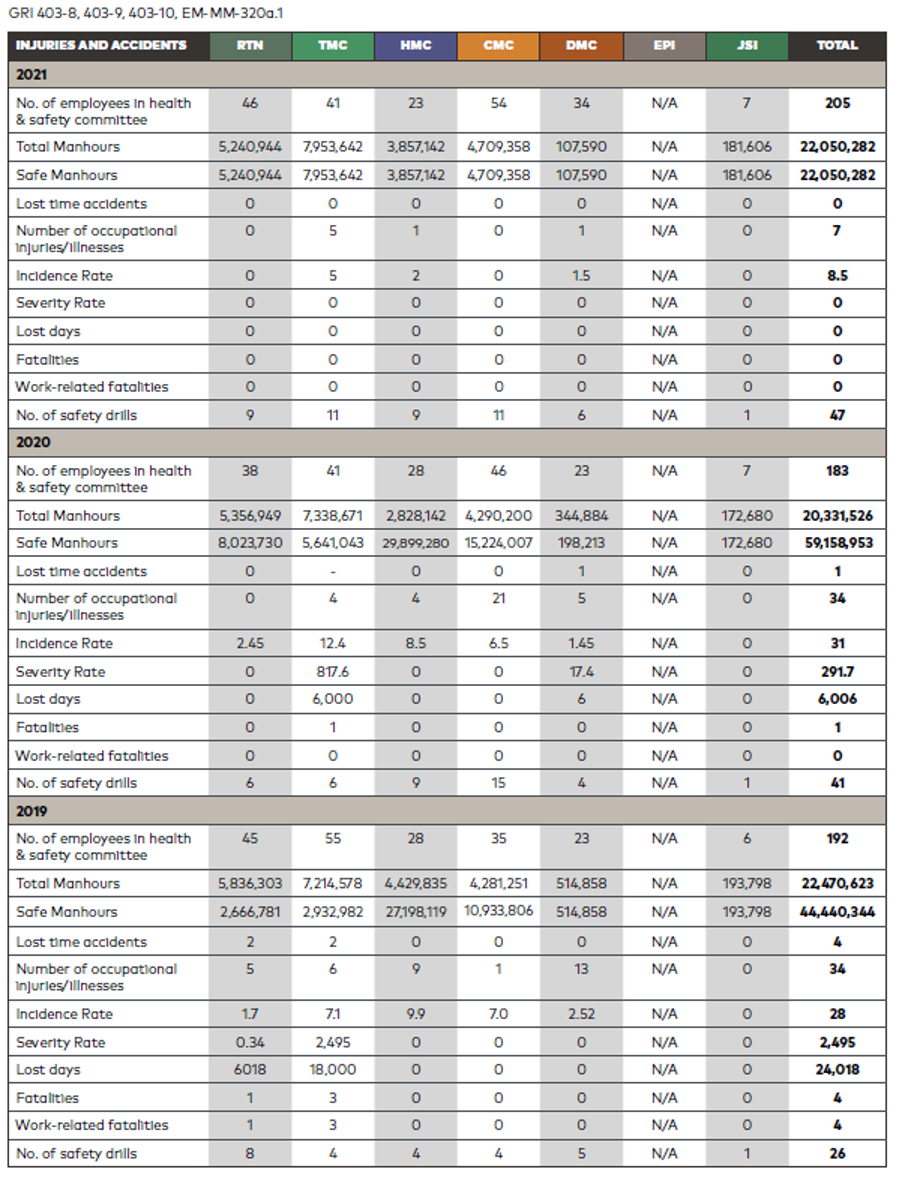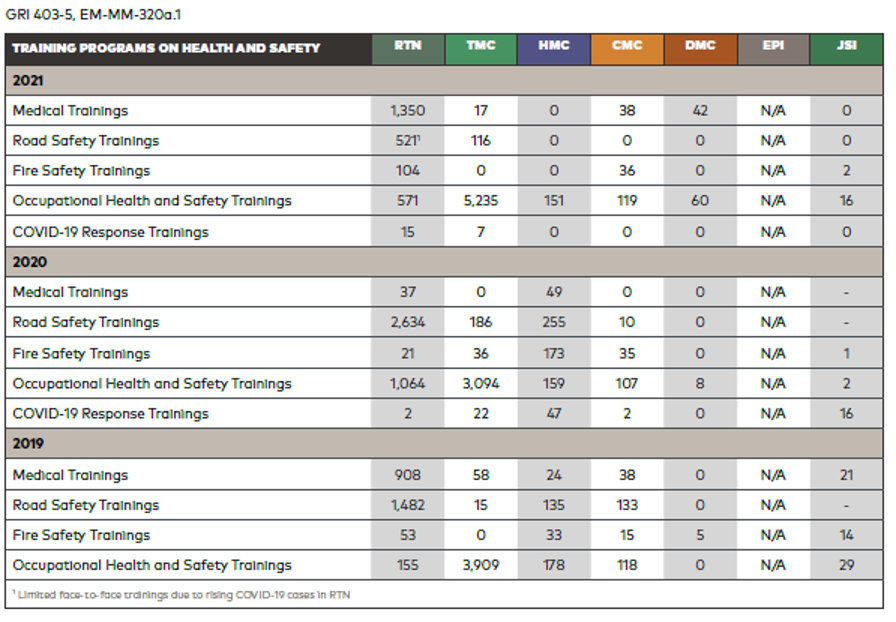 Safety Policy
Nickel Asia Corporation (NAC) commits to eliminate all downgrading incidents in our operations by implementing a comprehensive occupational health and safety management system. This undertaking is compliant with relevant laws and regulations and is consistent with our policy of ensuring the well-being and safety of our employees, service contractors, suppliers, visitors, host communities, our other stakeholders, and even the security of our assets and information.
NAC management will continuously institute discipline and accountability by following and developing the highest standards of safety and health to prevent injury, illnesses, and damage to properties and equipment. With this undertaking, management will perform regular safety audits to verify the program's effectiveness and to introduce relevant improvements.
All NAC employees and business partners are therefore obliged to adhere to this policy and to make SAFETY our way of life. This policy will be communicated to all NAC subsidiaries for the fullest commitment and cooperation of all employees.

LTIR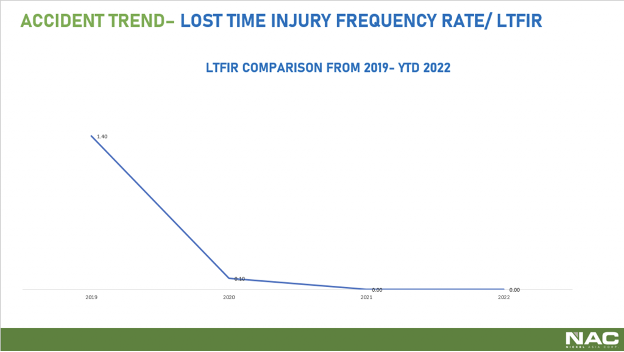 From a 1.40 Lost Time Injury Frequency Rate/LTFIR last 2019 due to struck-by and run-over accidents in two of the NAC Group's operating sites to a 0.10 LTFIR last 2020 due to a struck-by accident in one of the operating sites, NAC Group has now maintained a ZERO LTIFR since 2021. This is evidence that the Group places a high focus on safety and makes safety its top priority. The figures reported also included service contractors.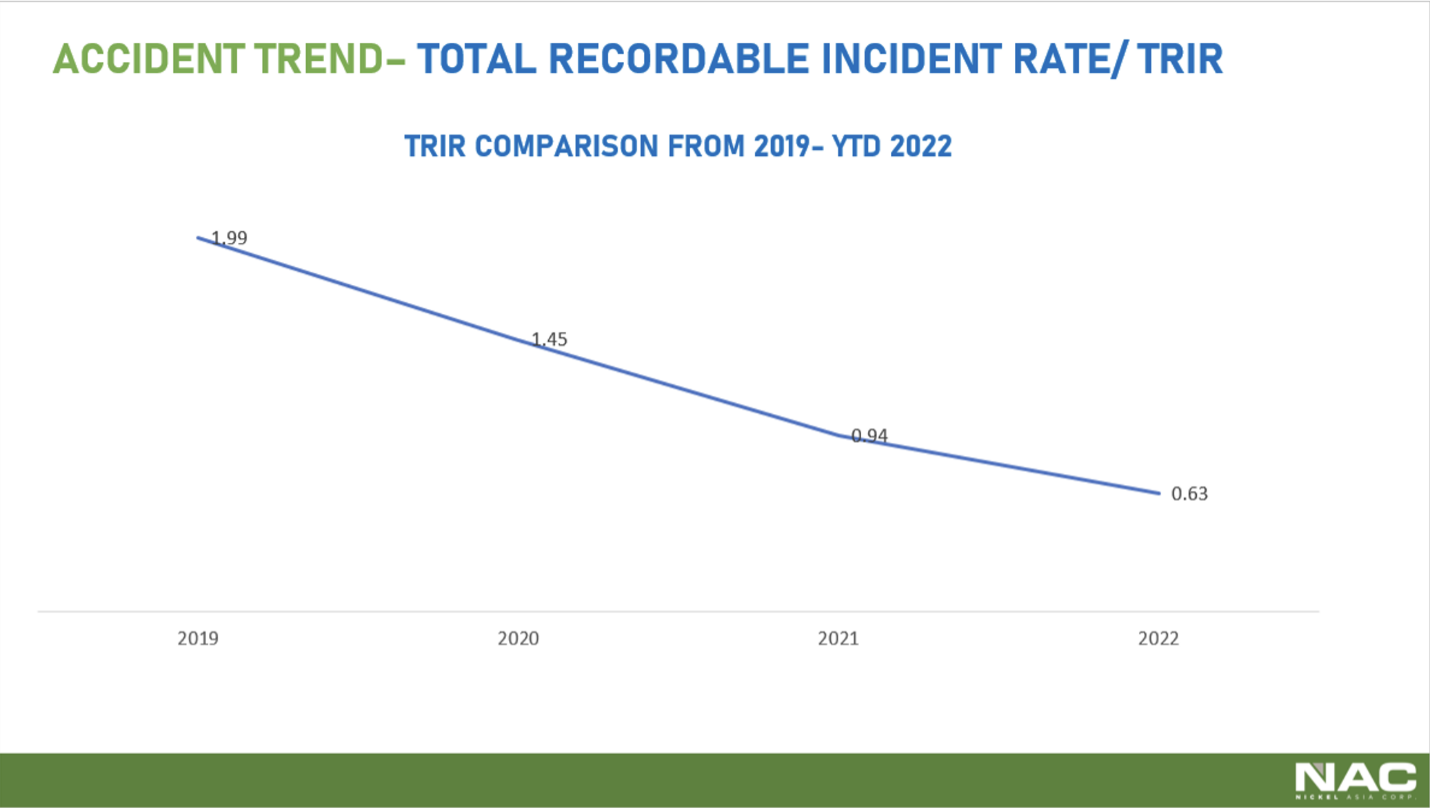 TRIR = number of ALL accidents (injury and property damage) during the period x 200,000 man-hours worked over man-hours worked during the period
Included in the computation of TRIR are man-hours worked by all service contractors.
NAC Group's Total Recordable Incident Rate/ TRIR has continued to decrease from a TRIR of 1.99 last 2019 to a TRIR of 0.63 in 2022.
HIRARC
The NAC Group of Companies follow a hazard identification risk assessment and risk control (HIRARC) process to ensure that occupational health and safety hazards, the risks posed by their presence, and the controls in place to avoid or mitigate them are systematically identified, documented, analyzed, prioritized, and monitored.
The procedure in formulating the HIRARC are as follows:
Review processes and operations & identify hazards
Rate significance of hazards identified
Review the ratings
Develop operational control/s
Review and approve ratings
Maintain and update register
Maintain a central file under the custody of the lead document controller
Personnel involved:
Risk Assessment Team
Supervisors
Worker / Worker Representative
Section / Department / Division Heads
Review and audit of HIRARC controls are done either on an annual or as-needed basis depending on the severity of hazards and risks being managed. A third-party auditor is also engaged to ensure transparency of the processes being undertaken.

Contractor's Safety and Health Program
The NAC Group not only ensures a safe and healthy workplace for its employees but also requires all of its subcontractors providing services to observe safety as a top priority. Contractors must have their own respective Safety and Health Programs (SHP) with the following protocols in place:
Organizational Structure and Safety Committee
Safety Meetings, Promotions and Trainings
General Safety Inspection and Monitoring
Accident and Near-miss Incident Reporting, Investigation and Analysis
Emergency Response and Preparedness
Health Hazards Control and Implementation
Provision of Personal Protective Equipment
Good Housekeeping
The NAC Group believes that every employee is responsible in the safety and well-being of each individual in its operating sites.