Using best mining practices in relation to environmental protection conforms to NAC's commitment to the principles of sustainable development. Our environmental management systems are in consonance with our ISO 14001 certification while specific environmental measures are embodied in each mine site's Environmental Protection and Enhancement Programs (EPEPs). The EPEPs are comprehensive and strategic environmental management plans that cover management objectives, criteria and commitments pertaining to the environment, including protection and rehabilitation. Each of our mine sites carries out its environmental programs through its respective Mine Environment Protection and Enhancement Officer. Mines Multipartite Monitoring Teams reviews our environmental programs on a quarterly basis. On an annual basis, we submit an accomplishment report based on the objectives outlined in the EPEP.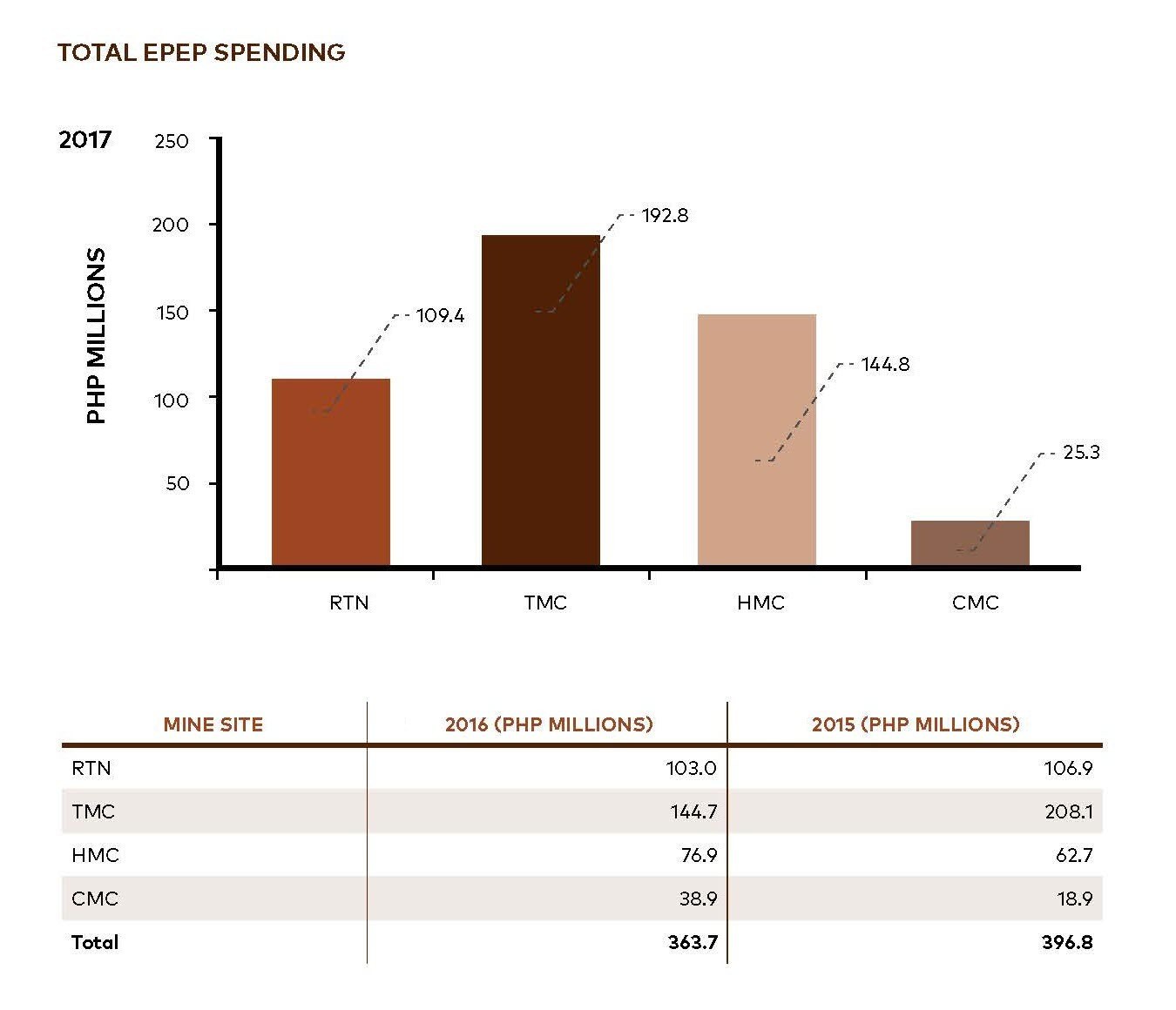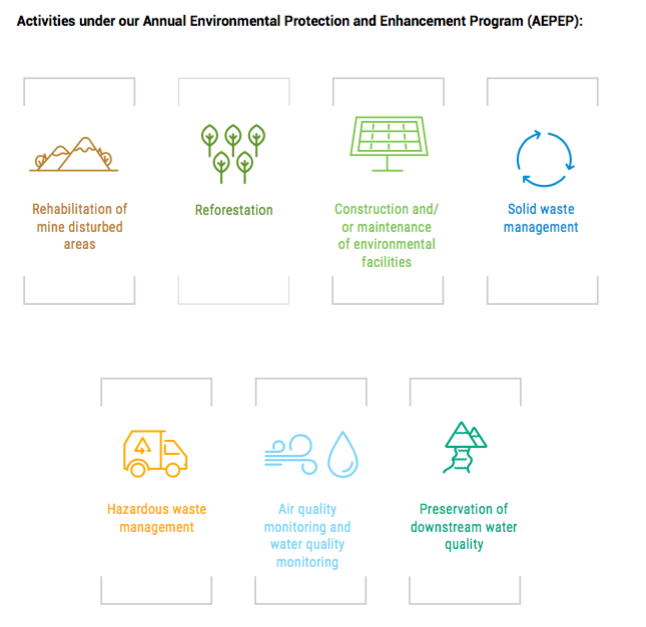 Rehabilitation
We regularly conduct on site environmental assessments to ensure that all our subsidiaries are strictly implementing progressive rehabilitation within the standards set by the Philippine Mining Act of 1995 and regulatory agencies.
The process begins by re-contouring, back filling, and levelling the land. The area is then covered with top soil and other soil amelioration strategies to provide fertile ground for vegetation. We follow the "Sequential Planting Method", where we initially plant the fast growing species, followed by a vegetative cover within a period of 12-18 months to enable planting of other species. Utilization of large planting materials is another method, which results to more than 90% survival and high growth rate.
We want to develop an area full of biodiversity including native fruit bearing trees that will eventually become the source of food for a variety of wildlife species – the same species that will aid in rehabilitating the mine site through natural process by ways of succession and regeneration. This is managed by our expert foresters with the help of the local community or indigenous peoples. Through time, we have positively demonstrated that a totally mined site can be re-vegetated in a span of 12-18 months.
We require all our mine sites to create a decommissioning or closure plan as a means of rehabilitating and monitoring the area once post-operational. The MGB have set-out criteria, wherein apart from environmental, social aspects must also be considered. To date, all our four operating mine sites have already developed their respective plans for MGB's review and approval.
As of December 31, 2015, we have recognized a provision of mine rehabilitation and decommissioning of PhP 169.9 million. Funds for mine rehabilitation and other environmental guarantee funds amounting to PhP 214.9 million have been established and deposited in trust funds as required by the Philippine Mining Act.
Environmental Compliance
We are environmentally compliant. We adhere to the policies and laws prescribed by the DENR-Mines and Geosciences Bureau (MGB), the Environment Management Bureau (EMB), the Protected Areas and Wildlife Bureau (PAWB), the Department of Labor and Employment (DOLE), the Department of Health (DOH), the National Commission on Indigenous Peoples (NCIP), and the local government units (LGUs). All NAC subsidiaries abide by commitments stipulated in their Environmental Compliance Certificates (ECC) and specified in their approved Work Programs.
We respect and follow all pertinent rules and requirements for responsible mining operations including the following: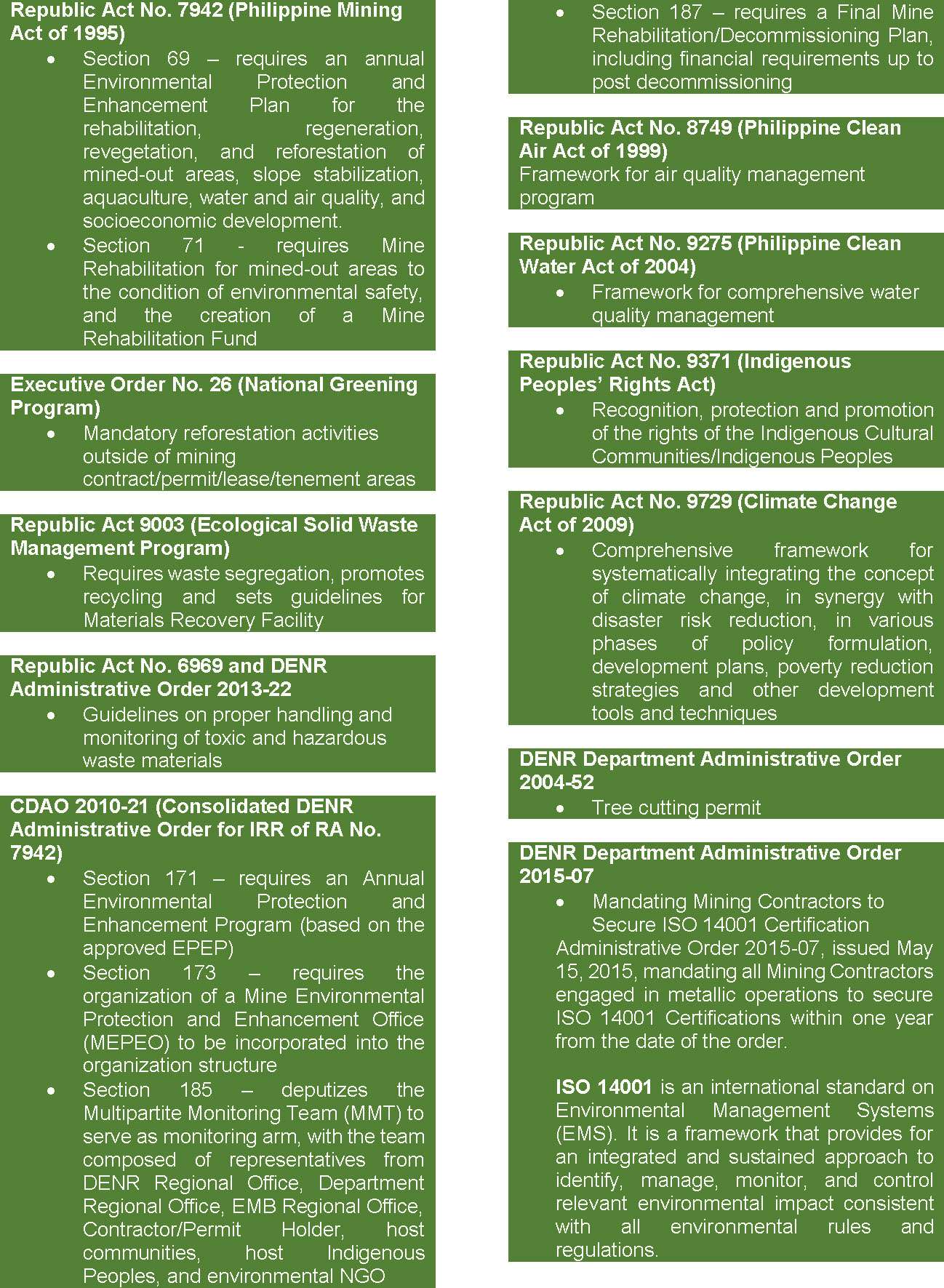 Pursuant to the Administrative Order, NAC's operating subsidiaries, Taganito Mining Corporation (TMC), Rio Tuba Nickel Mining Corporation (RTN), Cagdianao Mining Corporation (CMC), and Hinatuan Mining Corporation (HMC), underwent a yearlong process to identify all environmental impacts, address such impacts, document an environmental management system that complies with the standards, and cascade down the EMS to all employees for their full appreciation and compliance. Following two audits conducted by the certifying body, TÜV Rheinland, the operating subsidiaries all received their ISO 14001 Certification in 2016.

Environmental Scorecard
A quick snapshot of our overall environmental performance for the 4 operational mine sites.