Good Governance


NAC and its employees strive every day to ensure that our actions and decisions are guided by our values, and the principles of ethics and good governance. The goal is to create positive impact on the lives of our stakeholders. The Company has institutionalized these attributes in policies and processes that enable people to responsibly contribute, grow, and pursue their career goals, as they help the Company achieve its vision.
Economic Performance
In provinces or regions where our mines are located, the Company's operations have a significant contribution to the local economy.
NAC provides direct and indirect employment of close to 7,000 employees. Purchases from local suppliers account to about 39% of the Company's total procurement. At the national level, overall operations paid PhP 674 million in excise taxes and PhP 1.67 billion in income taxes. Total taxes paid by overall operations in 2019 reached PhP 4.2 billion, including PhP 290.4 million paid to the LGUs.
Through these taxes, NAC was able to positively impact the communities in which we operate. For instance, Bataraza in Palawan unveiled two major projects funded by municipal taxes; a large majority of which was sourced from RTN and Coral Bay Nickel Corporation (CBNC). Acting municipal treasurer Romana Bermudez reported that the companies' [RTN and CBNC] payment on real property and business taxes have a "huge impact" on the economic growth of the town, which is poised to become the first city in southern Palawan come 2020.
Aside from the mandated SDMP, NAC and its operating companies also have corporate
social responsibility (CSR) programs that aim to improve the well-being and economic condition of the people in host and neighboring communities. Where Indigenous Peoples (IPs) reside in our host communities, we share 1% of our revenues to the IPs in the form of royalty. We also share part of our revenue to the IPs in Rio Tuba, even though the IP community there was not acknowledged by the National Commission in Indigenous Peoples (NCIP) to have ancestral domain over the areas of our mining operation. Total royalties paid amounted to PhP 115 million.
Supply Chain Management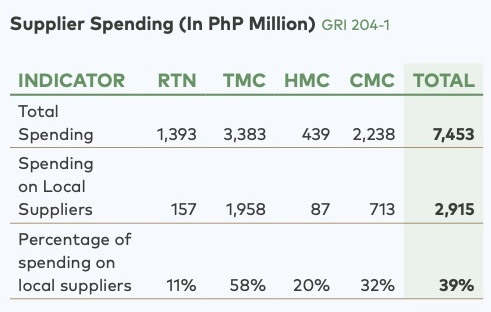 NAC manages its supply chain through an accreditation process. The process includes environmental performance in the criteria reviewed by an Accreditation Committee. Aside from track record, quality, cost, and delivery lead times, the committee insists on Safety, Environmental, and Regulatory compliance in its suppliers and vendors.
Whenever possible, the Company prioritizes local suppliers because the majority of them are already authorized distributors of foreign principals. It can take advantage of paying in Philippine Peso and having standard terms of payment.
Since an efficient supply chain is essential to sustainability, NAC takes proactive measures to prevent possible incidents of sub-standard quality of materials or service from suppliers. Whether local or foreign, this is done through constant coordination with end-users to monitor performance. The Company also maintains up-to-date intelligence from accredited foreign suppliers to get the latest information about possible distribution of fake
and imitation products in the market.
Anti-Corruption
The Company had no recorded complaints or cases of corruption in 2019. The Company's drive for anti- corruption is institutionalized within the Code of Business Conduct and Ethics and in the Corporate Governance Manual. These policies are emphasized during new hire orientations, as well as during the annual general orientation held for all employees.
Through the annual renewal of certificate of integrity and compliance by all employees, each one is able to acknowledge that they have read and understood the Code of Business Conduct and Ethics. This helps ensure that NAC's principles are kept fresh in our people's consciousness, helping them stay alert to potential risks.
Ensuring Good Labor Practices
NAC conscientiously adheres to all Labor Laws; particularly those that cover child labor, forced labor, and the respect for human rights.
The Company had no recorded incidence of violations for 2019. Indeed, we are an equal opportunity employer by mandating non-discrimination policy in the workplace, especially during the hiring process.
Any complaint of such nature is treated seriously and with due process. We provide employees with open channels to freely communicate their concerns without fear of retaliation. To encourage employees to share feedback and concerns, there are feedback monitoring forms that can be dropped in suggestion boxes. These boxes can only be opened by the IMS coordinator. Suggestions and concerns are forwarded to the proper departments, and are treated as confidential documents. Replies are forwarded to the employee concerned.
Compliance
As a point of principle, NAC is resolutely environmentally compliant. We adhere to the policies and laws prescribed by the Department of Environment and Natural Resources (DENR) and its agencies; namely the Mines and Geosciences Bureau (MGB), the Environmental Management Bureau (EMB), the Biodiversity Management Bureau (BMB). We also adhere to the policies and laws prescribed by the Department of Labor and Employment (DOLE), the Department of Health (DOH), the National Commission on Indigenous Peoples (NCIP), and the local government units (LGUs).
All NAC subsidiaries abide by commitments stipulated in their Environmental Compliance Certificates (ECC), and specified in their approved Work Programs. We respect and follow all pertinent rules and requirements for responsible mining operations including the following: