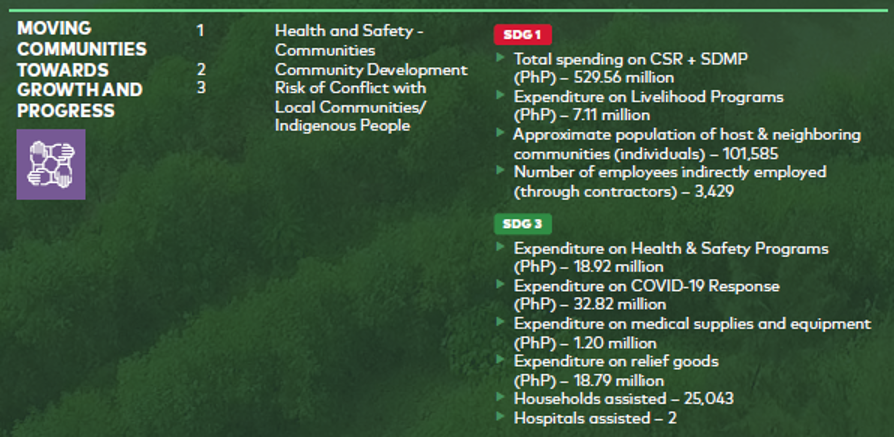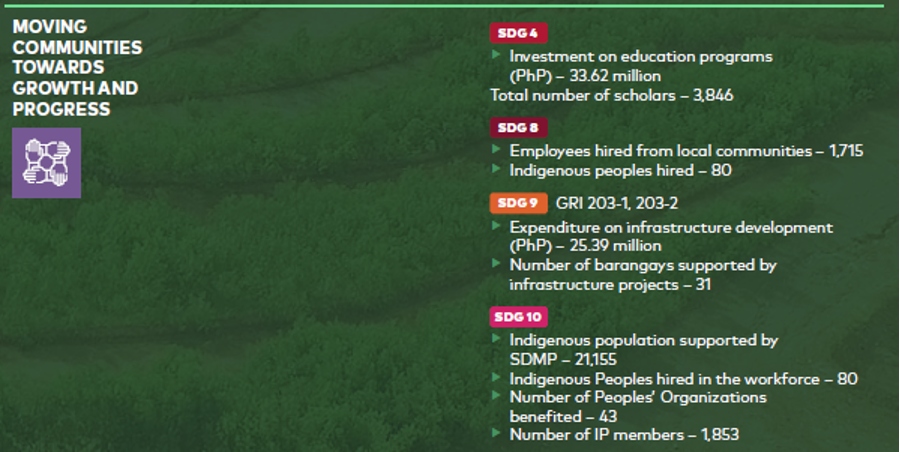 NAC's relationships with its host and neighboring communities have been built over the years of working together towards the same goals. The Company's Social Development Management Program (SDMP) and its Corporate Social Responsibility (CSR) initiatives have been impactful, meaningful, and relevant. NAC designed its SDMP and CSR programs to address the genuine needs of the communities, which became most important as families struggled through the unprecedented crisis that continued throughout 2021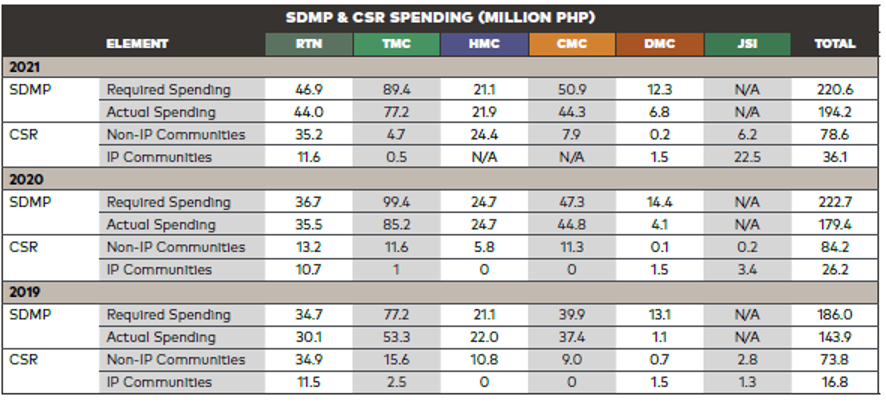 Community Relations
With the lockdowns and restrictions on movements brought about by the pandemic, local government units (LGUs) requested that programs focus first on mitigating the COVID-19 impact on communities. As a result, the Company temporarily placed many programs on hold, especially those requiring face-to-face interactions and community gatherings.
The Company realigned initiatives toward purchasing food items for distribution to respective barangay stakeholders as support. The IEC programs became a platform for MHO to discuss new implementing rules of the Province and the Municipality relative to COVID Protocols. The environmental IEC provided a refresher on solid waste management best practices that households can adopt as families stay at home.
DMC conducted an information campaign on the health benefits of vaccination and blood donation and the importance of continuing to take care of the environment, with a focus on solid waste management. These were done in partnership with MHO and DMC Health and Environment Teams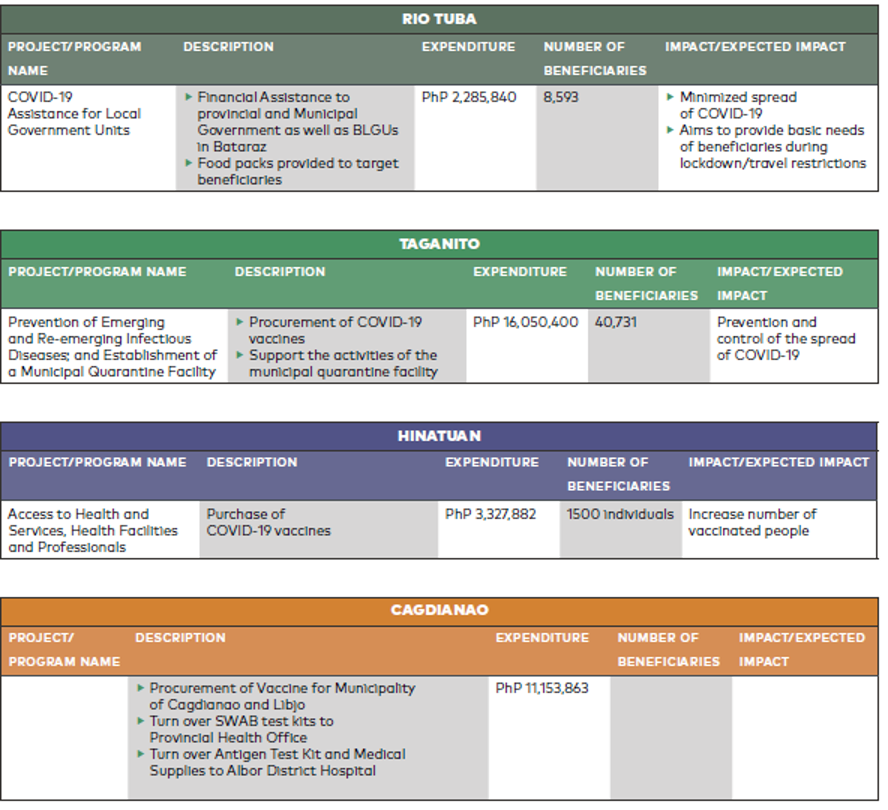 Promoting Health and Wellness
As an advocate of health and wellness for our communities, NAC provides fully equipped medical facilities in each of our operating mines. And while pandemic restrictions have temporarily stalled our usual medical missions for other nearby communities, those plans will be resumed once the situation eases and such activities are once more allowed.
In the meantime, the Company looked for ways to contribute to and promote healthy habits for the benefit of the people. For instance, TMC provided handwashing facilities to 29 schools within Claver, Gigaquit, and Surigao City as part of its SDMP. As a result, 52 handwashing units were distributed to public elementary and high schools to support efforts to encourage frequent handwashing as a way to protect oneself from the COVID-19 virus.
Aside from donating to schools, TMC also gave out handwashing facilities to the local government units of the Municipality of Bacuag, Barangays Binacoran, and Villa Riza in the Municipality of Malimono and the Philippine Red Cross - Surigao del Norte Chapter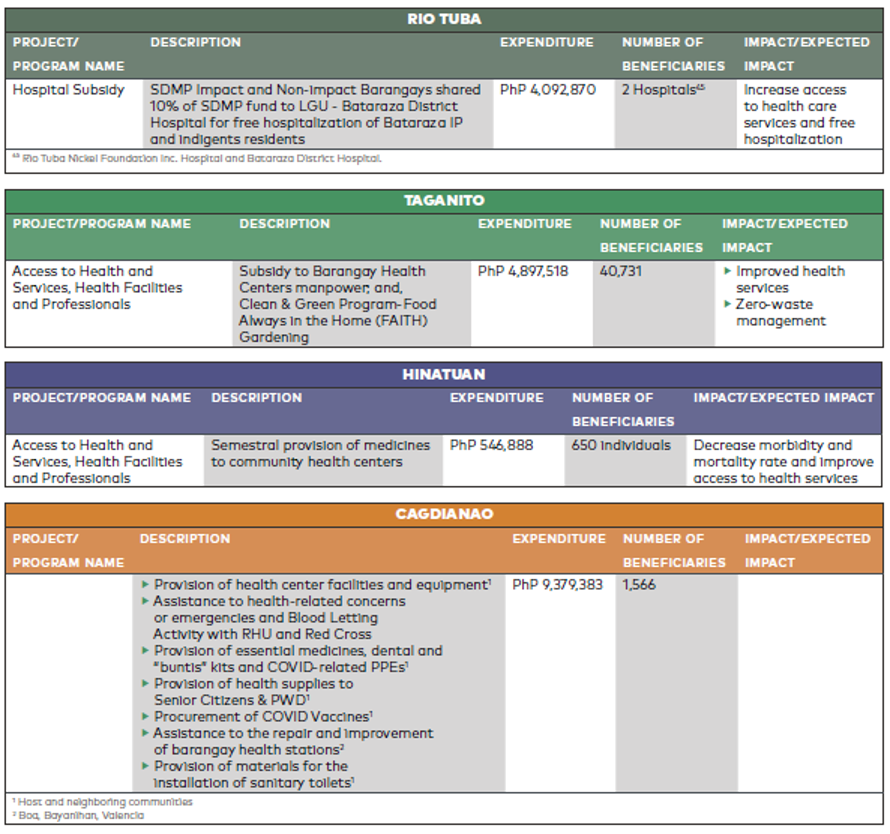 Strengthening Livelihood Programs
Key to NAC's SDMP design is the principles of skills training and start-up resources for meaningful impact. This was even more important in 2021 as communities worked to recover from the adverse effects of the pandemic.
Among the many activities the Company initiated were the following:
HMC's supported the Talavera United Women's Association (TUWA) through the provision of delivery service motorcycle and pump boat. TUWA owns and manages Island's Pure Water Refilling Station in Barangay Talavera in which the vehicles will be used to transport and distribute products to its customers in Brgy. Talavera and in nearby island communities. With the addition of the delivery service motorcycle, TUWA can deliver its products to customers far from their business location. The pump boat allowed to cater to clients from neighboring island communities, enabling them to serve more customers, even those in neighboring islands. Customers can simply text, chat or call when they need water, making it more convenient for them who are mostly housewives tending to their homes. RTN turned over around 1,000 calamansi seedlings to the indigenous people (IP) community of Sitio Cabuan, Barangay Ocayan in Bataraza, Palawan as the Company aimed to support the revival of backyard gardening and to attain food sufficiency during the pandemic for the IP community.
Around 200 households in Ocayan benefitted and each one received five seedlings to maintain and cultivate as their livelihood's source. The community shifted to calamansi farming after they encountered a problem with the water sources for their previous vegetable plantation. With calamansi, the community can enjoy the benefits within a short period of time as the crop grows quicker. With proper cultivation, the community can harvest the fruits after a few months' time.
RTN also extended support to the farming venture of the Indigenous Cultural Community (ICC) of Sitio Pinuwasan, Barangay Sumbiling in Bataraza through the provision of some Jackfruit and Calamansi seedlings as sources of additional income for the farmers. The farming venture is expected to be a sustainable livelihood project for the members of Palaw'an and the potential income from agricultural products will be beneficial in their area.
TMC has been supporting the members of the Gagmayn'g Mananagat sa Wangke (GAMAWA), a group of fishermen from Barangay Wangke, Claver, Surigao del Norte. Following two rounds of releasing of 30,000 bangus fingerlings funded by TMC, 20,000 fingerlings were released in its third time. These fingerlings were funded by the group's own earnings.
Early 2021, the fish pens and cottages were renovated to strengthen its foundations and to comply with recommendations of the Bureau of Fisheries and Aquatic Resources (BFAR). Seeking to add value to their product and explore potential markets, GAMAWA members also underwent a training on deboning and bottling where they initially produced marinated boneless bangus, bottled bangus in olive oil, and bottled bangus in tomato sauce.
Alongside their fish production, GAMAWA has become a tourist destination within the municipality where visitors stop by to rest in their cottages while enjoying a view of the fish pens, the sea and of neighboring islands.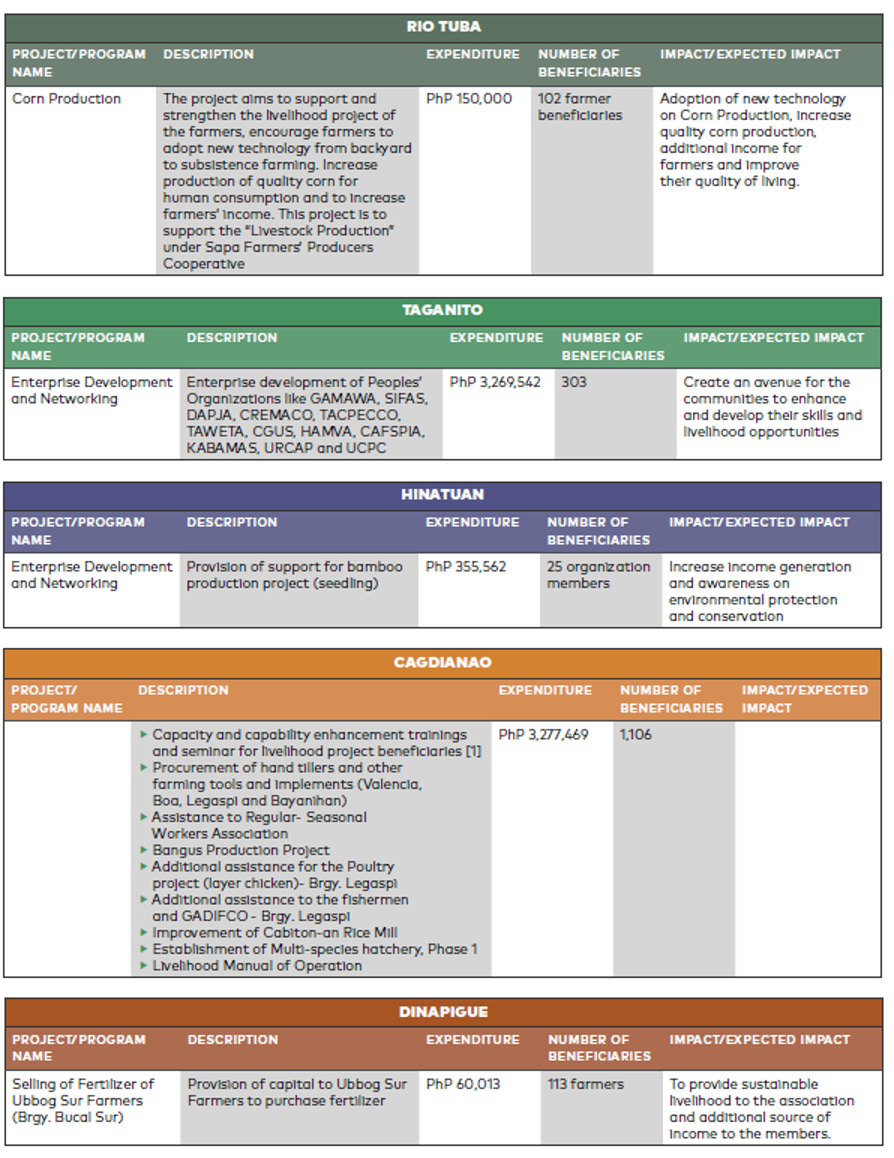 Educational Support
Support for students and the education sector was even more crucial in 2021, as most schools followed an online approach blended with other learning modes such as radio, television, online platforms, and modules.
TMC, through its Community Relations Department, initiated a laptop subsidy program for their full scholars who didn't have laptops and who wished to avail of tools for their studies. A total of 15 scholars availed of the program wherein each received a laptop with up-to-date specs such as Intel Core i5 10th Generation Processor, Intel Iris Plus Graphics, 4GB memory, 14" HD display, 512G B SSD Storage, and Windows 10 Operating System. The program helped the scholars meet the demands of the new normal education system that was mostly delivered through online classes.
RTN supported learners from far-flung areas coping with the blended learning period by providing Radio-Based Instructions (RBI) facility to two elementary schools in Bataraza, Palawan. The RBI worth over PhP 97,000 was donated to Barangkas Elementary School (BES) and Igang-Igang Elementary School (IES). RTN also partnered with the LGU of Barangay Rio Tuba to purchase more supplies to cover blended learning needs in five schools, augmenting their needs for module production.
HMC also continuously supported education initiatives and reached out to its partners in education to empower them to improve their best distance learning practices. The Department of Education (DepEd) Siargao Division was one of these education partners and it received a Risograph machine, paper supplies, and health essentials such as alcohol in support of its Learning Continuity Plan dubbed "Padajon an Edukasyon" (Education Will Continue). HMC also provided support to DepEd Surigao del Norte Division and DepEd Malimono, contributing items such as thermal scanners, alcohol, washable facemasks, Vitamin C, chlorine powder, risograph machine for module printing, and paper supplies.
TMC allocated PhP 2 million for the purchase of over 7,000 workbooks in English and Mathematics, in time for the opening of classes for the students of Surigao del Norte. Part of its SDMP, the initiative supported the Provincial Government's Education Caravan School Year 2020-2021, the annual Education Caravan wherein various educational supplies such as books, bags, and health kits were distributed to students in Surigao del Norte as well as Siargao island.
Aside from the supporting online programs, RTN, together with CBNC, demonstrated commitment to the mining communities and is building a stateof- the-art training center located in the mining community of Rio Tuba in Bataraza. The center will have audio-visual rooms and dedicated areas for various workshops, and will be equipped with conveyor belts, overhead cranes, vertical structure platforms, electrical simulators for trainings. It will host classes for skills education and jobpreparatory training based on the courses offered by Technical Education and Skills Development Authority (TESDA) offers. Bataraza aims to partner with TESDA for the job-preparatory skills training and for the NC-II National Certificates that will be given to the graduates.
The new facility is one of the major projects of RTNMC and CBNC and will be officially launched this 2021 under its Social Development and Management Program (SDMP). It will serve as a center for manpower pooling that will regularly train residents to be highly qualified for local, domestic, and overseas employment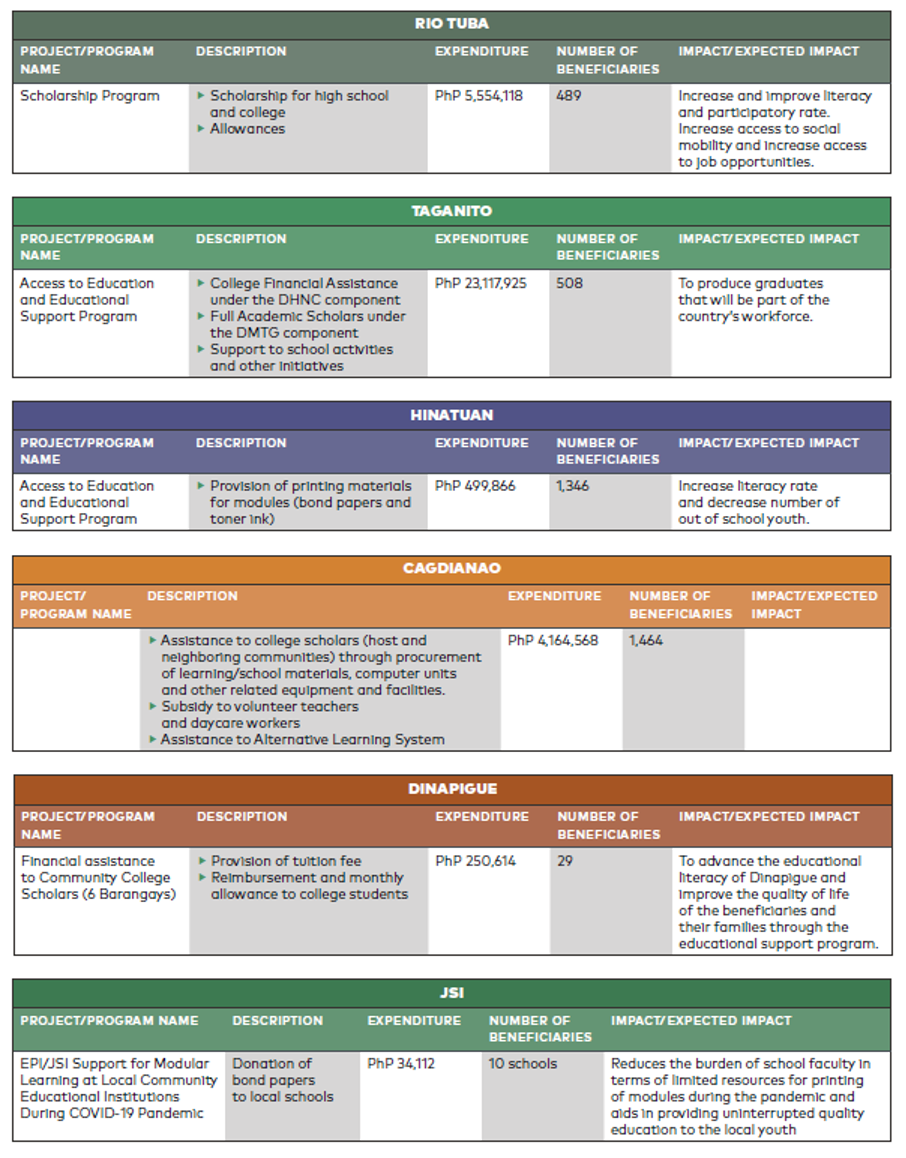 Disaster Resilience in Vulnerable Communities
NAC is committed to supporting host and neighboring communities in their drive to better protect their members and recover from disasters.
DMC distributed relief assistance to the six barangays of Dinapigue that were affected by a series of typhoons. The Company realigned a total of PhP 1.3 million from its Annual SDMP to provide relief assistance to the communities. And despite the difficult road conditions brought about by typhoons, the company was able to distribute assorted grocery items to a total of 1,587 beneficiaries in Barangays Dimaluade, Bucal Norte, Bucal Sur, Ayod, Digumased, and Dibulo.
In addition, the employees of DMC also participated in a Personal Social Responsibility project (PSR) along with other business units of Nickel Asia to donate food and toys to other affected communities in the province of Isabela from their personal funds.
RTN was among the first to respond to the fire that razed through the coastal community of Sitio Marabahay in Barangay Rio Tuba, Bataraza and which saw 44 families evacuated. RTN sent its fire truck and safety personnel to the site. The Company was also quick to distribute relief goods.
RTN has also supported the installation of a Level-2 Water System that will benefit some 24 indigenous peoples (IP) households in Sitio Tagkawayan, Barangay Sumbiling in Bataraza town. With this project, the families will no longer have to solely depend on communal deep wells for their water supply needs. RTN funded and supplied the construction materials needed to complete the project which is seen to strengthen the community's resistance against malnutrition and health issues.
RTN has also installed a complete solar panel set with accessories worth PhP 300,000 in Barangay Culandanum, Bataraza in support of the Barangay's drive to have power connection to deliver basic goods and services to people. The installation of the solar panel will help speed up the daily operation and demands in services of the barangay to the community