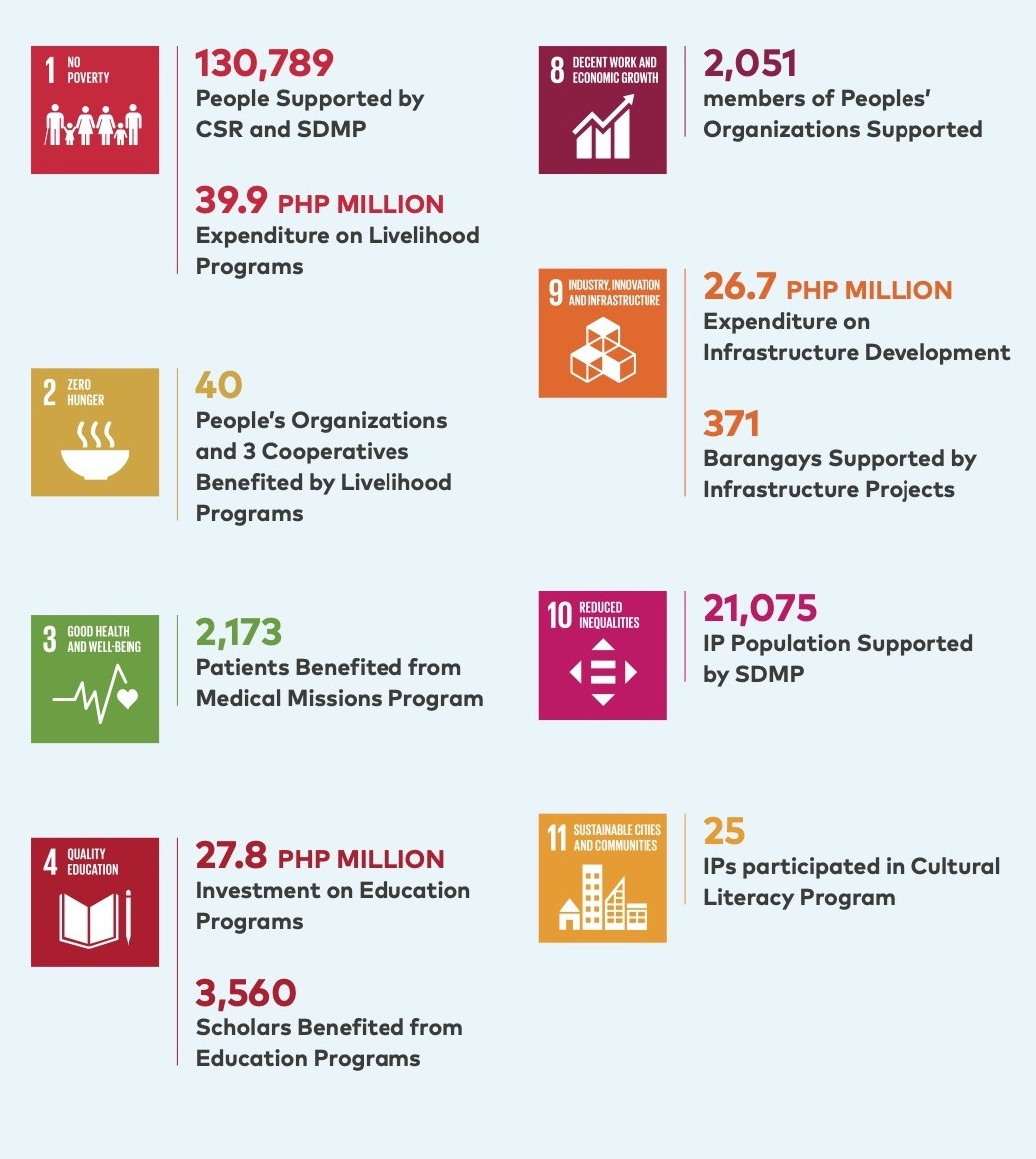 NAC endeavors to strengthen its relationships with the communities within and near the areas of its operations. The Company maximizes the value of its social expenditures through a meaningful and relevant Social Development Management Program (SDMP), and Corporate Social Responsibility (CSR) initiatives.
NAC continues to exert every effort to design SDMP and CSR programs that address the genuine needs of the communities, and aim for long-term positive impact. Through collaborative partnerships, the Company invites communities to participate in our program selection.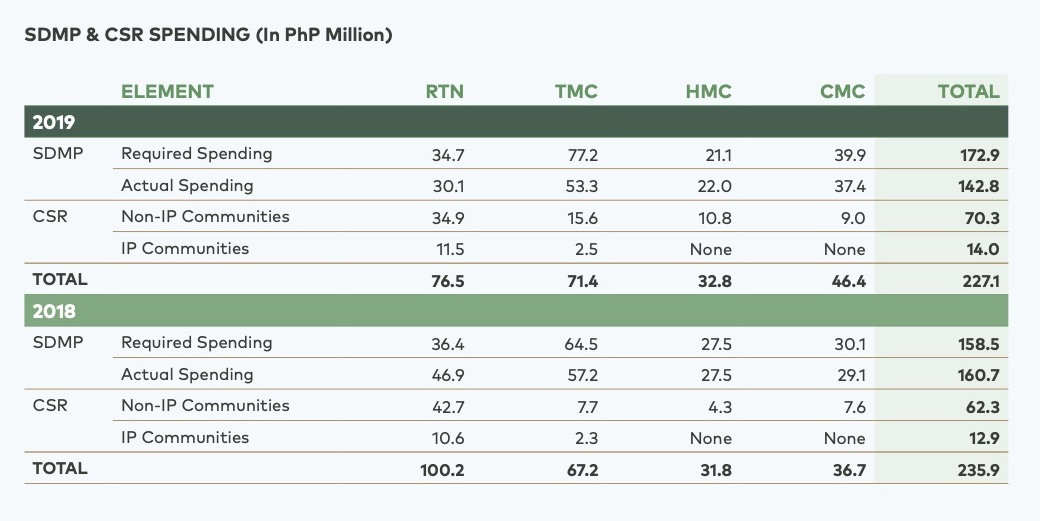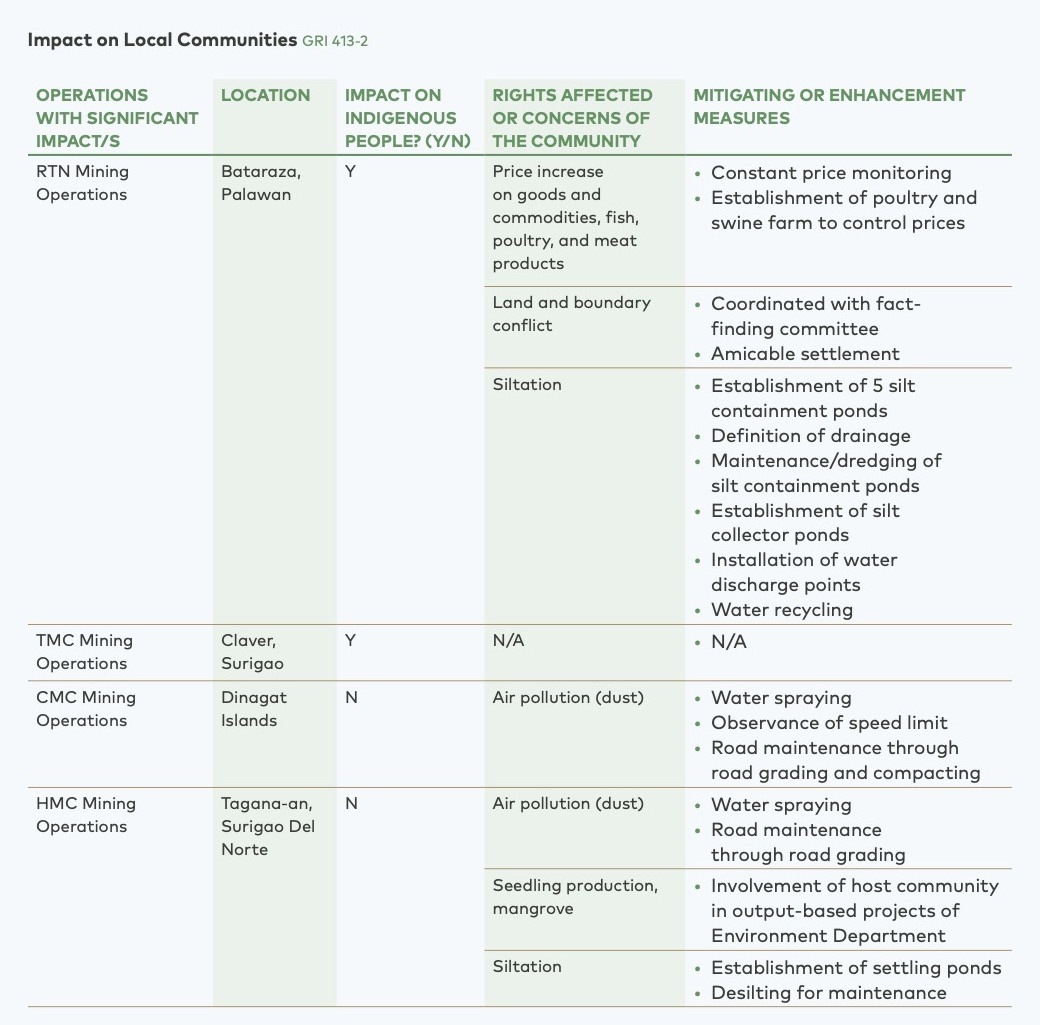 A. Promoting Inclusive Development for Indigenous Peoples
NAC believes that the rights to Ancestral Domains (ADs) of Indigenous Peoples (IPs) deserve to be recognized and respected. Two of its operating mines, TMC and RTN, provide annual royalty payments, housing, and other benefits to their IP communities. TMC operates in an AD while RTN operates in an area where IPs, though without an ancestral domain, hold a strong presence.
RTN, together with CNBC, started creating new agricultural community associations in 2019.
These community-based associations, composed mostly of indigent individuals, aim to bring a stable source of livelihood as well as job opportunities.
In 2019, RTN distributed vegetables seedlings to the IP community. This provides additional income for farmers in upland farming while waiting for harvest season. It is expected that the number of members will increase in the next few years, as the community realizes the benefits of the program.
RTN also launched in 2019 a cultural literacy program to preserve the culture and traditions
of the Palaw'an tribe in the municipality of Bataraza, Palawan. The cultural literacy program holds eight (8) sessions per month. The sessions include lectures, learning activities, and performances for the students, with the elders of the Pala'wan IPs serving as instructors. RTN aims to encourage the IP youth and elders to preserve their traditional dances and music such as Taruk, Sapa-sapa, and Basal by teaching and passing them on to the younger generations.
B. Empowering the Communities' Hope through Educational Support

As NAC works with communities towards economic freedom, the Company makes it a point to invest in education-related initiatives that strengthen the youth and equip them with knowledge and confidence.
RTN provides educational assistance to 166 students – from kindergarten to elementary levels – in Sitio Tagpas, Barangay Latud in Rizal, Palawan. RTN aims to support their studies throughout the year. The students, coming from impact barangays of IPs, were given funds to buy notebooks, school supplies, uniforms, and slippers. RTN continues to provide 13 high school scholars and three college students with monthly allowances.
RTN held a two-day summer camp for its scholars in Matahum Beach, Barangay Mangingisda in Puerto Princesa City, Palawan. The activity aimed at getting to know the scholars better, and to give them advice and counseling on their studies and future careers.
C. Fueling Entrepreneurial Spirit in Our Community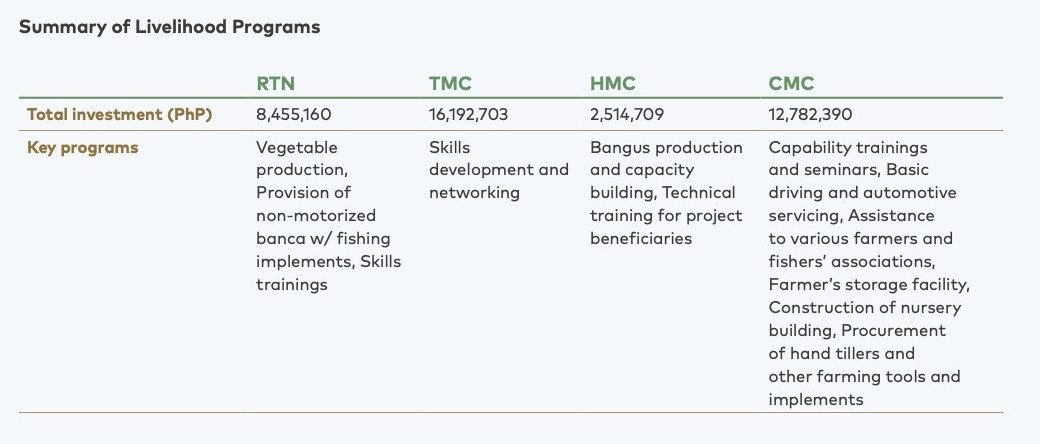 Providing community members with skills and resources to uplift themselves is the key to a sustainable social development plan. NAC believes that learning practical livelihood programs and useful skills will lead people toward the path of financial stability and economic freedom.
In 2019, TMC embarked on several major livelihood initiatives, including a PhP 1.29 million native chicken poultry project for persons with disabilities (PWDs) in Barangay Cabuo in Claver, Surigao del Norte.
A total of 55 PWDs, belonging to the people's organization called Dapja, benefited from the project. This aligned with TMC's thrust to provide livelihood opportunities to different sectors of society, including PWDs.
Dapja members and their families provided the labor for the construction of the facility. They took turns in manning, managing, and monitoring the poultry farm. The structure sits on a one-hectare lot owned by the group's president, Eddie F. Gasulas. To ensure the sustainability of the project, TMC continuously monitors its progress while bringing technical assistance from the Department of Agriculture (DA).
In 2019, TMC donated farm equipment worth PhP 3 Million to the 35-member Claver Red Mountain Agriculture Cooperative (CREMACO) to uplift the group's economic potential. TMC provided CREMACO four units of farm equipment: a combine harvester, a farm tractor with rotavator, and two walk-behind transplanters. A rice mill complex is being constructed in Barangay Daywan in Claver, Surigao del Norte to help the local farmers price their palay competitively.
HMC turned over a PhP 3.5 million fully equipped deep-sea fishing boat to the Campandan Fisherfolks Association (CAMFISA). This aimed to boost the livelihood of local fishermen in Tagana-an, Surigao del Norte. CAMFISA operates a fish processing center, and the fishing boat was a big help for their dried fish and bottled fish production that was also initiated by HMC. With their very own deep- sea fishing boat, CAMFISA no longer relies solely on the catch of other fishermen for fish supply.
HMC also turned over a soft-shell crab project to three indigent families from its host community in Tagana-an. The beneficiaries of the project were selected based on their socio-economic profile. The beneficiaries of this project were not part of any People's Organizations (POs), which meant that such opportunities were not readily accessible to them. The beneficiaries – Rosita G. Sandico and Cristine C. Baguinaon – are residents of Looc, Sitio Bagong Silang, while Arnulfo C. Copag Sr. is from Brgy. Talavera; both are in Tagana-an. Providing technical assistance to the project were experts from the City Agriculturists Office (CAGRO) of Tagum City, Davao del Norte.
In a move to provide vital access for thousands of residents to boost local economic development, CMC turned over a 3.1-kilometer access road that connected two coastal towns in the province of Dinagat Islands. The PhP 4.8 million Legaspi- Benglen Farm-to-Market Road connecting Brgy. Legaspi in Cagdianao and Brgy. Benglen in Libjo benefitted two villages from separate towns, as well as CMC's host and neighboring barangays. Fishermen and farmers from coastal and inland villages are now able to sell their produce without having to travel by sea, which is unnavigable during monsoon season.
Cagdianao Mayor Adolfo Longos lauded CMC for entrusting the road project to the local government unit as its implementing partner. The Mayor remarked that he has "never seen a mining company approach a development initiative this way, which encourages participation from all sectors. Truly, CMC is a responsible mining company."
CMC also supported 65 farmers of the Cabiton-an Farmers' Association with a livelihood project that provided a rice mill, a garage building, and a nursery building situated at Sitio Cabiton-an, Barangay Legaspi, Cagdianao, Province of Dinagat Islands. The project cost amounted to PhP 993,000.00.
CMC was also able to turn over a PhP 5.6 million ice plant and cold storage facility to Gaas Dinagat Fishermen Cooperative (GADIFCO). The project is seen to fill a crucial demand for ice blocks in this island province, while boosting the income of the beneficiaries by selling ice to other fisherfolks in neighboring villages and even in other parts of Dinagat Islands.
Mansueto G. Cadeliña, Bureau of Fisheries and Aquatic Resources (BFAR) provincial fisheries officer, confirmed that GADIFCO's ice plant and storage facility is the only one of its kind operating in the province to date. The BFAR official noted that this project "really helps our fishermen in Cagdianao to earn more sustainably. This is a remarkably effective support to the campaign of BFAR dubbed 'Para sa Malinis at Masaganang Karagatan'".
NAC provided trainings in 2019 on organic farming, bamboo propagation and marketing, mushroom farming, climate-smart agriculture, farm tourism and community sustainability ventures (CSV) for 30 community organizers and environment personnel. NAC is planning to adopt viable livelihood trends, such as bamboo propagation and production, and hopes to replicate and implement these programs in all NAC mines.
D. Promoting Health and Wellness in Our Community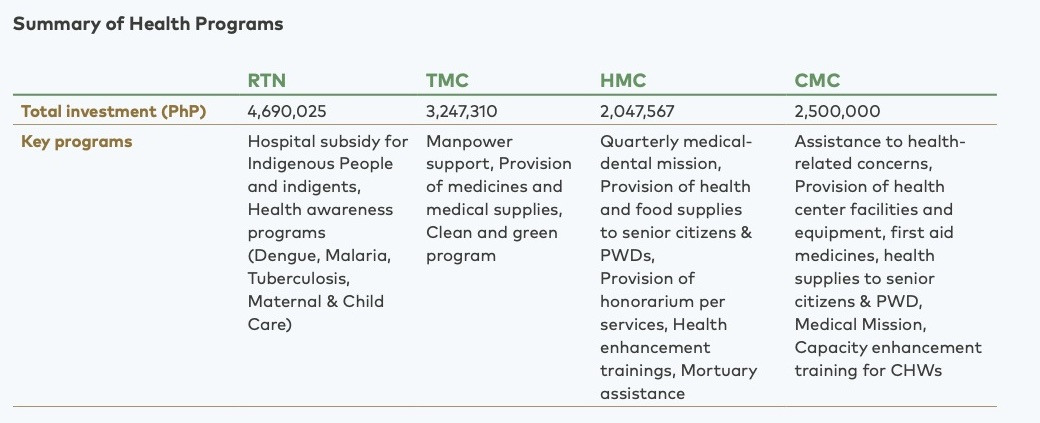 Consideration for the health and wellness of communities inspired us to put up fully equipped medical facilities in each of our operating mines. Aside from providing medical services through these facilities, the Company also organizes medical missions for other nearby communities.
In 2019, NAC organized free medical and surgical missions that benefitted almost 600 patients.
The medical-surgical mission is an annual charity of RTN, TMC, HMC, and CMC, with the participation of CBNC and Taganito HPAL Corporation (THPAL).
The 2019 NAC annual medical and surgical mission was conducted in Palawan and Surigao del Norte, in collaboration with provincial and local governments. It provided free major and minor operations to residents of surrounding and adjacent communities. It also offered free consultations, check-ups, and room accommodation, transport, and food for those requiring major procedures.
To provide much needed resources to communities, HMC donated a brand-new Toyota HiAce Commuter ambulance with complete accessories to the Municipality of Tagana-an in Surigao del Norte. The donation, worth PhP 1.2 million, was made possible through the 2019 HMC CSR funds. The ambulance will greatly help in emergency transport needs of the municipality and its 14 barangays. It will also aid in boosting the medical services provided by the Tagana-an Municipal Health Office.
Another essential facility for health and wellness is the availability of toilets. To encourage proper hygiene and help prevent cases of diarrhea in the communities, RTN donated squat latrine toilets and supply of cement for flooring to 69 households in Sitio Magtunao, Barangay Culandanum in Bataraza, Palawan.
Before the distribution, the community relations team of RTN, together with medical professionals from the Department of Health (DOH), conducted an IEC to educate the community.