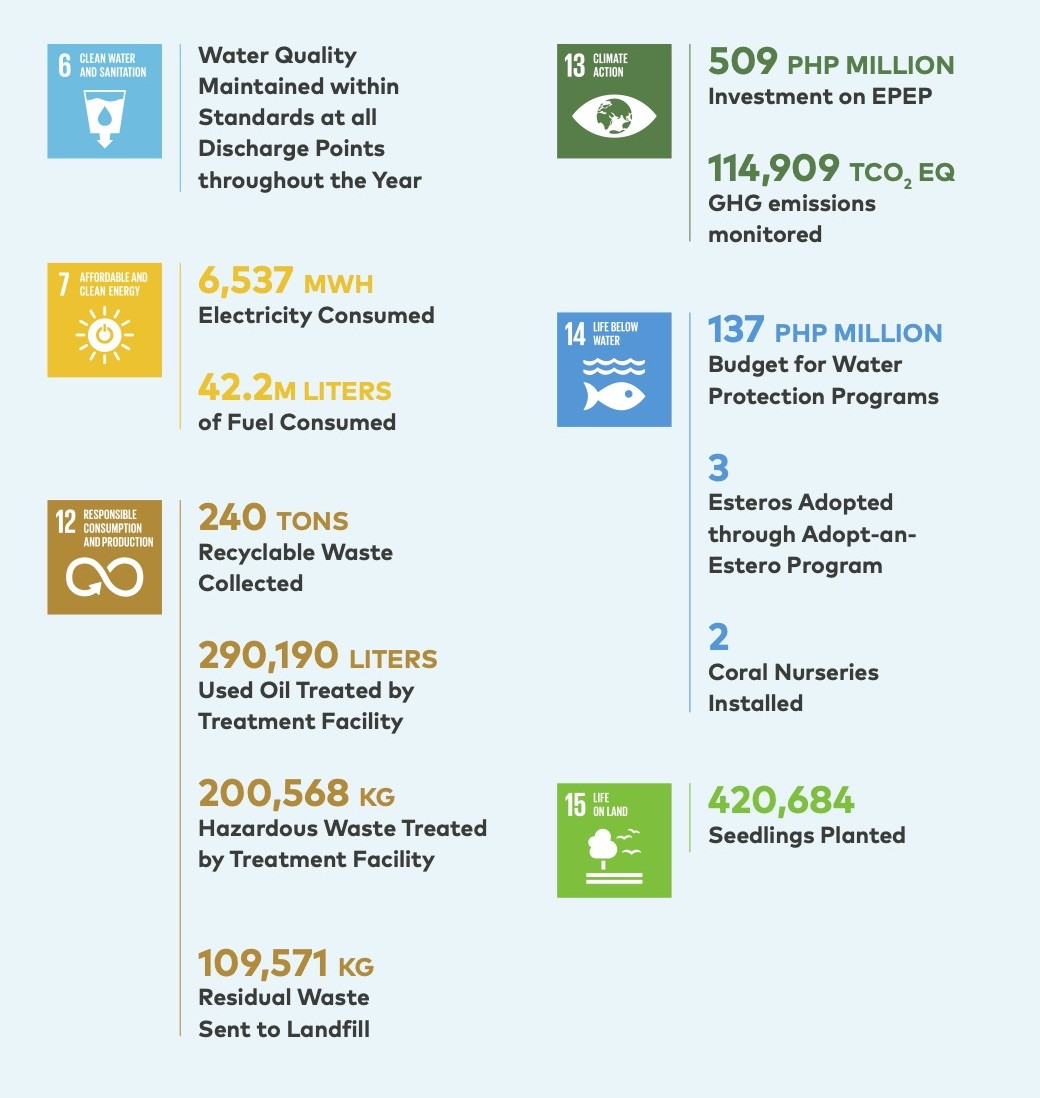 All NAC-operated mines have fully-funded Environmental Protection and Enhancement Programs (EPEPs). These are comprehensive and strategic environmental management plans that cover management objectives, criteria and commitments pertaining to environmental protection and rehabilitation.
Each mine's Annual EPEP contains programs and initiatives for Land Protection, Air Protection, Water Protection, and Environmental Monitoring. Activities include rehabilitation of disturbed areas, reforestation, construction and maintenance of environmental facilities, solid waste management, hazardous waste management, air quality monitoring, and preservation of downstream water quality.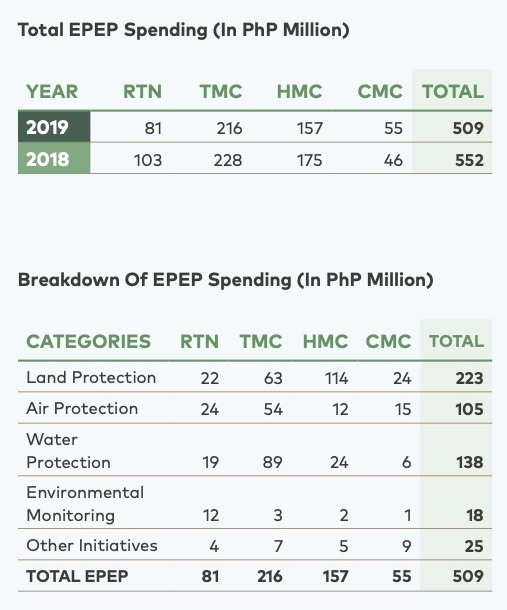 There are Multipartite Monitoring Teams tasked to review these environmental programs on a quarterly basis. An annual accomplishment report based on the objectives outlined in the EPEP is prepared and submitted by the Mine Environment Protection and Enhancement Officer.
Aside from continuing its existing environmental programs in 2019, the mines also proactively pursued innovative collaborations and explored solutions. These are all done to address and mitigate potential environmental impacts. For instance, CMC forged a partnership with Environmental Management Bureau (EMB) Caraga to adopt three (3) important water bodies around the mine site. These are Maraguing Creek, Pinagbahan Creek, and Boa River, with the end objective of restoring these bodies of water to their pristine state.
Meanwhile, RTN has integrated bioreactor technology into its operation. Developed by the Department of Science and Technology (DOST), the technology converts biodegradable wastes into organic fertilizers and soil conditioners. RTN adopted this innovative technology through DOST's technology transfer program. The bioreactor, developed by DOST's Industrial Technology Development Institute (ITDI), promotes efficient solid waste management practices in the communities in compliance with Republic Act (RA) 9003 or the "Ecological Solid Waste Management Act of 2000". According to DOST, RTN is the first mining company to use the fertilizer and soil conditioner from this bioreactor for a mine rehabilitation program.
Another innovative project was HMC's installation of two (2) coral nurseries in the waters within the Hinatuan site. The installation of the coral nurseries was in partnership with Caraga State University (CSU) Center for Research in Environmental Management and Eco-Governance (CRÈME). A total of 271 coral fragments were installed in the coral nurseries of HMC. Regular monitoring of the project showed that zero mortalities with all 271 installed coral fragments surviving. Moreover, in the span of one and a half (1.5) months, the corals which were reared in the coral nurseries have already branched out, an indication of health.

Land Protection
As part of the mining process, the removal of natural vegetation is necessary for the eventual extraction to commence. The Company recognizes these areas as natural habitats and homes to various flora and fauna species, some of which are even included in the IUCN Red List and national conservation list. The Company, therefore, ensures that proper management and rehabilitation measures are conducted to ensure the survival
of diverse species in the area.
NAC requires absolute compliance from all its mine sites in the following mitigating measures:
Proper handling of cleared vegetation including topsoil management
Acquisition of Special Tree Cutting and Earth- balling Permit (STCEP) for earth-balling projects and strict compliance with the requirements
Progressive rehabilitation on mined-out areas and reforestation with indigenous species to preserve the natural floral biodiversity of the affected sites
HMC conducts environmental baseline data gathering and periodic biodiversity assessments,
as it integrates its biodiversity management with the government's Mining Forest and National Greening Program. Biodiversity management is a major component of its Annual EPEP under reforestation and research and development projects, in collaboration with prestigious academic institutions. For example, HMC 's installation of two coral nurseries where 271 coral fragments were introduced in partnership with the CSU-CREME. HMC also established "Zoorigao", an area that consists of an orchidarium, pavilion, and a butterfly garden. The location serves as a safe haven for rescued wild birds, animals, and avi-faunal species of the area.
Meanwhile, RTN employs progressive rehabilitation and uses native planting materials for such programs. Aside from regular flora and fauna monitoring, it also partnered with Crocodylus Porosus Philippines Inc. on information and education campaigns (IEC) for crocodile conservation and awareness. The partnership also supports the conservation and protection of the Ursula Island Wildlife Sanctuary. At the same time, it also actively contributes to the country's National Greening Program (NGP) through the establishment of more than 650 hectares of tree plantations including mangroves.
For its part, TMC is continuing the progressive rehabilitation of mined out areas and reforestation of areas surrounding the mining operation. TMC also maintains a biodiversity area where different tree species are earth-balled and propagated. It conducts year-round monitoring of flora and fauna within the MPSA, to serve as a baseline for additional measures whenever deemed necessary. As a special project, it conducted deployment of buoys to delineate the Malingin Islet marine sanctuary.
CMC's initiatives, on the other hand, included establishing a buffer zone and forest conservation area within its MPSA Area. This is to facilitate the transfer of habitat of the displaced wildlife and maintain the water source. Rehabilitation of mined out areas were also conscientiously conducted so that the forest and the wildlife will return. An ISO 14001:2015 certified organization, CMC's biodiversity programs feature biodiversity assessment and biodiversity conservation projects.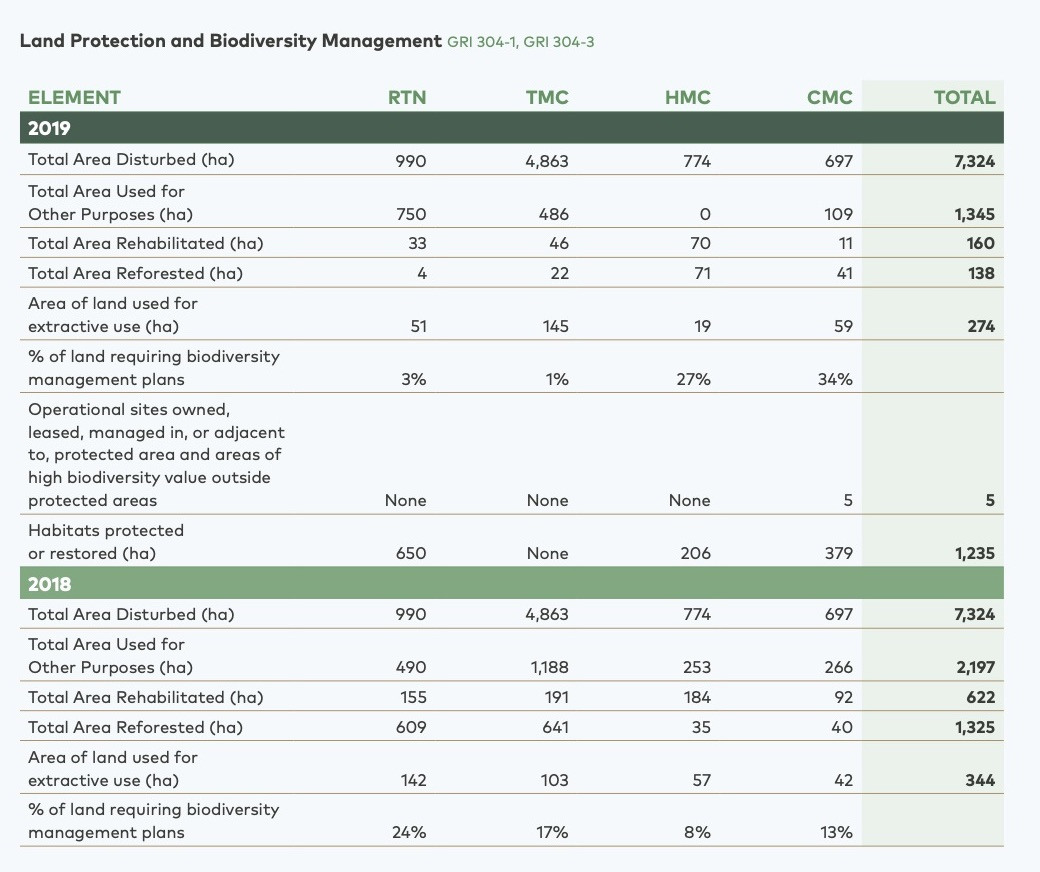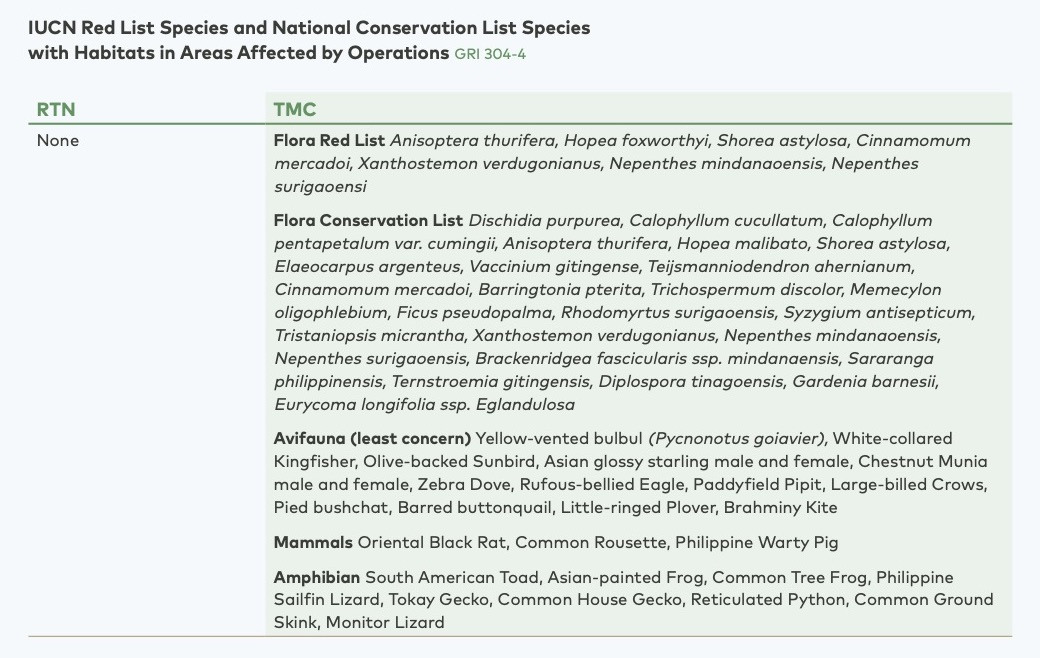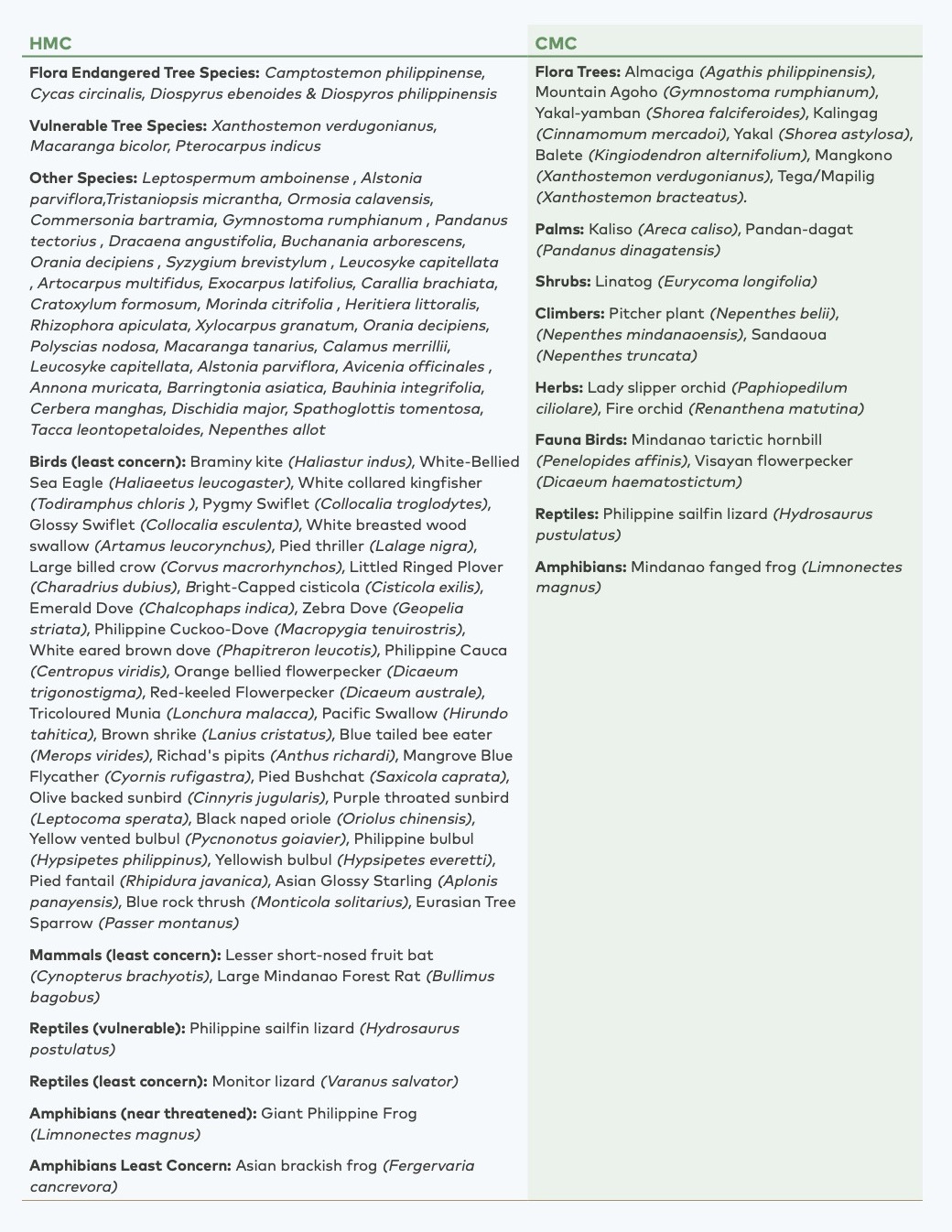 Water Use and Discharge
NAC deeply appreciates that water is an essential resource for the industry, and for the communities where it does its business. NAC and its mine sites, therefore, ensure that they actively do their share in their day-to-day operations.
Each mine site has an established water management plan in effect, which are supplemented by several policies and practices on water conservation as well.
For instance, 60% of wastewater coming from HMC's water purification station were utilized for laundry and comfort room use. 40% were reserved for mine site consumption. It also conducts periodic monitoring of water sources to ensure the sustainable supply of water.
Meanwhile, RTN's water consumption reduction program includes reuse of water from recycling ponds for road watering and product washing.
On the other hand, TMC uses the strategy of adding pressure to increase impact with lesser volume of water. It also established a water treatment facility that generates potable water, as well as implemented redirection of water from settling ponds to Hubasan tank to be utilized in haul road spraying for dust suppression.
CMC utilizes communication tools, such as signages, installed in key areas to encourage people to make use of effective water conservation practices. It also maximizes the clear water from settling ponds, using them to water the road for dust suppression, for watering the rehabilitation areas, as well as the plant nurseries.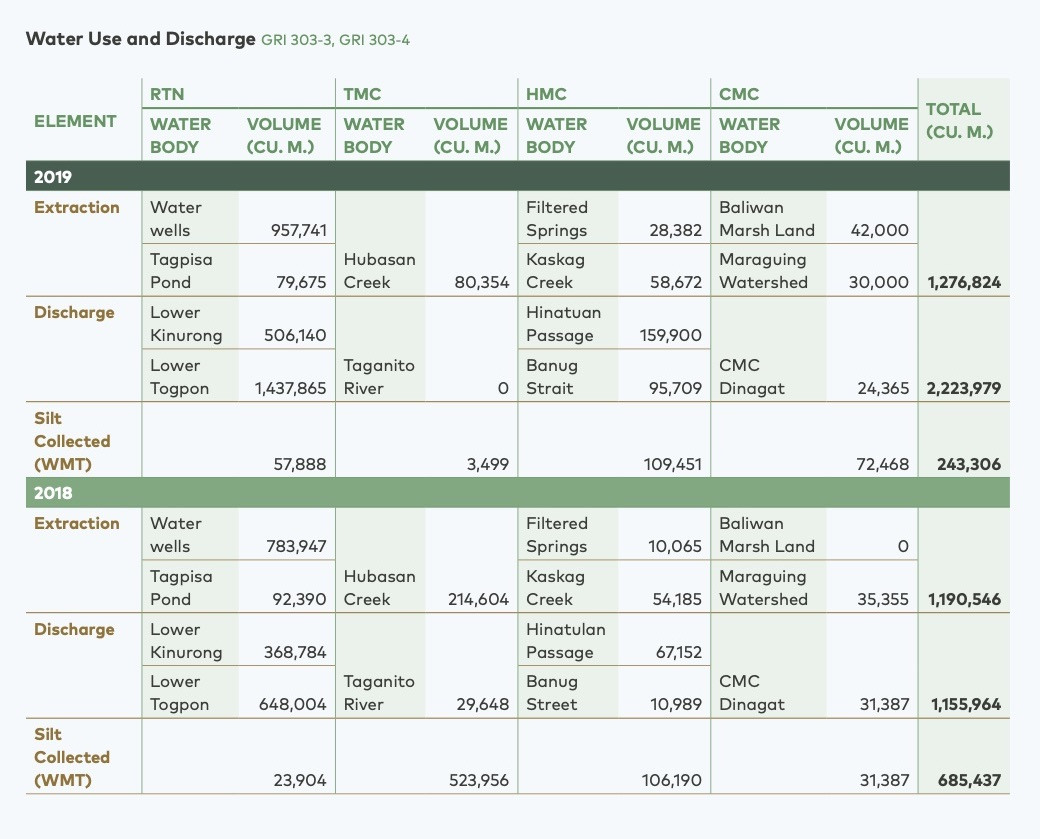 Industries such as mining require the use and discharge of large amounts of water in its operations. Every company is aware of the importance of monitoring and mitigating impacts of effluents as best they are able.
The Company identifies facilities and activities that pose a threat to groundwater using its Environmental Management System (EMS). It also employs constant monitoring and proper measures. For instance, the landfill is layered with a high definition polyethylene to provide impermeability and containment of contaminated water.
Most of the Company's wastewater undergo filtration through silt curtains and silt containment ponds, to be reused during water spraying for dust suppression. Some are also recycled for product washing. As such, with 2,223,979 cubic meters of wastewater discharged, the majority of that had been recycled and reused for various purposes; from core mining operations to domestic uses.
Some of the techniques used under the EMS are:
Monthly and quarterly physical and chemical monitoring of Total Suspended Solids (TSS)
Establishment of activated carbon gabions
Regular dredging of sumps and ponds
Planting of slopes to reduce exposed areas
Vetiver grass planting in ponds for phytoremediation
Using oil-water separator to prevent contamination
Covering of ore stockpiles to minimize silted water
Generation from stockpile areas
In-house water sampling
Emergency response procedures for accidental releases of contaminated water
Construction of a drainage system that directs water/leakages to designated areas of treatment
In particular, TMC conducts water sampling in the Hayanggabon River and monitors Baoy River during heavy rains. Silts in the Taganito river delta are dredged and transferred to the silt depository.
Notably, there is CMC's partnership with the Environmental Management Bureau (EMB) in the adoption and restoration of three (3) important water bodies around the mine site, namely the Maraguing Creek, Pinagbahan Creek, and Boa River.
CMC facilities also have sewage treatment plants (STP). At the same time, grease traps are used in kitchen areas, oil and water separators are used at the Motor Pool area. Settling ponds have been established to control silt run-off and improve water quality at discharge point.
NAC ensures strict monitoring on all environmental facilities are done regularly, to ensure the effectiveness of structures in containing and preventing soil and underground contamination.
Air Protection
Caring for air quality is caring for our people and our communities. That is why NAC developed and presently implement an air quality management program, to ensure that the air quality in its mine sites is in a healthy condition.
The Company conducts regular emission testing and measurement of dust emissions. It ensures that it has permits for all pollutant-emitting devices to assure the communities and regulatory bodies that its emissions are well within the regulatory limits
of DENR.
RTN in particular performs stack emission sampling of new air pollutant sources. Meanwhile, TMC deploys water lorries to designated strategic areas to address dust excesses. CMC conducts annual GHG and carbon sink assessments. It is currently transitioning and phasing out equipment, materials and supplies emitting oxygen depleting substances (ODS).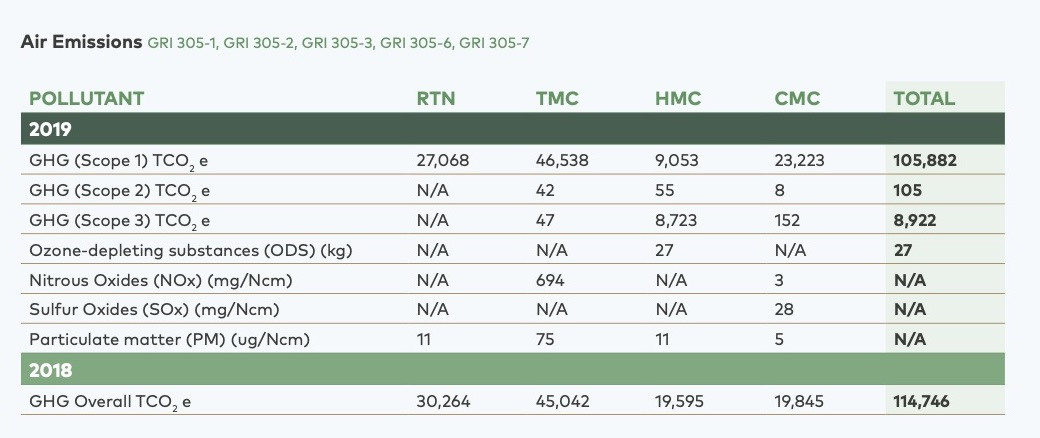 Energy Consumption
NAC is committed to finding the most efficient use of its resources, crafting practical resource management plans and implementing them with care. With this approach, the Company was able to reduce its energy consumption by 865,771 liters of diesel fuel and 422 MWh of electricity.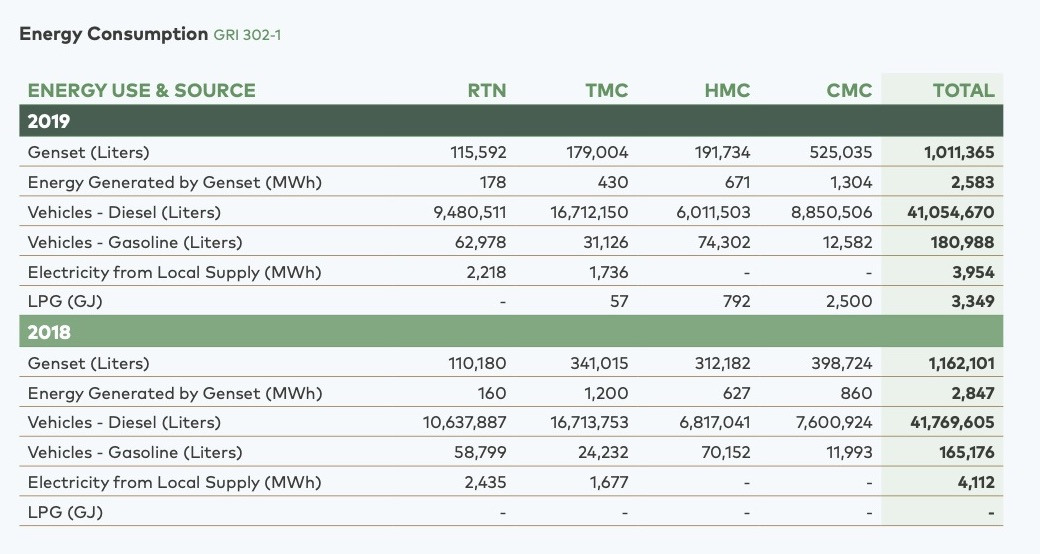 Initiatives of the Company in the decrease in energy consumption include HMC's drive to replace ordinary fluorescent bulbs with LED lamps, utilization of solar energy in facilities located in remote areas, and proper monitoring of energy-consumption of electrical devices to avoid overloading.
RTN's energy conservation and fuel reduction programs also include the use of energy-saving equipment as well as retaining its solar drying process.
Meanwhile, TMC produces significant reduction of fuel consumption through the use of conveyor belt system. The system has an equivalent hauling capacity of 15-20 dump trucks per hour. It also uses solar-powered electronics, and is gradually shifting to the use of LED bulbs that also contributes to energy reduction.
For its part, CMC adopted renewable energy sources in 2019 for perimeter lighting and decorative light installation. To conserve fuel, CMC adapts carpooling for personnel transport. Fuel-operated machines are turned off when not in use.
The Company continues to explore opportunities to incorporate renewable and energy-saving alternatives to the Company's present energy sources. RTN has conducted a feasibility study on the use of hybrid energy (solar-genset) as an energy source. HMC has included windmill and solar power plants in its proposed research and development program.
Waste Management
Cognizant of the global challenge that waste management presents to all countries, NAC aims to act as a responsible corporate citizen and proactively contribute to solutions. This is being achieved by implementing an effective solid waste management plan. In 2019, the
plan resulted in the Company having solid wastes segregated to 49% recyclables and 29% compostable wastes. All of the identified wastes were able to be disposed of accordingly.
NAC supports the principle of upcycling, or the process of turning a waste material into something of higher quality and value. It also appreciates technologies that help the Company manage wastes effectively, such as DOST's bioreactor, vermicomposting, and mulching for biodegradable wastes; the use of Materials Recovery Facility (MRF) for recyclable and reusable wastes; and the use of sanitary landfill for residual wastes.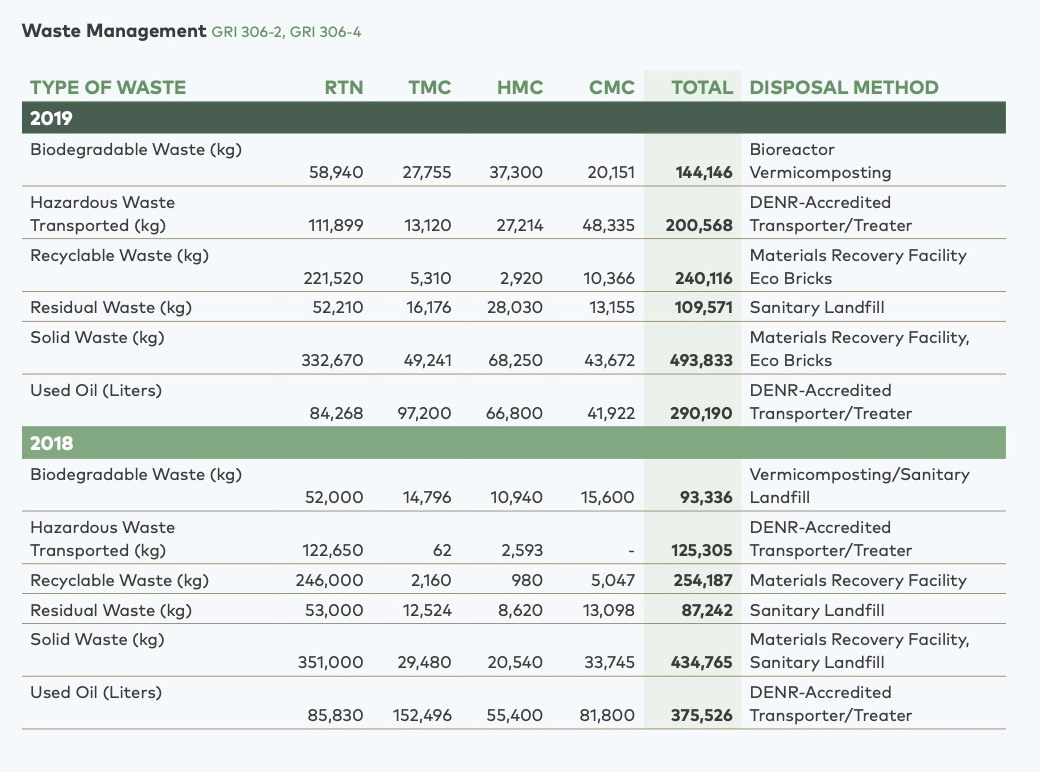 Additional initiatives by the operating mines include HMC's upcycling projects. Examples include: conversion of used tires to waste bins and materials for dragon fruit plantation, use of upcycled products to improve the look of view decks, distribution of water tumblers to employees to reduce plastic bottles usage, and making of foliar organic fertilizer to decrease the Company's use of artificial fertilizers.
Meanwhile, RTN implements a "No to Plastic" policy and integrates its waste management program to include waste diversion of biodegradable and recyclable wastes; in active compliance to RA 9003 for an ecological solid waste management plan.
TMC has chosen to replace steel-belted tires with a more recyclable alternative: nylon-belted tires. It also upcycles recyclable wastes to be used in landscaping.
CMC, on the other hand, has banned single use plastics in its facilities and chose to buy supplies in bulk to reduce packaging waste. Additionally, CMC launched a two-month Eco brick challenge in June to July 2019 to encourage its employees and local communities to turn over plastic
bottles filled with residual waste. The turned over bottles were used in the Company's eco brick facility, and turned into recyclable items such as flowerpots, pillow bricks, fence, tables, and chairs. Through this program, the Company and the local community were able to reduce plastic wastes.
The Company treats management of hazardous wastes with great care, and are guided by the provisions of RA 6969 on hazardous waste management. In 2019, operations produced around 201 tons of hazardous wastes and 290,190 liters of used oil. NAC made sure to follow the prescribed process for monitoring, storing, and disposing of such wastes, respective of type or category. All vendors for treatment and transport are DENR- accredited and employees receive regular in-house training related to hazardous waste management, so that they are kept aware and alert of the dangers of hazardous waste to health and safety.
Climate-Related Risks and Opportunities
As an organization, NAC moves as one in its advocacy for responsible mining. The Company fully appreciates the synergetic relationship of communities with the planet's processes, including the impact of climate on everyday human life and enterprise.
With the governance and leadership of the Board of Directors and the management team, the Company established an Enterprise Risk Management (ERM) system. The ERM was created to establish a proper measure in the identification, assessment, and management of risks that may affect the Company.
The Board, with the help of the Board Risk Oversight Committee, ensures that all risks are identified, measured, and managed effectively and continuously through the ERM. The Chief Risk Officer works with the Chairman and CEO, and the President in the updating and crafting of recommendations to the Board Risk Oversight Committee.
The Company's risk management strategy has a section specific for climate-related risks. This includes action plans, persons responsible, and expected timelines to maintain the Company's operations or reduce the duration of operation disruptions. The risks were identified based on how it would impact our people's safety, the supply chain, the reliable supply of energy, and the unhampered logistics in and out of mine sites.
Integral to the ERM are the preparation of both people and facilities for emergency situations, the training of emergency responders, the provision of equipment and technology, the redundancies for physical systems.
NAC works together with the rest of the industry players, its host communities and nearby communities, and government agencies and regulators, toward building resilient and sustainable communities. The Company is proactively working to protect shared natural resources that would benefit future generations.