Communities

The Philippine mining law mandates all mining companies to assist in the development of the host and neighboring communities through the Social Development Management Program (SDMP). These are five-year programs with
committed yearly expenditures equivalent to 1.5% of operating costs. Priority projects identification, approval and implementation are done in consultation with host communities. SDMP projects address not only the current needs of the community but will enable them to improve their socio-economic conditions. Health, education, infrastructure, livelihood, electricity and water access, and socio-cultural preservation particularly for IPs are the year-on-year concerns. The MGB handles monitoring, auditing and evaluation of these programs.

We complement our expenditures under the SDMP with our Corporate Social Responsibility (CSR) programs. As such, our yearly social expenditures go beyond what the law prescribes. Our SDMP and CSR programs are anchored on two central elements as detailed below:
Community Partnership and Relationship Building
Establishing and maintaining positive relationships with communities through partnerships for community development and nation building
Partnership building with communities (both social and environmental) – community as essential partners and not as mere beneficiaries
Community serving as the primary protector of the Company through strong dual partnership and relationship
Leadership
Top management strongly supports the company's SDMP and CSR initiatives
Social investment – going beyond compliance, CSR as an essential and meaningful investment
With respect to IPs, our TMC subsidiary operates in an Ancestral Domain. Our RTN subsidiary operates in an area where IPs are present but do not have ancestral domain title. Nevertheless, we treat them as if they do have title. In compliance with the Indigenous Peoples Rights Act, we have obtained the Free and Prior Informed Consent from the IPs to operate in their areas. Both TMC and RTN provide for yearly royalty payments, housing and other benefits to the IP communities.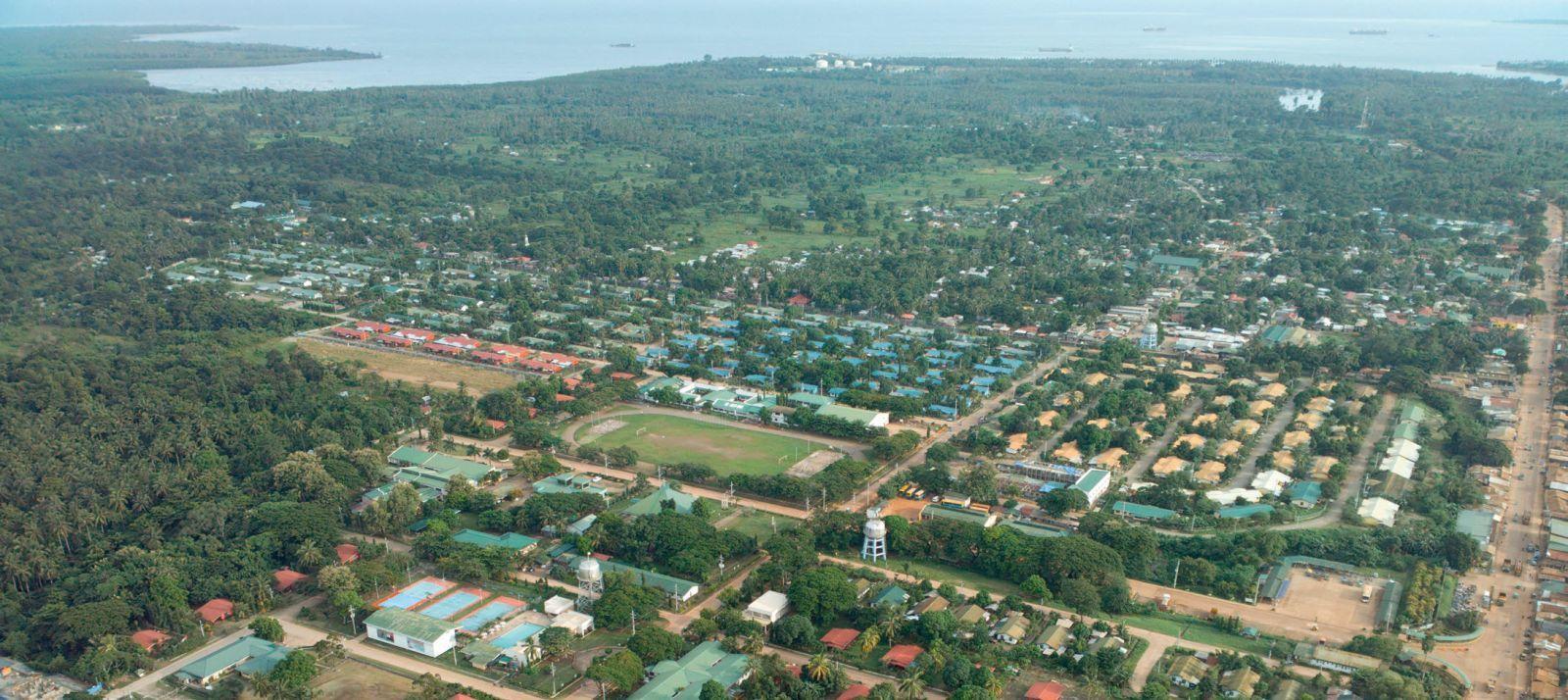 CASE STUDY : Sustainability in Practice: Rio Tuba is a vibrant, dynamic place. Its story is only fractionally told here.
Rio Tuba is a self-developed and self-realized mining town site located in the Southern Palawan municipality of Bataraza. The chart of its growth and the regard shown for its people is a direct reflection of the character, compassion, quiet generosity, and gentle but firm leadership of its founders Leonides S. Virata and Manuel B. Zamora Jr., and their successors.
From the start, RTN was envisioned to be an employer of choice within the industry. To its founders, the people are the underlying reason for the success that is Rio Tuba and that Rio Tuba's history is a history of people whose treatment and consideration of one another is as Family.
RTN continues to have a near perfect safety record, a close to zero resignation rate and is into the 3rd generation of workers. Its presence has redounded to enterprises, industries and jobs for the people in its area of operations. From a make-shift camp with no roads, no power and no running water, the town site of Rio Tuba is now a bustling community with access to water and power, semi-furnished housing, a private school (kindergarten to high school), a hospital, a church, a co-op, parks, a clubhouse, a gym, a sports oval, a swimming pool, tennis courts, and internet connection.

The RTN Special Projects Office runs poultry and piggery farms, a cattle dispersal project, and an ice plant for the continued supply of produce at the best possible prices in all of Palawan. For its host IPs, it pays royalties and provides free of charge an Indigenous Learning System that educates more than 1,000 of them up to high school equivalent, housing and health care. RTN has become well known for its progressive mine rehabilitation program. It has fully rehabilitated over 200
hectares of mined-out areas, planting over two million trees of endemic species, including the National Greening Program. In the process, it has created a forested area interspersed with fruit trees, rice fields and tilapia ponds - an agro-industrial complex that will be turned over to the communities post-mining.

The operations of RTN, the adjacent nickel processing plant under NAC's affiliate, Coral Bay Nickel Corporation (CBNC), and the various enterprises that have grown to support the combined operations and the town site have contributed to making the municipality of Bataraza number one-ranked amongst all Palawan municipalities in terms of income, assets and cash balances.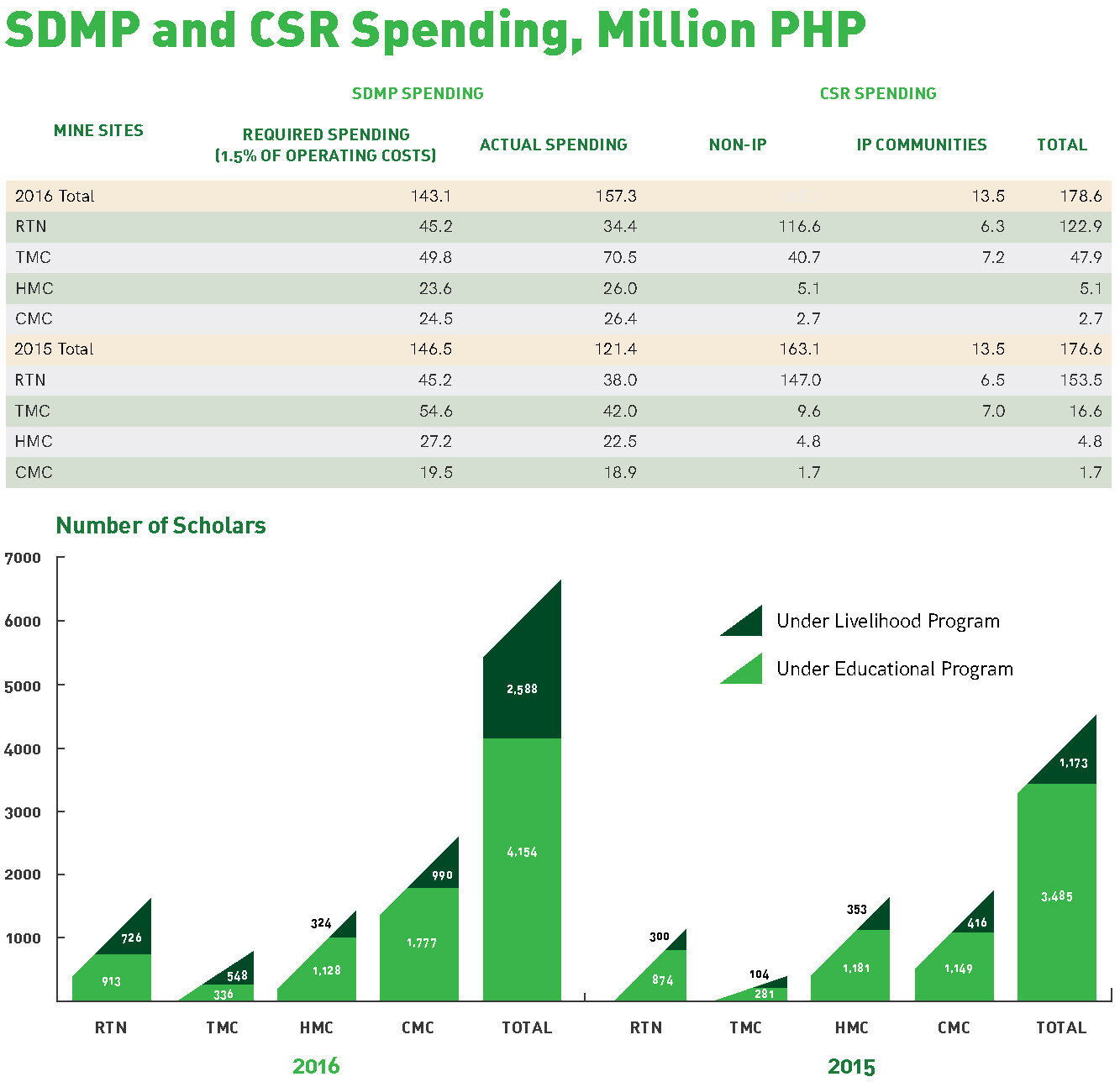 The Welfare of our Employees
NAC fosters inclusion and diversity, maximizes local hires, and invests in capacity building of its employees to achieve productivity, deliver profitability, and conduct their jobs to the highest standards in a safe and healthy working
environment, backed by a supportive management. Our people are enablers of Company sustainability— integral to operational excellence and long-term success. We make clear to our employees that sustainability is not just an abstract concept, but is a fully understood set of principles and a practice in progress. Our sustainability framework serves to embed its principles into our
corporate culture so that (1) it is measurable and (2) our people develop a sustainability consciousness, empowering them to assess and align their contributions to the business' sustainability goals through their individual Key Ratio Indicators (KRIs). NAC employees are engaged, positive, and empowered. We invest as necessary in their development, training and capacity building and advocate a culture supportive of personal and social improvement in a nurturing and enabling workplace.
As of year-end 2016, NAC's workforce totaled 1,687 employees and 5,653 contractors. This is up 43 and 1,750, respectively from our numbers in the previous reporting year.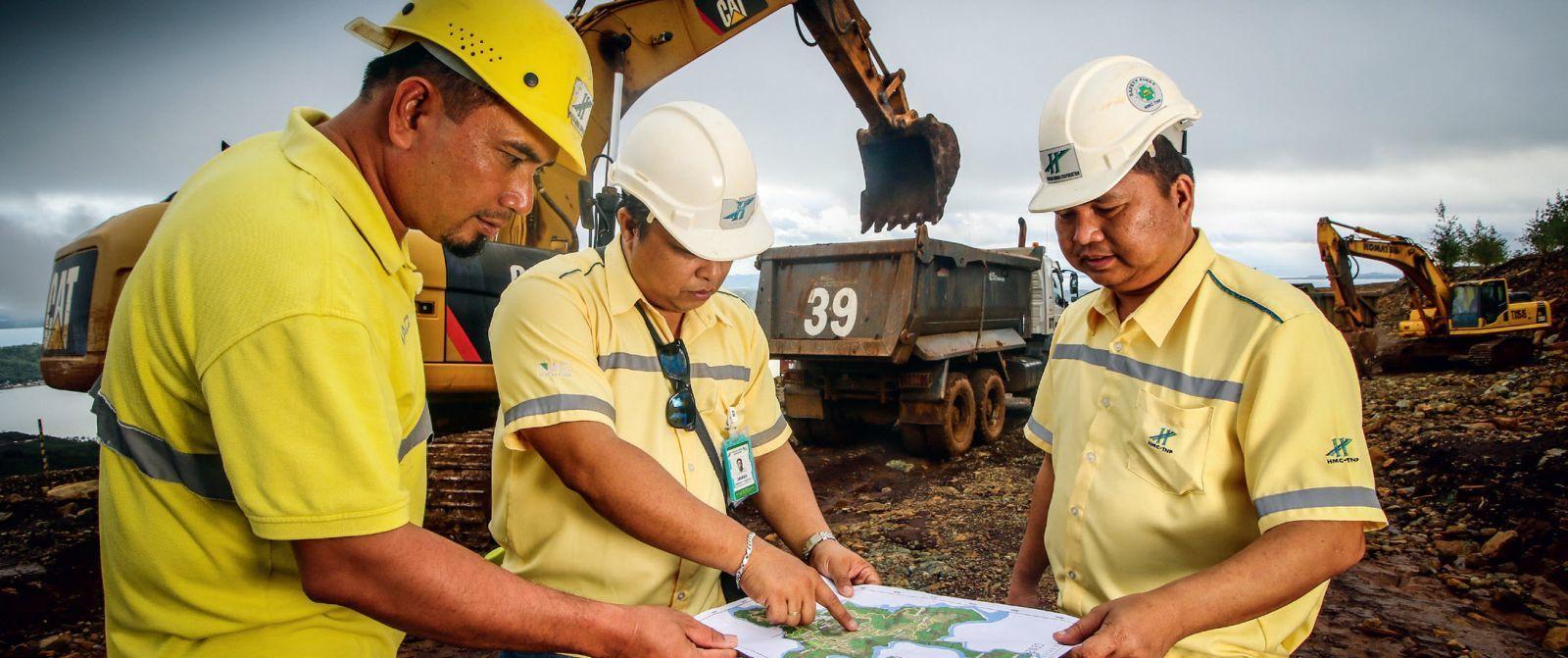 Workforce
Our mining activities are seasonal in nature, as we do not mine during rainy seasons. During such times, we concentrate our activities to maintenance and environmental works. We employ a core group of regular workers to conduct such activities and augment our workforce as necessary during the dry seasons by seasonal hires and contractors.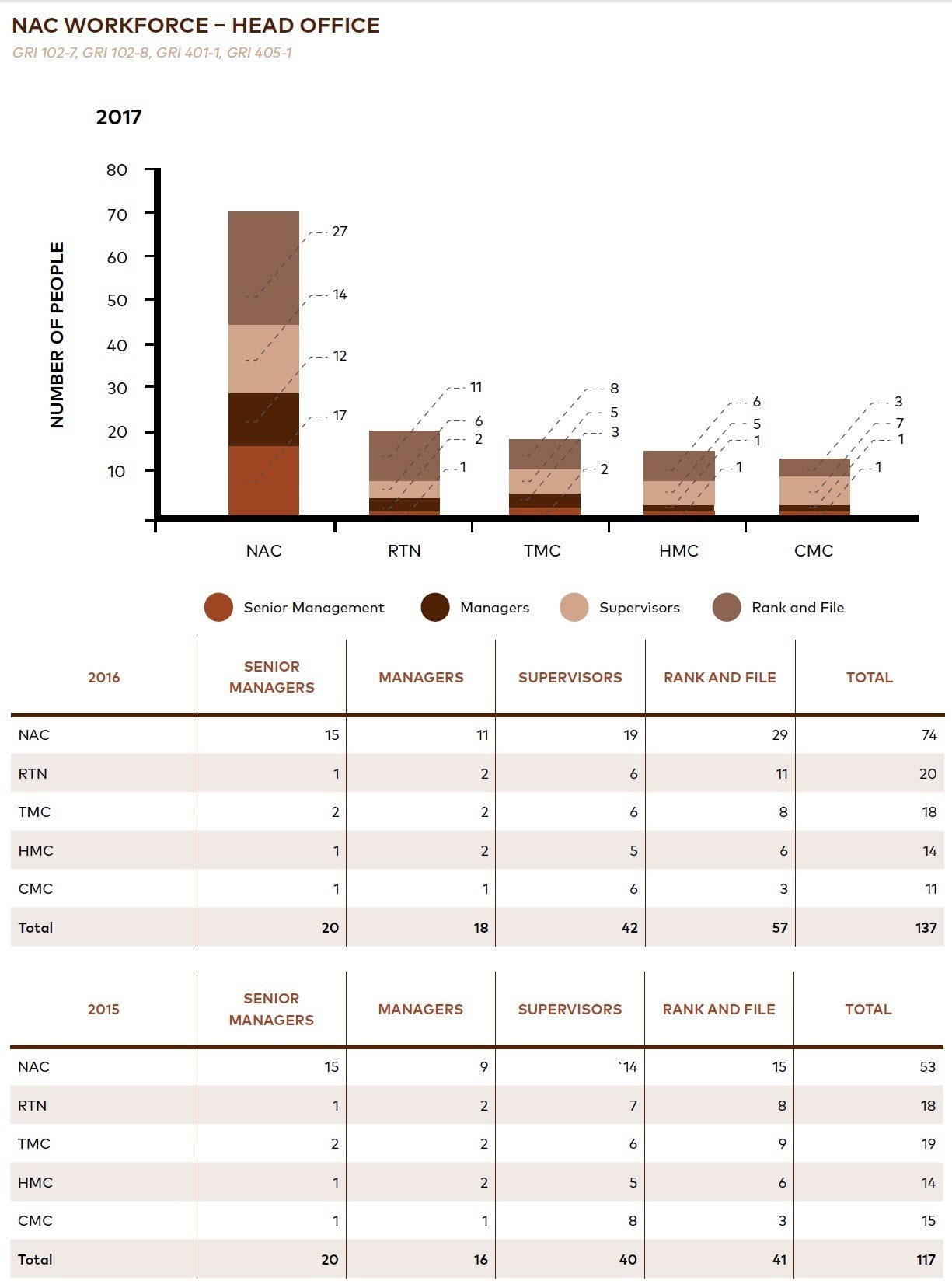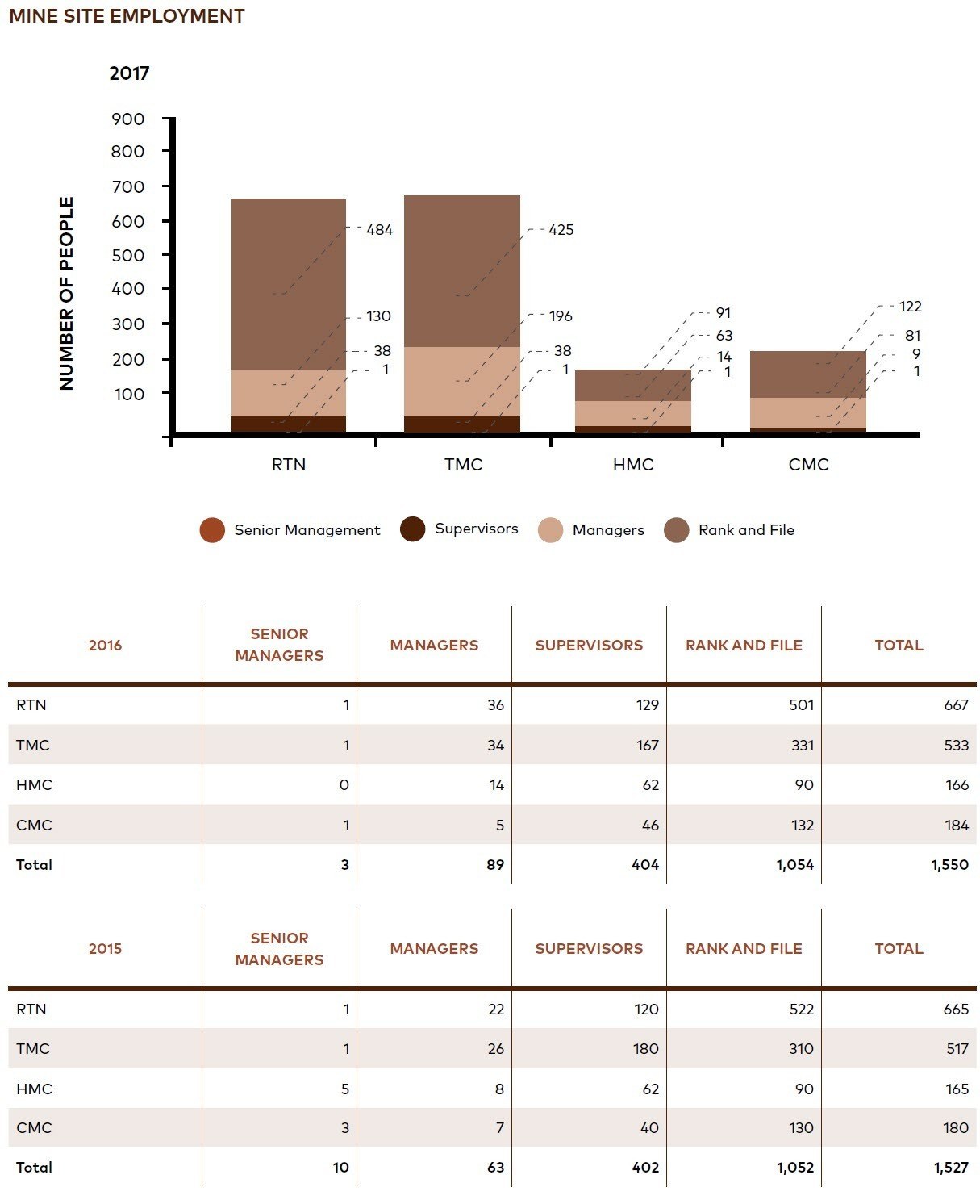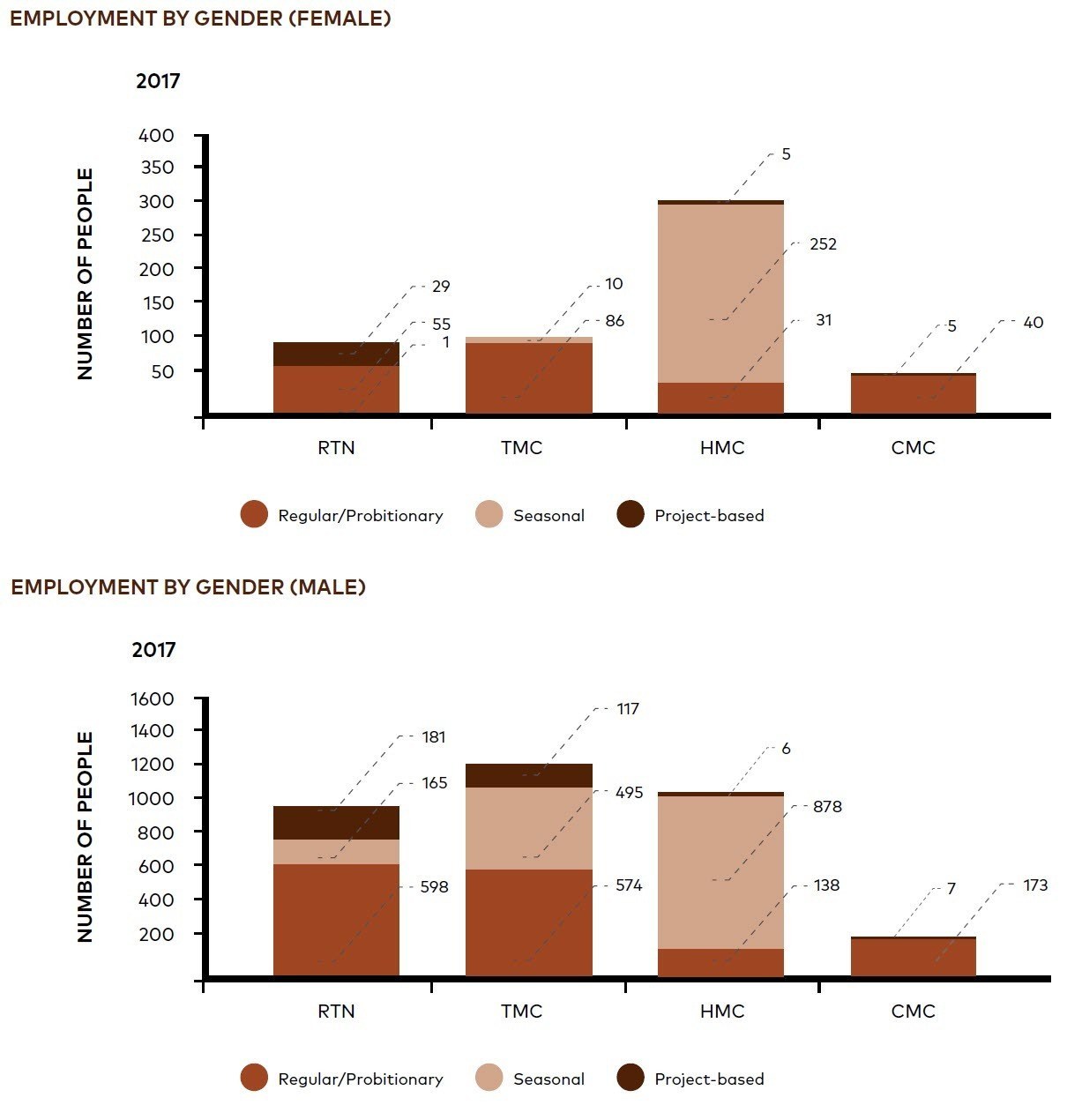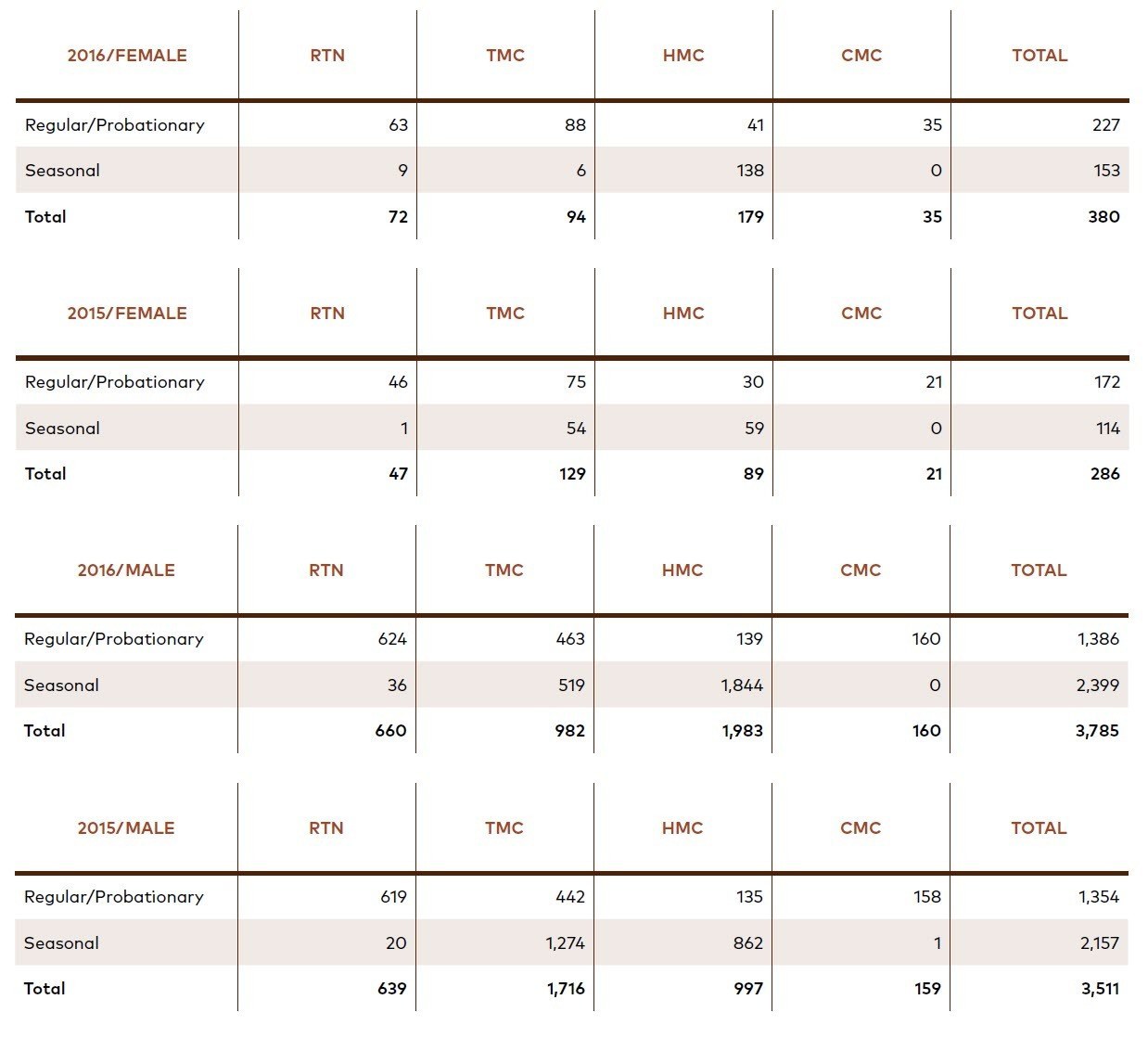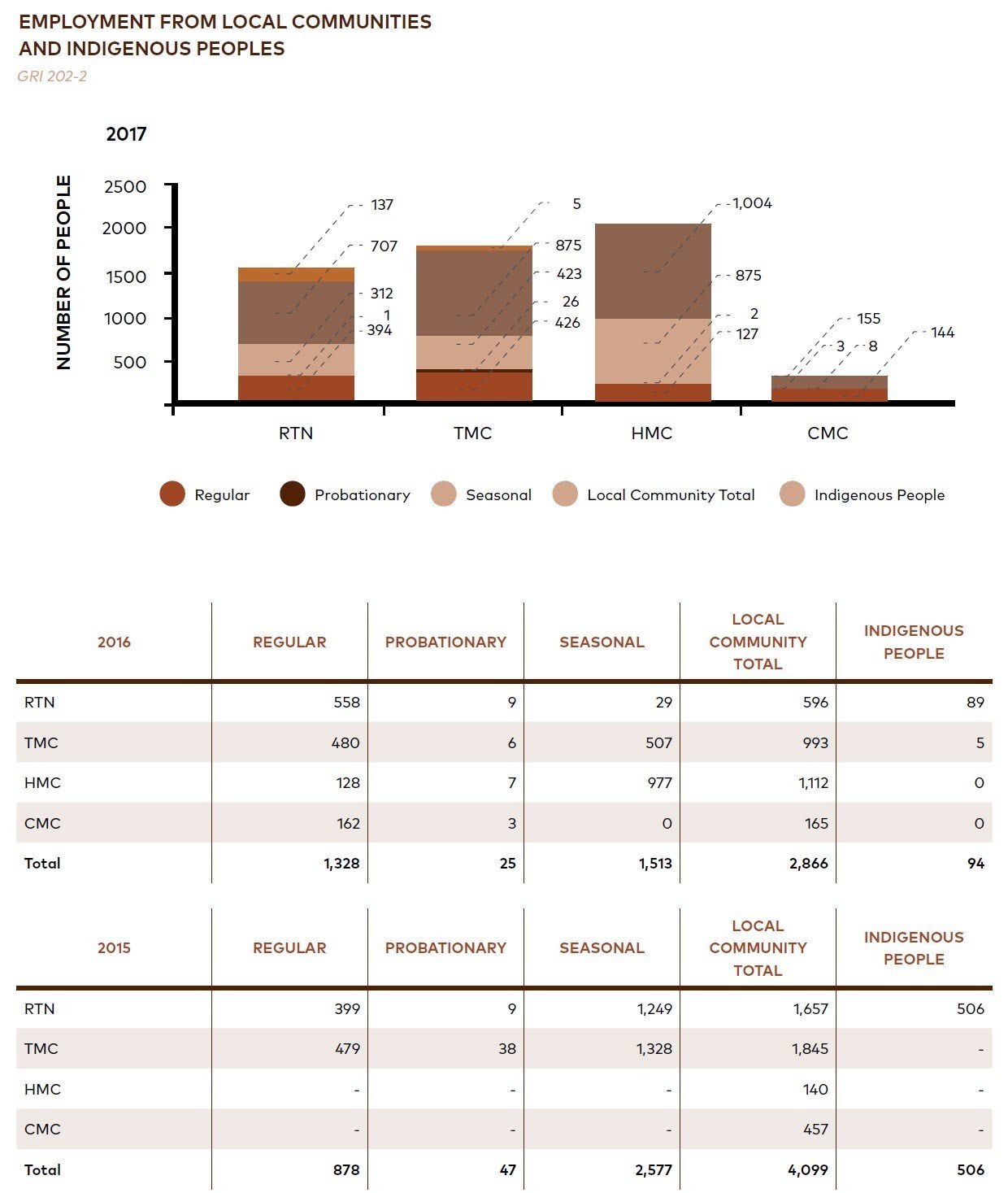 Continuously Developing Competencies and Skills

NAC focuses on enhancing the welfare of our employees through training and skills development programs based on periodic training needs analysis. These training and development opportunities enhance their knowledge, skills and competencies toward the achievement of their individual performance targets, as well as their career goals. The training modules cover both technical competency and the intangible soft skills that help them perform their roles more effectively.
In 2017, the total spending on employee training and development was at PHP 17.37 million. The Company invested 18% more training hours in 2017 through focused programs strategically directed at trainees identified through systematic training needs analysis. The mine sites run their own development and technical training for specific job functions and all regular employees are offered training opportunities throughout the year.
Training topics in 2017 included:
Use of equipment training
Human resources
Environmental protection
Health
Fire and safety
Code of business conduct and ethics
Chemical analysis
Communication skills
Labor laws
Problem solving and decision-making
Livelihood skills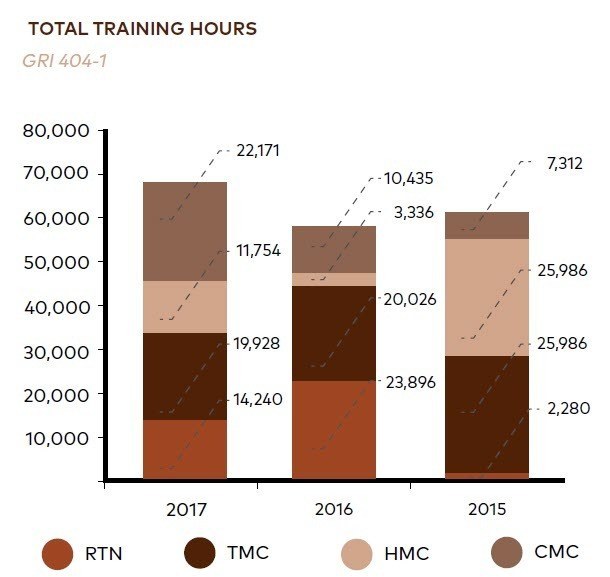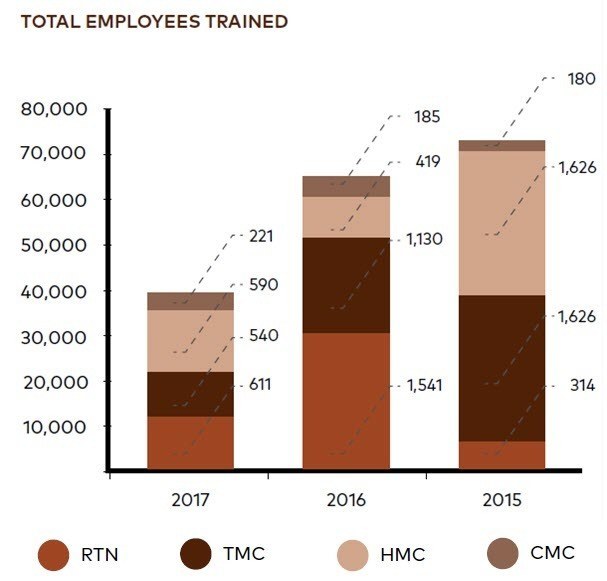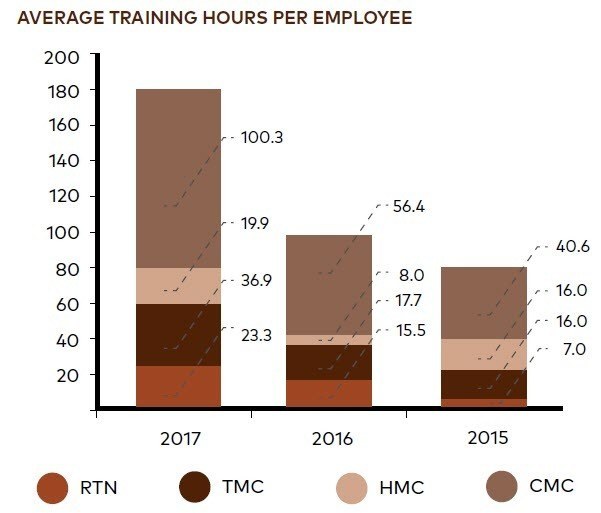 Supporting Sustainable Collective Rights
Meanwhile, the Company also recognizes the rights of employees to organize themselves in trade unions in accordance with the laws of the Philippines, and we protect this right in all our operating mines. As such, the Company works in good faith with employee associations to come up with fair, rational and sustainable Collective Bargaining Agreements (CBAs) for the common good.
All our mine sites have CBAs in place which provide for salaries and benefits, which may vary per location. Generally, these agreements include:
Medical, dental and hospitalization benefits
Free annual physical exam
Use of ambulance
Creation and maintenance of a central Safety Committee
Grievance mechanism
Safety paraphernalia
Training and education
Identification and prevention of hazardous and unhealthy working conditions
Proper labeling of chemical containers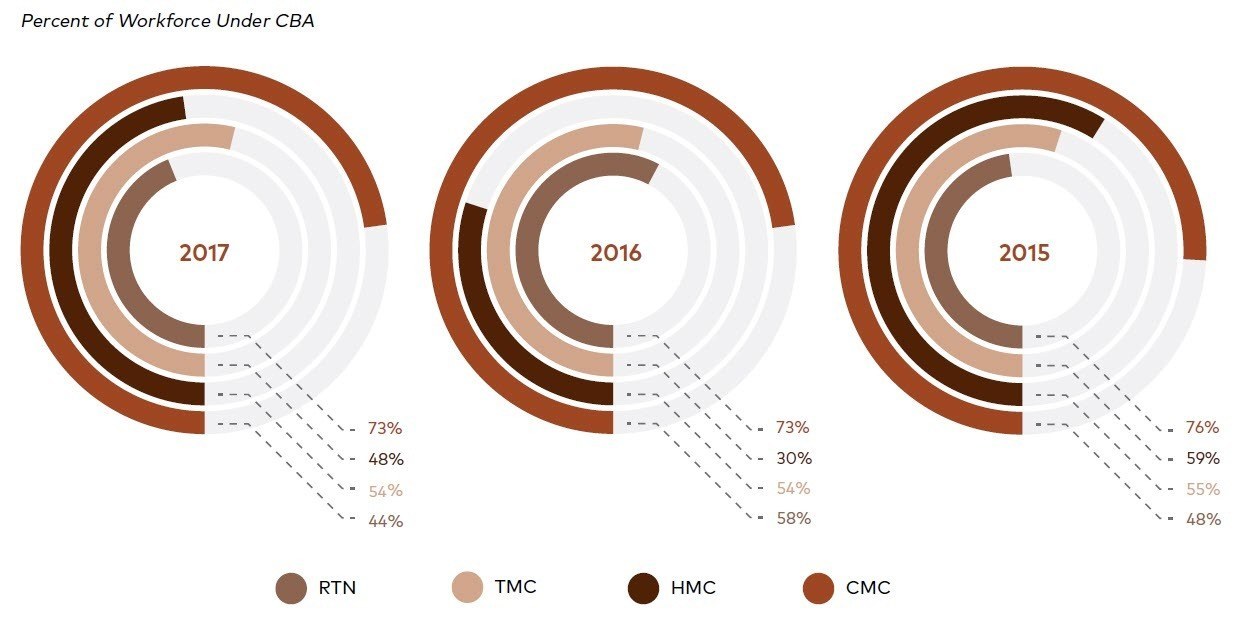 Top Remitting PhilHealth Employer
As further demonstration of NAC's commitment to the welfare of employees, TMC happily received recognition from PhilHealth as top remitting and top reporting private employer in Surigao del Norte. The company's contribution of PHP 10 million in remittances was recorded from 2016-2017, the period covered for the award. From 2013-2017 TMC remitted to PhilHealth a total of PHP 24.4 million. By regularly remitting and fulfilling its obligations on time, TMC is able to support PhilHealth's thrust to "ensure affordable, acceptable, available and accessible health care services."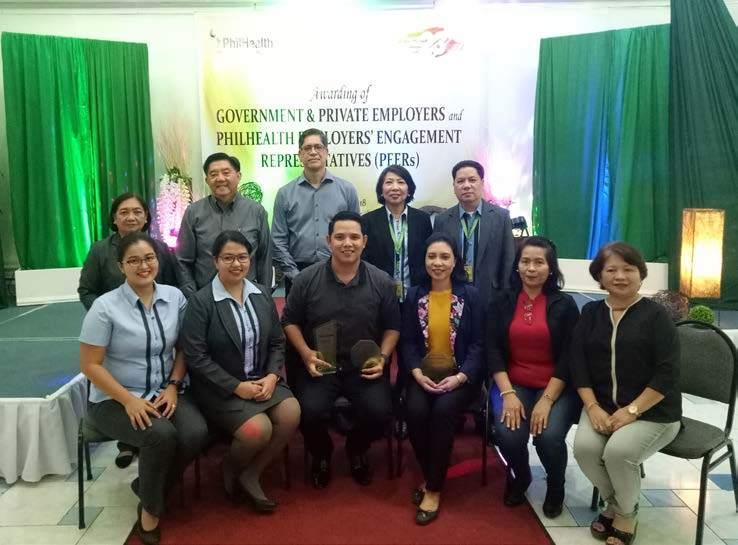 TMC awarded as Top Remitting and Reporting Company by PhilHealth