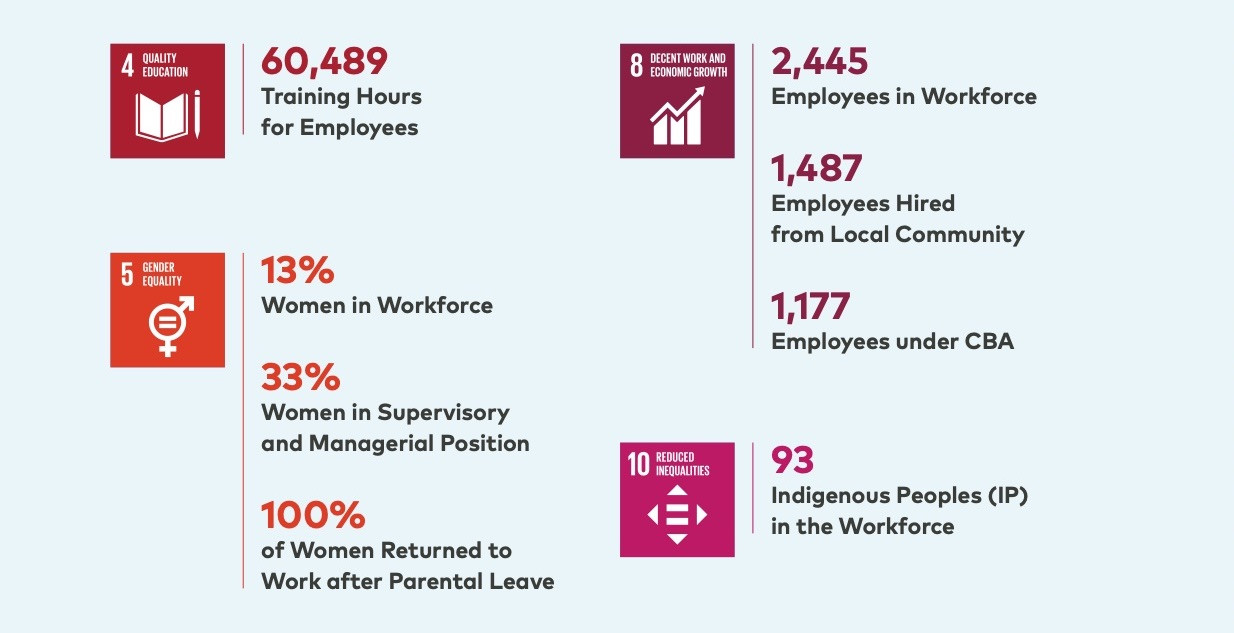 At NAC, our people are valued for their inherent talent, contribution, and essential role in the organization's sustainable growth. The Company stands together in supporting the principles of human rights, fair compensation, the practice of non-discrimination and equal employment, and development through continuous learning.
The Company's battle cry for 2019, "Marching towards a sustainable future", reflected its goal of ensuring focus on employee welfare and the Company's ability to attract and retain competent and productive employees.
NAC ensures that it provides equal chances of employment, as long as the applicants are qualified and have the ability to perform the job function. It chooses the best available person for each position through the assessment of their technical and professional skills, personal growth, and behavioral characteristics.
In 2019, a total workforce of 2,445 was gainfully employed by the Company; with an industry- typical ratio of males to females of about 1:7. NAC, however, supports and promotes Women in Mining, having employed women even in typically male positions such as operators and drivers. This is also evident in the distribution of management roles filled predominantly by men, with about 23% filled by women. The percentage of women in Senior Management grew to 16%, compared to 12% in the previous year.
The NAC Board welcomed Maria Patricia Zamora- Riingen as its newest member, bringing with her years of valuable leadership experience in a variety of sectors. The Company is also proud of its other women leaders: Senior Vice President for Compliance and Corporate Services, Georgina Carolina Y. Martinez; Vice President for Internal Audit, Maria Angela G. Villamor; Assistant Vice President for Finance, Iryan Jean U. Padillo; Corporate Secretary, Barbara Anne C. Migallos; and TMC Vice President for Finance, Lennie A. Terre.
At RTN, Engineer Cynthia E. Rosero was recognized by MGB for being the first-ever woman Resident Mine Manager in the Philippines - the highest position in an operating mine. She was conferred the title of "most empowered woman in mining," which Cynthia recognized as a sign that "women in mining are rising to positions of influence and responsibility where they can ensure that responsible mining in the country is strictly executed."
NAC is able to provide employment opportunities to its host and neighboring communities, employing 1,487 locals in 2019; 93 of them being indigenous people. This is made possible through the Company's Impact Sourcing practice, where local hires are prioritized to provide opportunities for economically disadvantaged groups.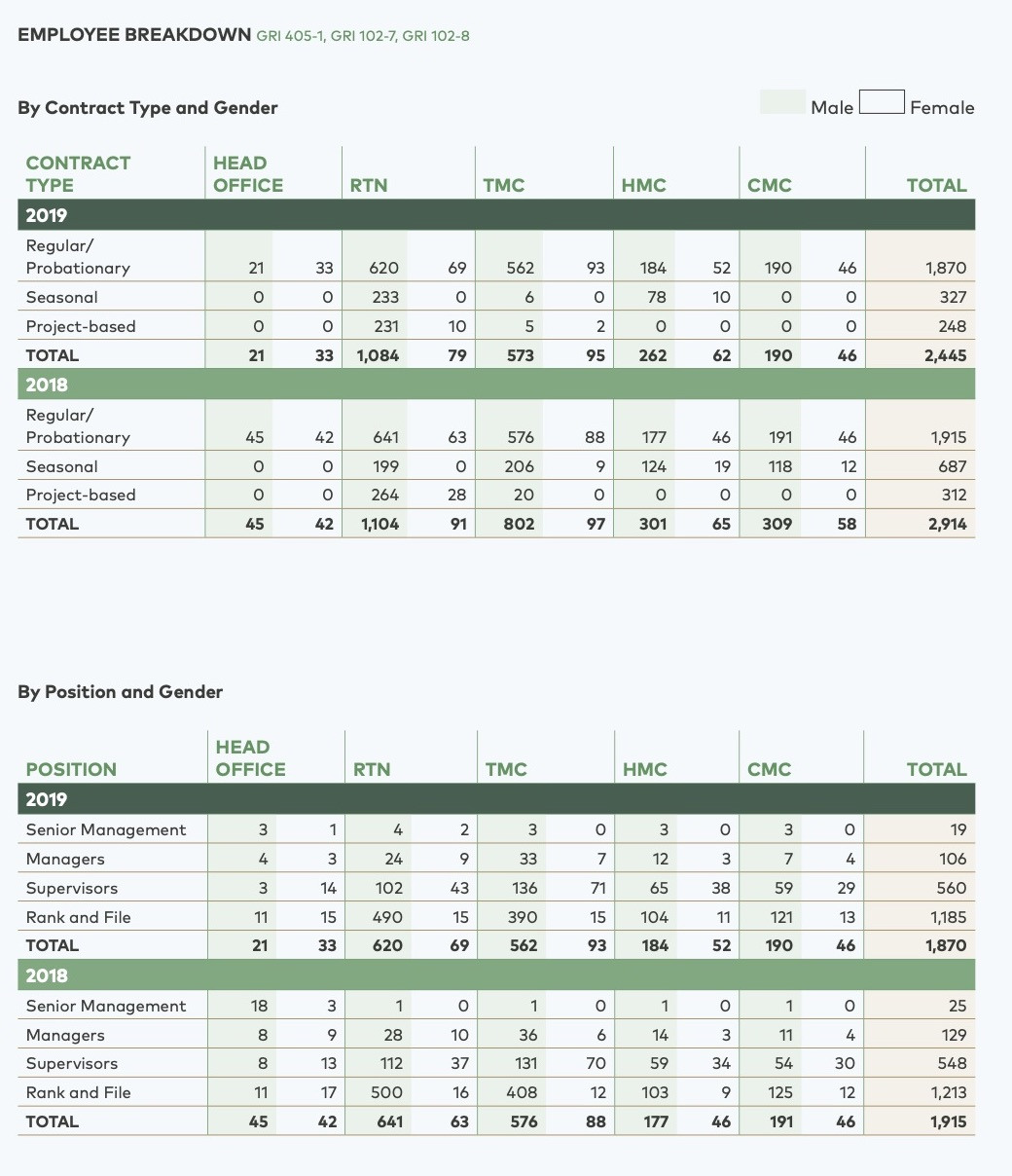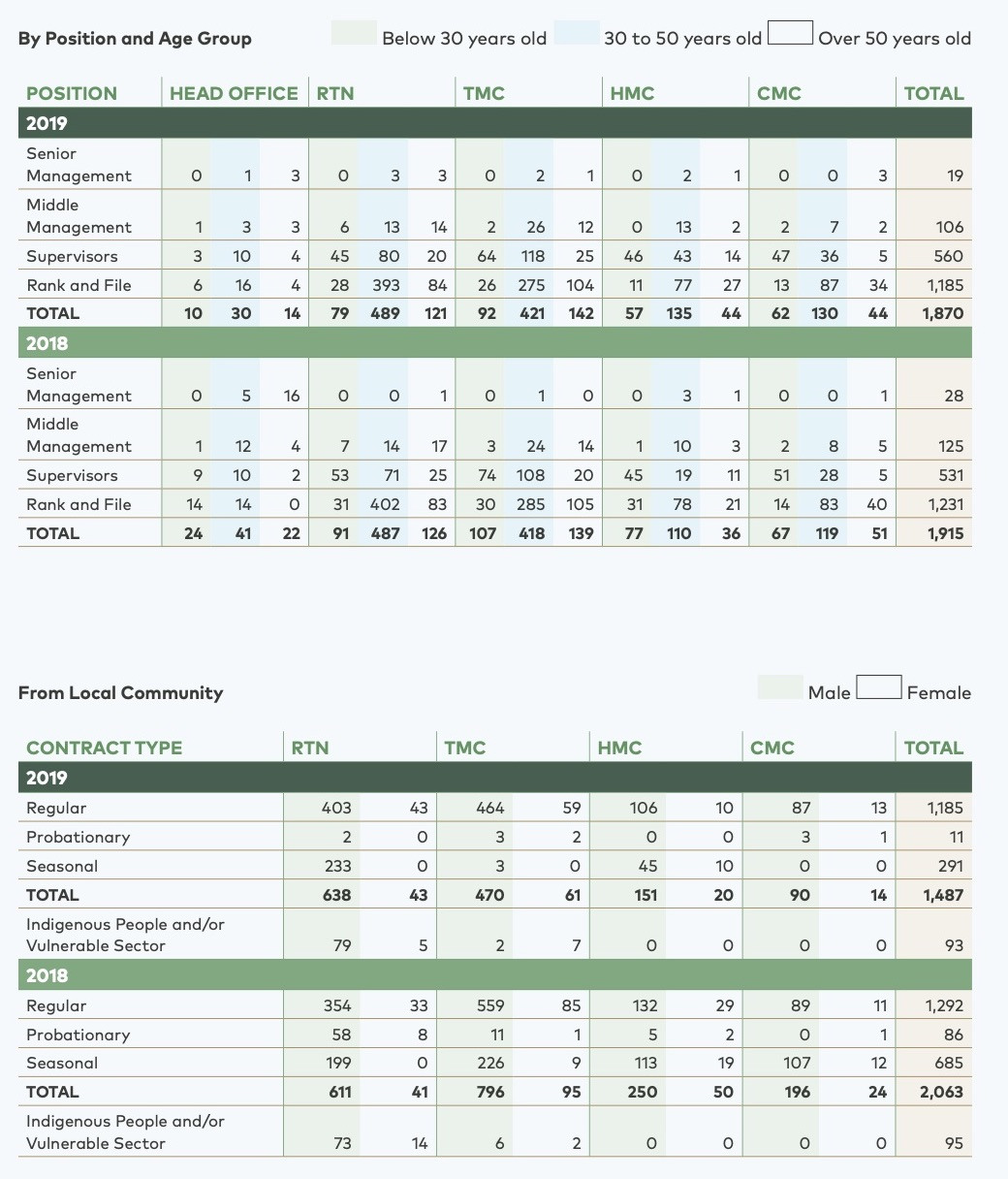 Employee Training and Benefits
NAC's high regard for its people is supported by continuous training and development opportunities, combined with competitive compensation and benefits packages.
For 2019, NAC was able to provide a total of 60,489 training hours for its employees, helping boost their productivity, confidence, motivation, and morale. These measures enabled them
to perform their roles more effectively

Training and skills development opportunities are among the key benefits that NAC offers. After conducting Training Needs Analysis, department/ section heads submit their requests for training opportunities for their people. The requests cover areas such as leadership and management, safety, environment, health, behavioral, and technical

The Company ensures to provide technical skills training specific to the mining industry such as Advanced Operations Management, Annual Geological Convention (GeoCon) 2019, and Environmental Planning. For its part, CMC ensures to include Post Training Evaluation to measure the usefulness of specific training programs

In 2019, CMC tied up with St. Paul University of Surigao (SPUS) to offer BS Mining Engineering as a second course at the mine site, starting academic year 2019-2020.
Innovating to deliver quality education, SPUS and CMC instructors will coordinate and communicate with each other throughout the course to produce topnotch engineers. The onsite classes present a huge opportunity for employees to pursue their dream of becoming mining engineers without having to leave the workplace.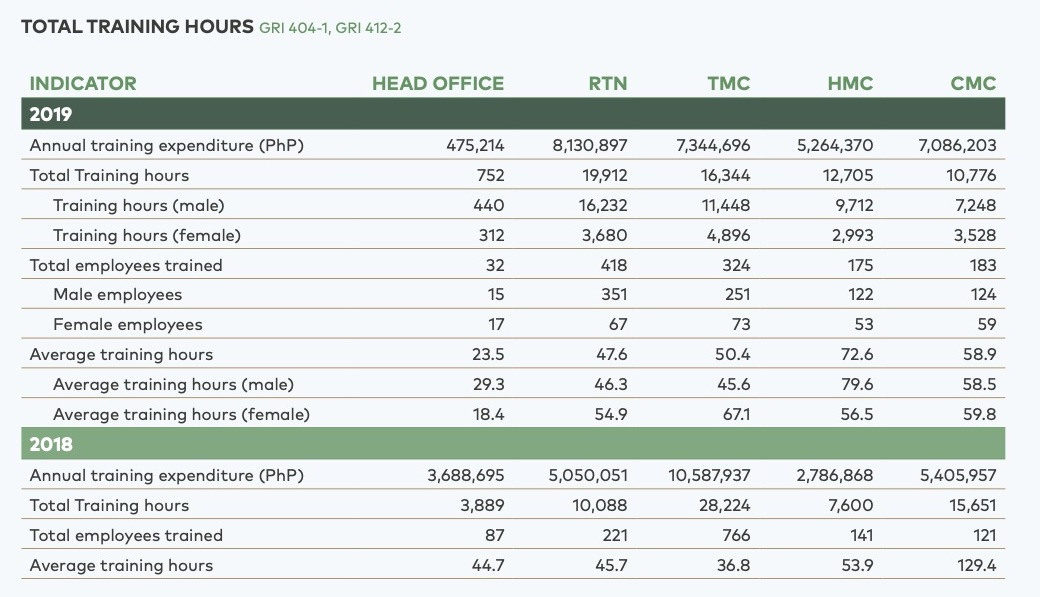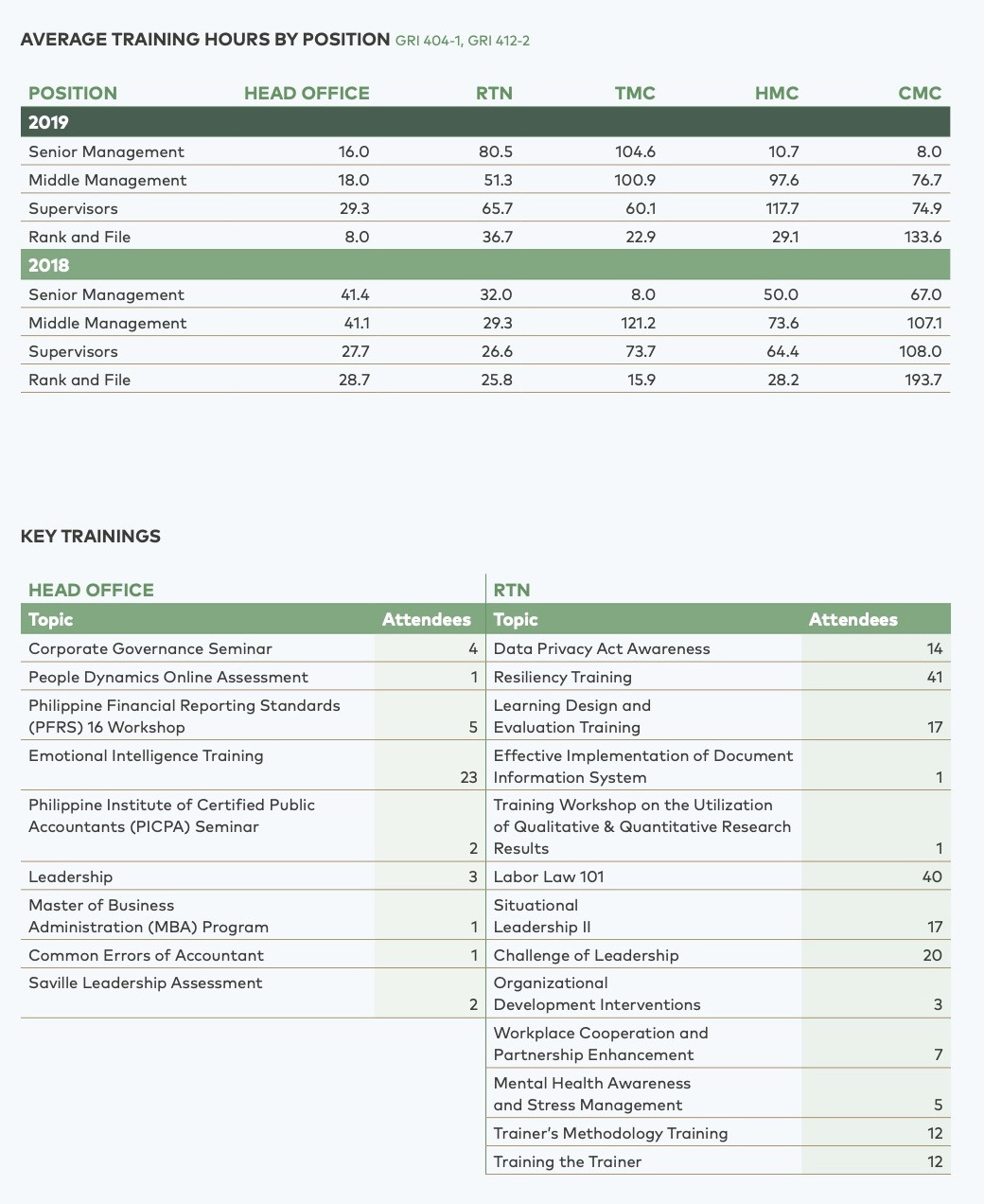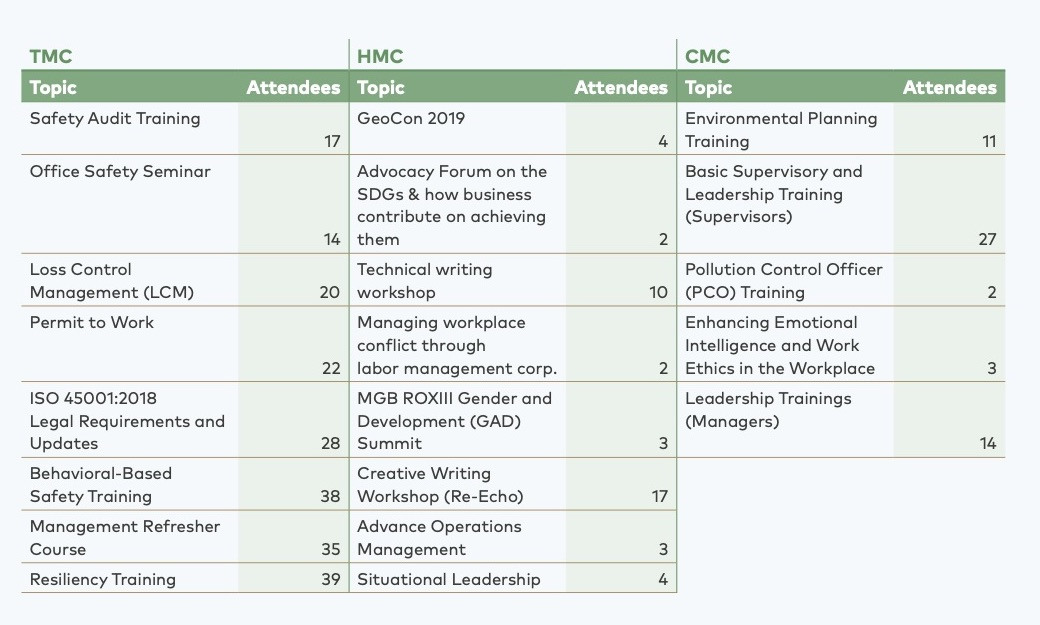 Employee development does not stop at the provision of training. Development also includes performance evaluations from direct managers. This is so that they can commend excellent work, as well as provide interventions for those who need improvement

Employee performance is tracked using an established Performance Evaluation and Development Sheet with key performance indicators. Employees who were able to deliver excellent service throughout the year are recognized during the Service Awards program and are given promotions, bonuses and/or salary increases.
These are among the reasons for the Company's low attrition rate, along with appreciative and competitive compensation and benefits packages. TMC's compensation and benefits packages
are competitive in Caraga region. The average compensation and benefits for a regular rank- and-file employee is three (3) times more than the prevailing daily minimum wage rate in the region.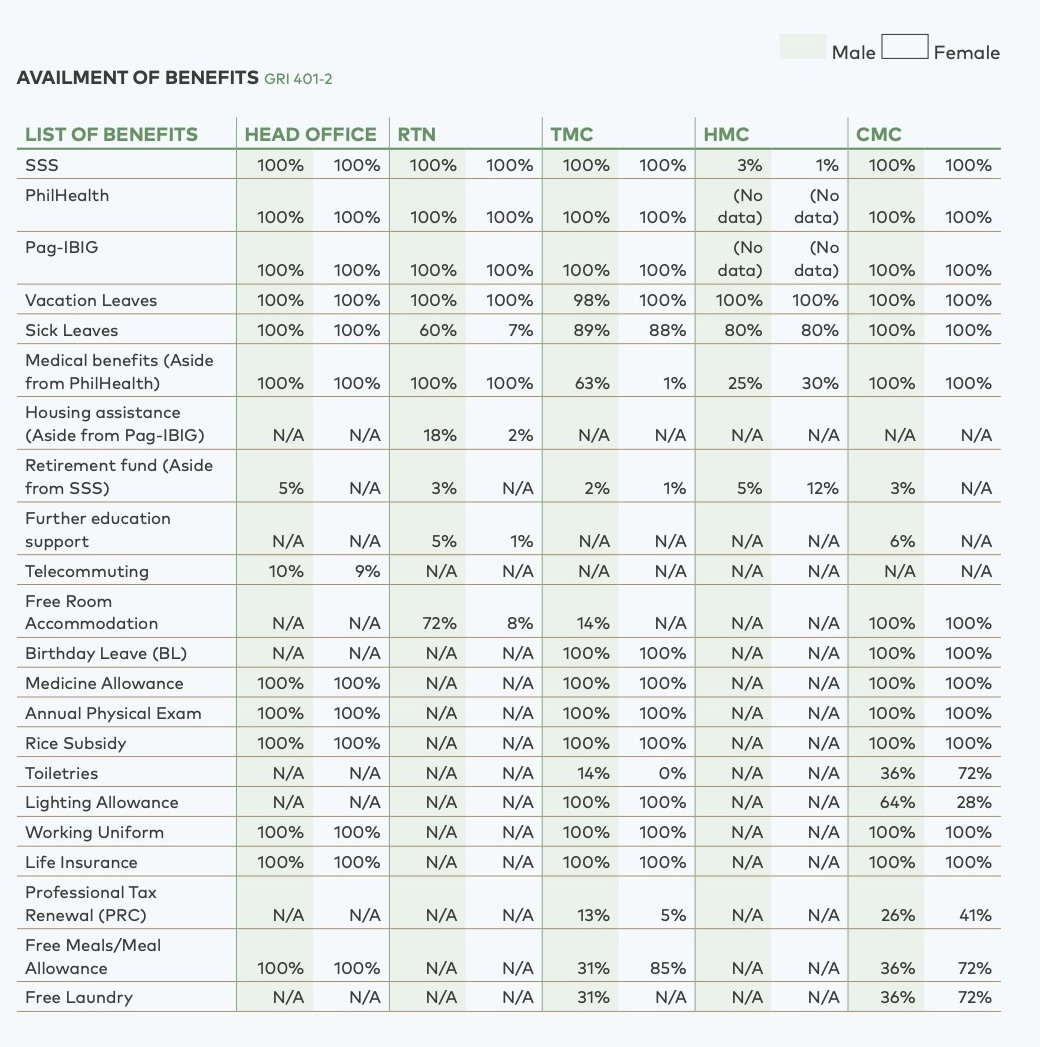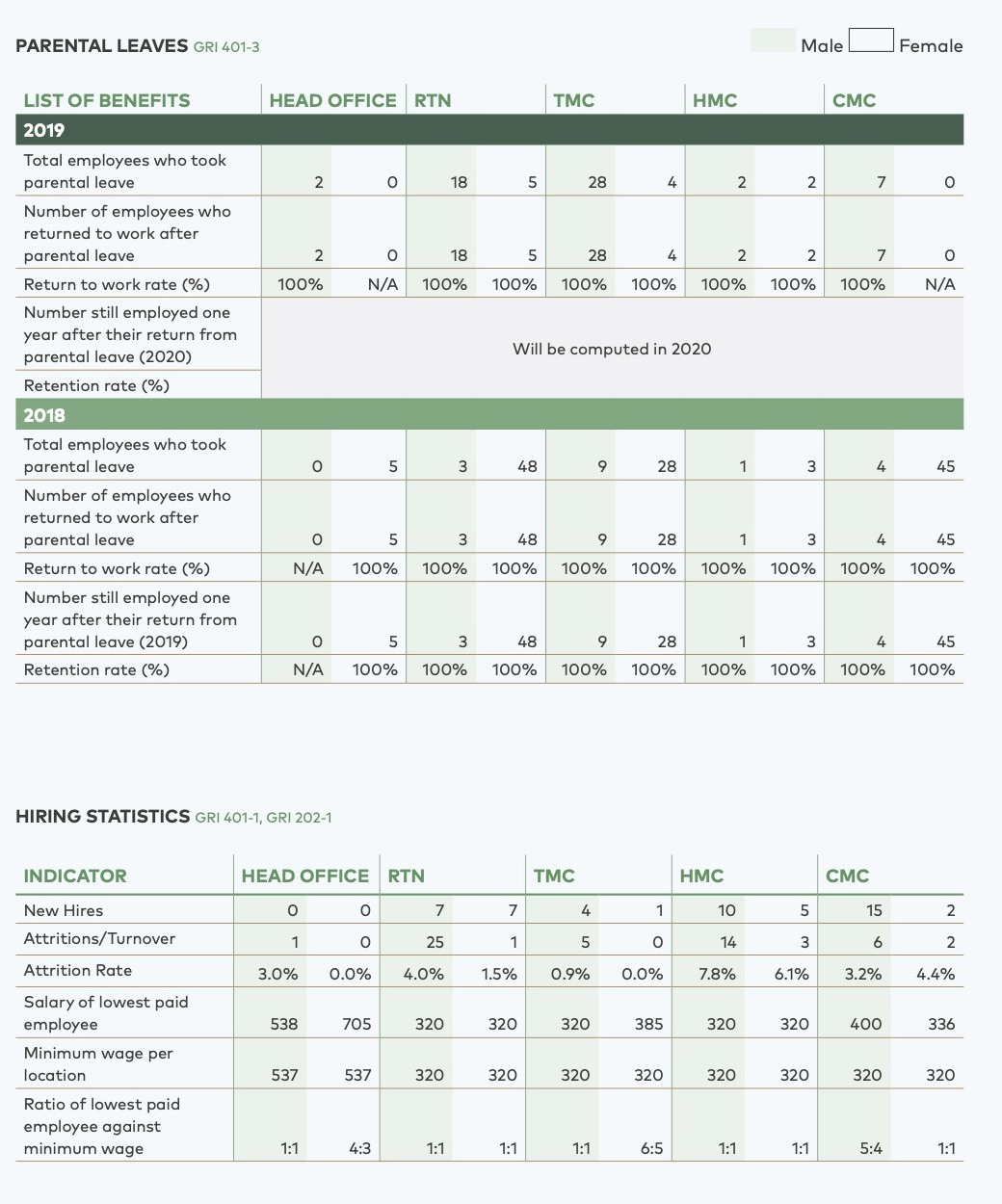 Freedom of Association and Collective Bargaining
NAC provides intangible benefits, such as a strong and open corporate culture that responsively supports Freedom of Association and Collective Bargaining. NAC recognizes its employees' unions as important partners in business. It enhances and sustains its relationship with the Unions through mutual trust and respect, teamwork, proactive policies, openness in terms of information sharing, discussions, consultations, and negotiations.
The Unions are always included in working committees for programs and activities. They are also involved in formulating strategies to handle company issues. RTN, for example, was able to implement the Anti-Bullying Act as a result of their consultations with its Unions

TMC has one Union, the Taganito Labor Union, which represents regular rank-and-file employees. TMC acknowledges the union's legitimacy and value, and considers the group an important partner in business. Through the Labor Management Committee (LMC), the relationship between labor and management is enhanced and sustained through mutual trust and respect, teamwork, proactive policies, and openness in terms of information sharing, discussion, consultation, and negotiations.
HMC also has one union called the Hinatuan Mining Labor Union (HIMLU), which is affiliated with Kilusang Mayo Uno (KMU). HMC management and HIMLU representatives hold a monthly Labor Management Conference every third Friday.
Meanwhile, CMC's existing Collective Bargaining Agreement also provides for a monthly Labor Management Conference every third Friday. These are for concerns that are not related to wages/salaries and benefits. Respective department heads are invited to attend these conferences. The Union is allowed to conduct Executive Committee Meetings whenever necessary to allow the officers and union leaders to discuss pressing matters.