Employee Diversity
In 2021, NAC demonstrated commitment to the welfare and well-being of our people as the Company offered a stable and reliable source of gainful employment as it focused on inclusive and sustainable growth even through challenging times brought about by a global pandemic.
Steadfast in supporting the principles of human rights, fair compensation, the practice of non-discrimination and equal employment, and development through continuous learning, NAC promotes diversity and inclusion in all its subsidiaries.
A total workforce of 2,874 was productively employed, with an industry-typical 1:4 ratio of males to females. NAC is able to provide employment opportunities to its host and neighboring communities, employing 1,795 locals in 2021, 80 of them being indigenous people.
This is made possible through the Company's Impact Sourcing practice, where local hires, who are part of the economically disadvantaged groups, are prioritized to be provide with opportunities. NAC welcomes IPs in the workforce and recognizes that their successful careers enable the Company to fulfill part of our commitment to their forefather who also welcomed the Company onto their ancestral land.
The Company places the best available person fit for the role. Recruitment decisions are based on assessment criteria that identify candidates' knowledge, technical and professional skills, potential for growth and leadership, and attitude and character that fits the Company's culture and shared values.
CMC, for its part, has a clear commitment to the host and neighboring community to open opportunities for both host community and neighboring communities. Only if the required talent is not available in Dinagat Islands does the company seek candidates from outside of the province.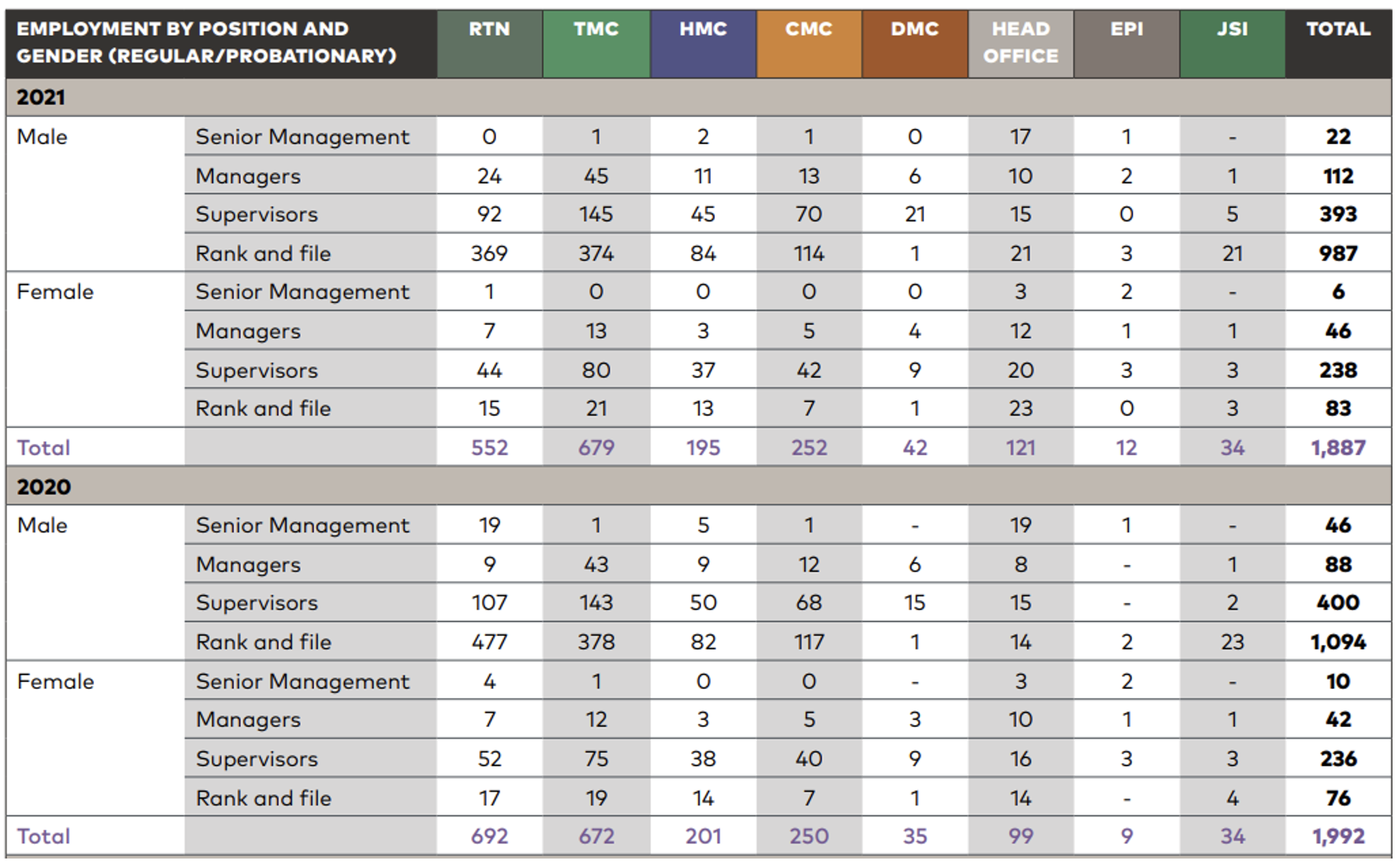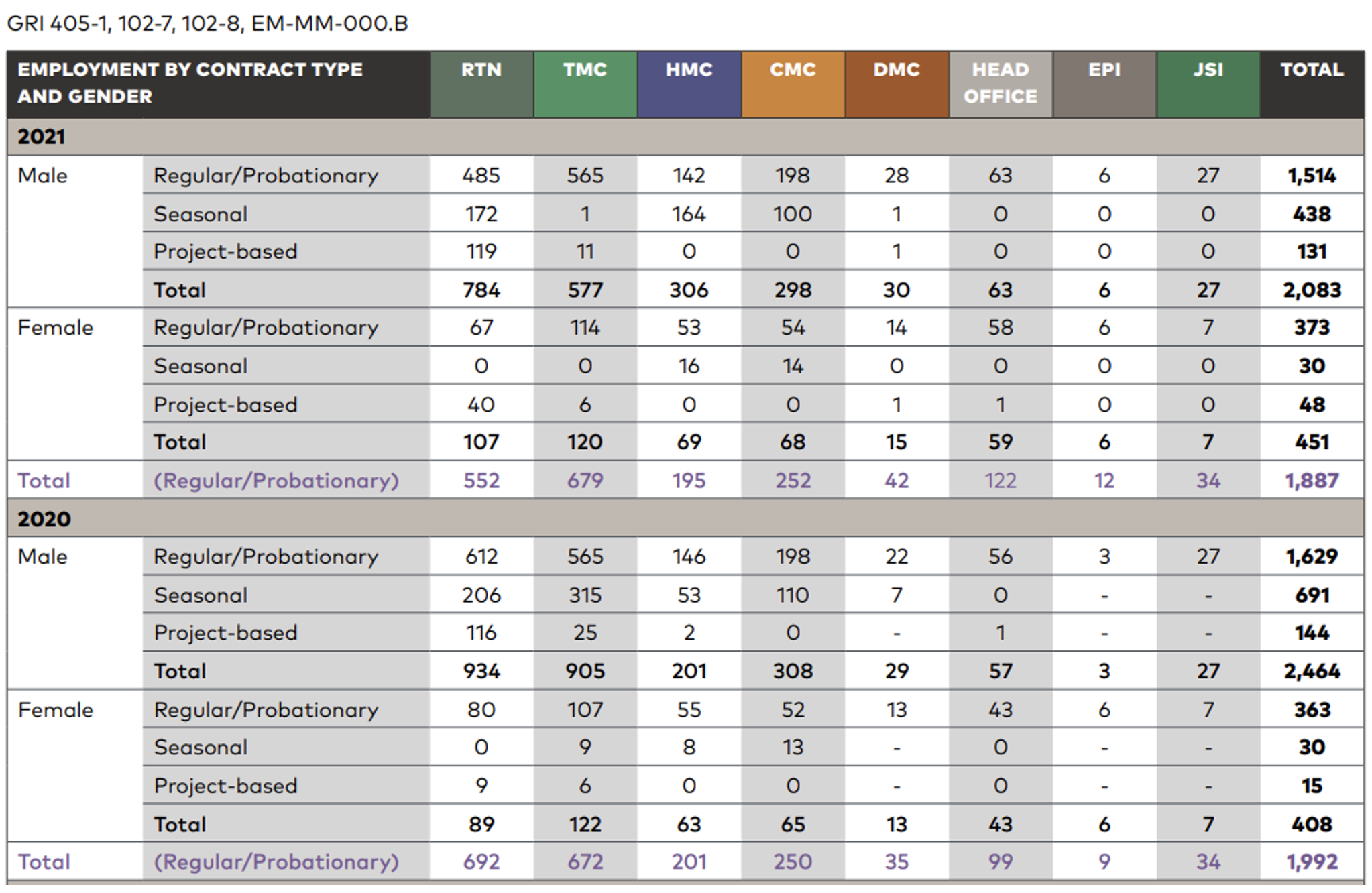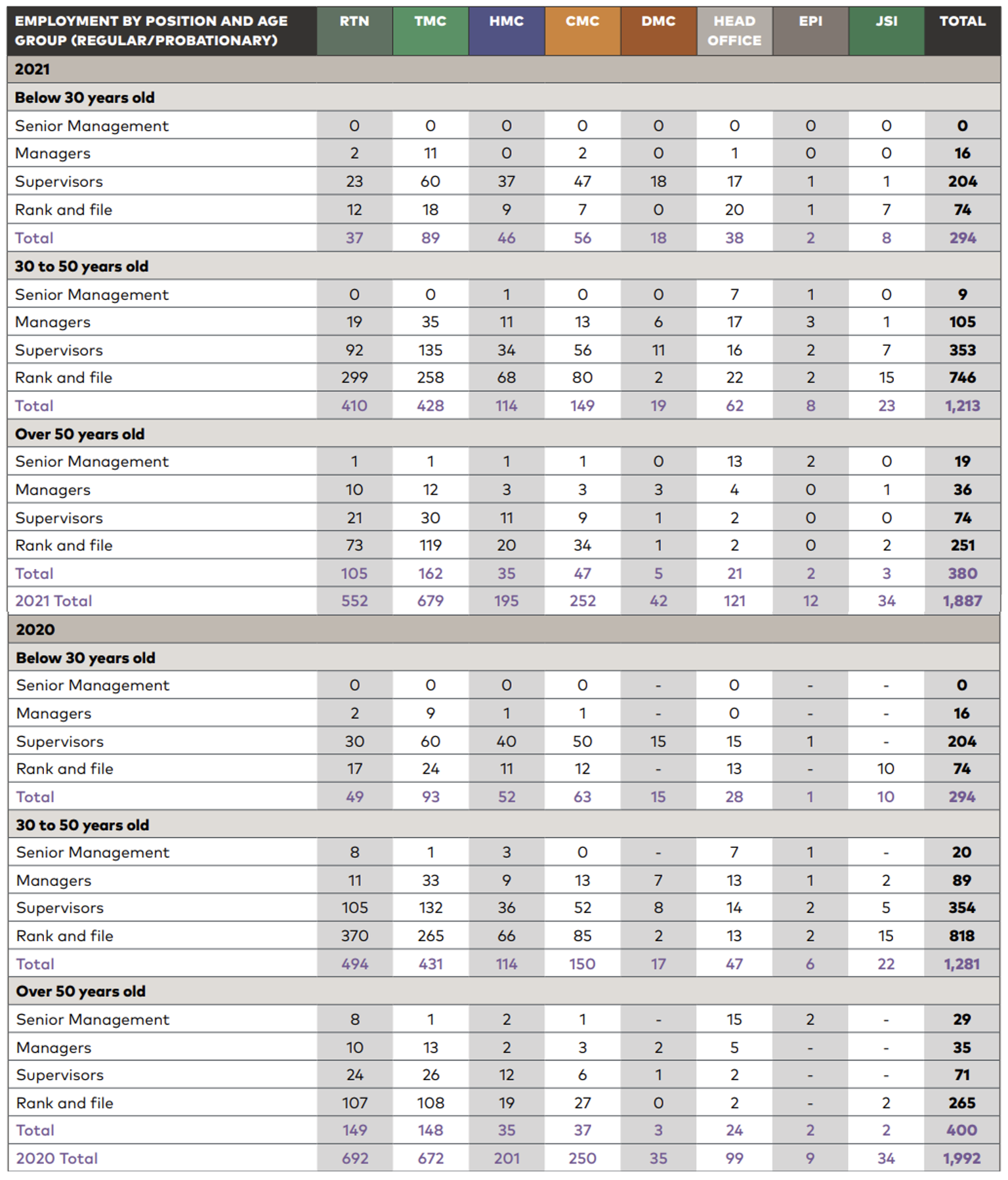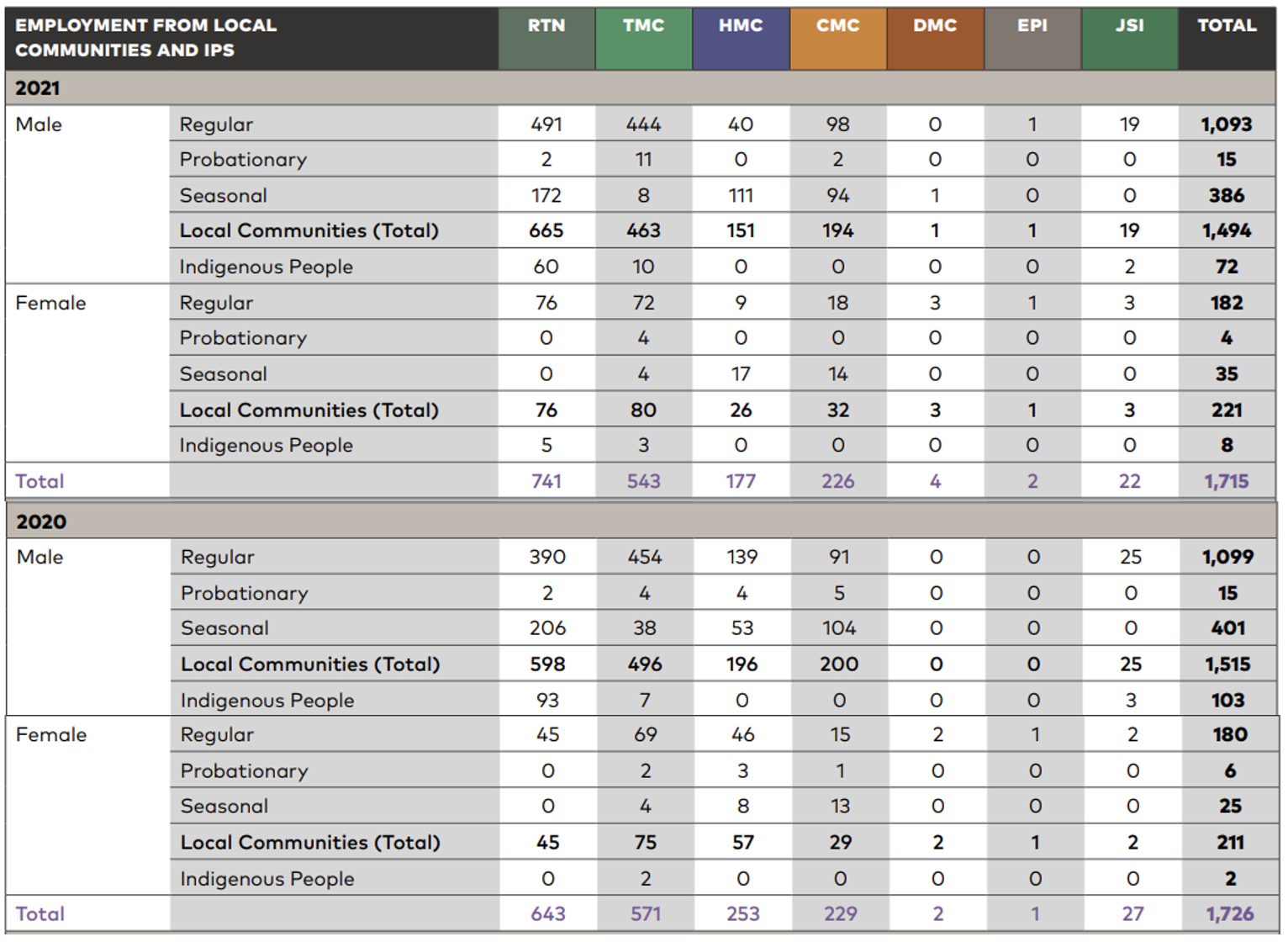 Employee Training and Benefits
Aside from hiring policies and practices, NAC implements employee engagement programs and initiatives to ensure that people are aware that their contributions are recognized and valued. Among these programs are: Participation of Union Association in management's objective setting, regular pep talks before and after work shifts, incentive programs, management's full commitment to the Collective Bargaining Agreements (CBA), and continuous training opportunities (covering health and safety, quality, environmental, technical, Continuing Professional Development (CPD), leadership among others.
In 2021, NAC was able to provide a total of 29,400 training hours for its employees, helping boost their productivity, confidence, motivation, and morale. These measures enabled them to perform their roles more effectively even through difficult times.
The Company also supported the creation of the TESDA Assessment Center which aims to upgrade the skills of drivers and operators through the issuance of NC2 certifications. Scholarships are granted to employees and their dependents who want to pursue a degree in Mining Engineering.
This year, TMC, in partnership with St. Paul University Surigao (SPUS), launched a mining engineering program that is open to qualified employees whose backgrounds are not related to mining, with the inaugural batch for school year 2021-2022. The classes were held virtually and onsite– maximizing access to actual operations, the pool of experts available in the field, and quality education from SPUS.
The students mostly have mining and engineering foundations and are currently assigned as geologists, chemists, geodetic engineers, safety inspectors, data analysts, etc. As a unique feature of the program, TMC's technical pool of engineers and geologists are being tapped as resource speakers for the students' technical subjects such as Engineering, Surveying and Geology.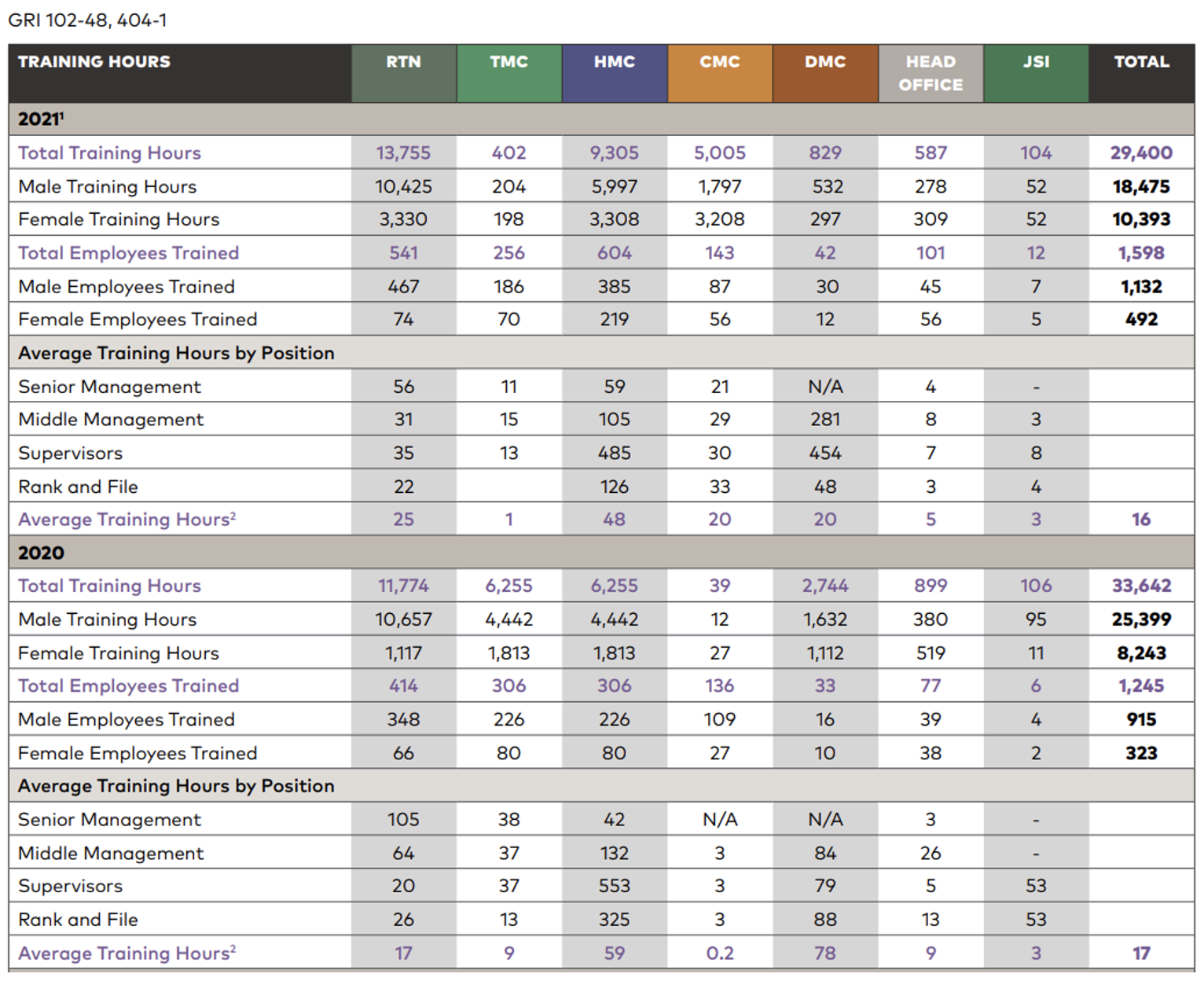 Employee development does not stop at the provision of training as performance evaluations are an essential factor in employee retention strategies. Through effective and timely assessments, leaders can provide commendations as well as coaching and interventions for those who need improvement
Employee performance is tracked using an established Performance Evaluation and Development Sheet with key performance indicators. Employees who delivered excellent service throughout the year are recognized during the Service Awards program and are given promotions, bonuses and/or salary increases. Seeking to also improve on the process for the benefit of its employees, NAC is developing a new performance evaluation system for 2022.
The focus on continuous people development is among the reasons for the Company's low attrition rate, along with appreciative and competitive compensation and benefits packages. TMC, for one, provides one of the most attractive compensation and benefits packages in the Caraga region where the average package enjoyed by regular rank- and-file employees is three (3) times more than the prevailing daily minimum wage rate in the region.
NAC subsidiaries offer benefit packages beyond mere compliance, from providing transportation allowance, vitamins, PPEs, COVID-19 testing and free flu vaccines to protect the health of employees, to providing free accommodations for essential employees during the pandemic.
HMC's benefits package is also noteworthy as it includes attractive features, such as: Rice Allowance, Medicine Allowance (cash), Group Life Insurance (Manulife), HMO (Intellicare), Mid-Year and Year-End bonus, free uniform, and free meals for Supervisors and Managers.
Another is CMC, which, amidst the pandemic and with the aftermath of the typhoon Odette onslaught, provided a one-month mid-year bonus along with a 14th month bonus and a 4 to 5 months performance bonus to its employees. Employees receive monthly production incentive during the loading season under specific conditions such as monthly attainment of targets for production and shipments, no recorded Lost Time Accidents (LTA), or meeting Grade specification dispatched are met.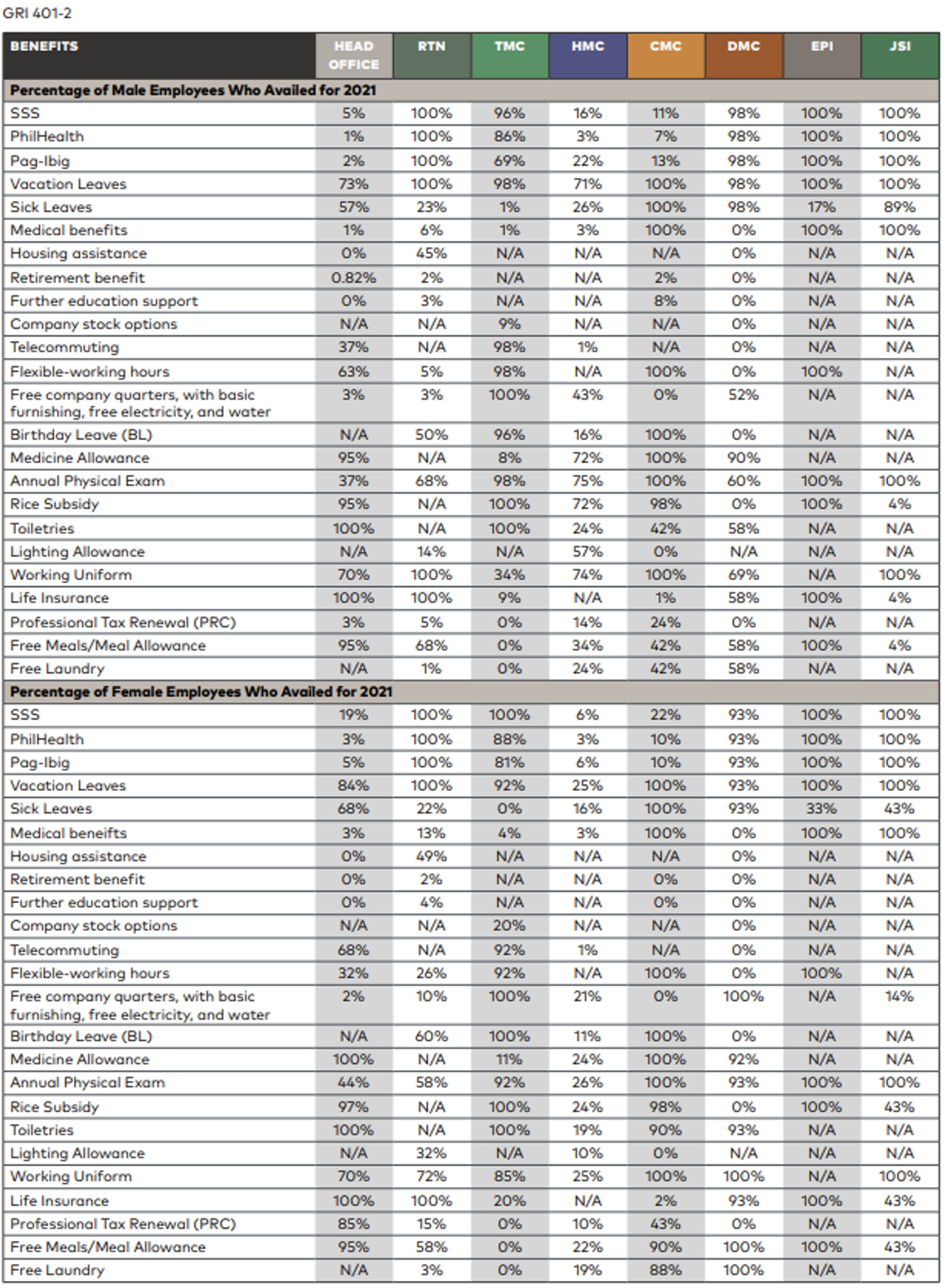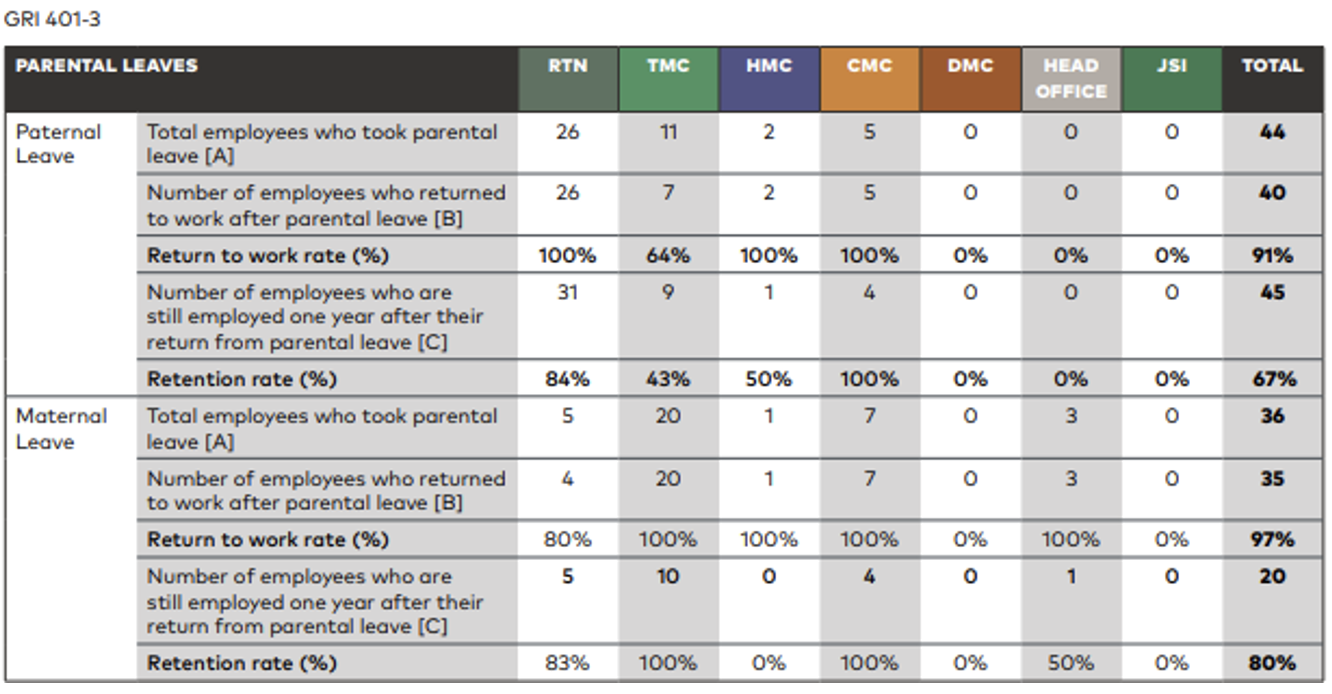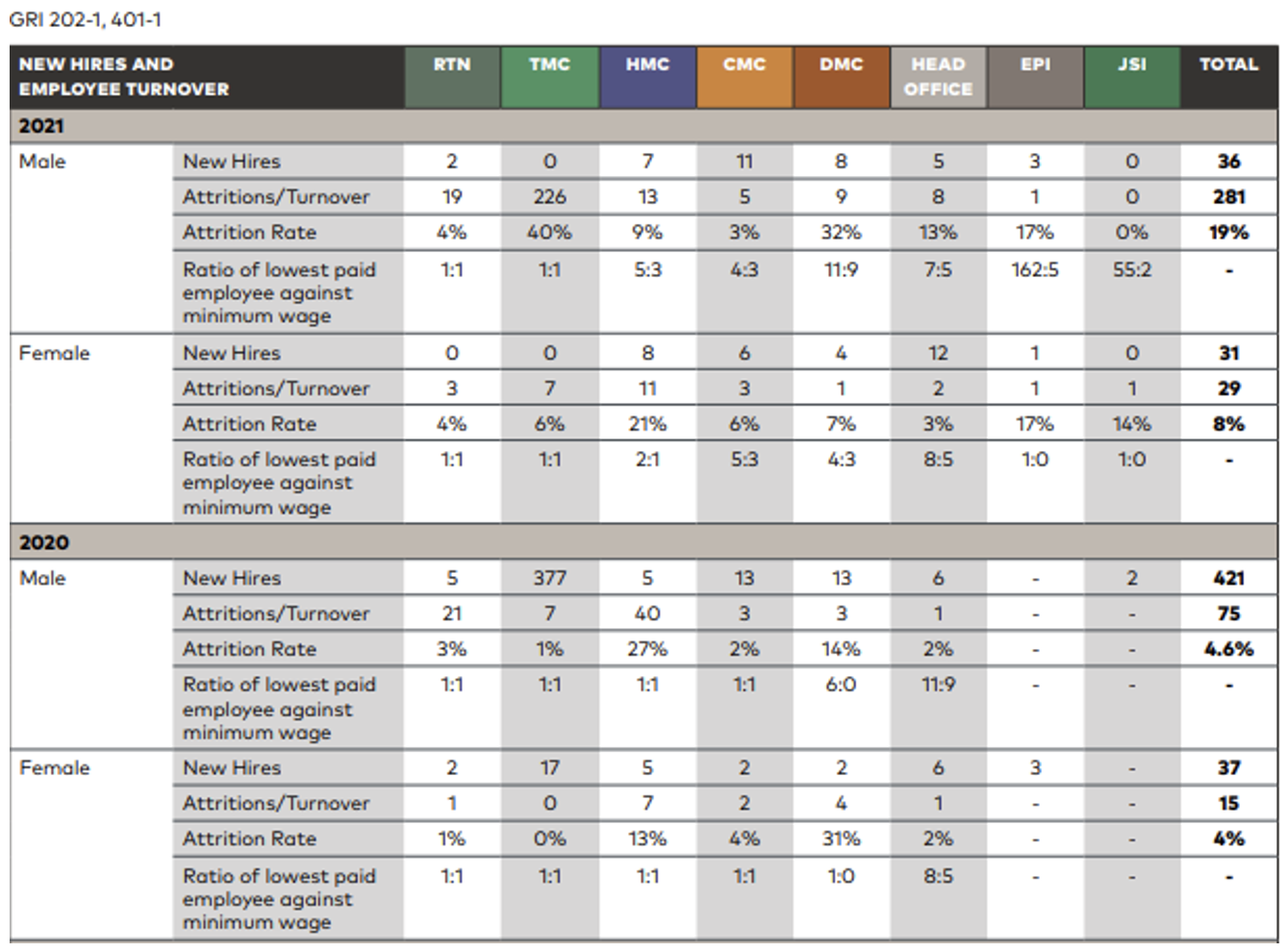 Freedom of Association and Collective Bargaining
NAC guarantees employees the unconstrained availability of their Freedom of Association and Collective Bargaining. As important partners in business, unions deserve an environment of mutual trust and respect, teamwork, proactive policies, and openness in terms of information sharing, discussions, consultations, and negotiations. As standard practice, unions are included in working committees for programs and activities and are involved in formulating strategies to handle company issues.
TMC has one union, the Taganito Labor Union, which represents regular rank-and-file employees. HMC also has one union called the Hinatuan Mining Labor Union (HIMLU), which is affiliated with Kilusang Mayo Uno (KMU).
Support for maintaining good relations is institutionalized through both process and structure. For instance, TMC's Labor Management Committee (LMC) supports the relationship-building between labor and management, just like DMC's recently created Labor Management Cooperation Committee. Meanwhile, HMC management and HIMLU representatives hold a monthly Labor Management Conference every third Friday.
Similarly, CMC has an existing Collective Bargaining Agreement that provides a monthly Labor Management Conference every third Friday. The Company concluded five (5) Collective Bargaining Agreements without any labor dispute that reached the National Conciliation and Mediation Board (NCMB) or the National Labor Relations Commission. In addition, the union has been involved in seminars for livelihood in different government agencies and in various community and social activities.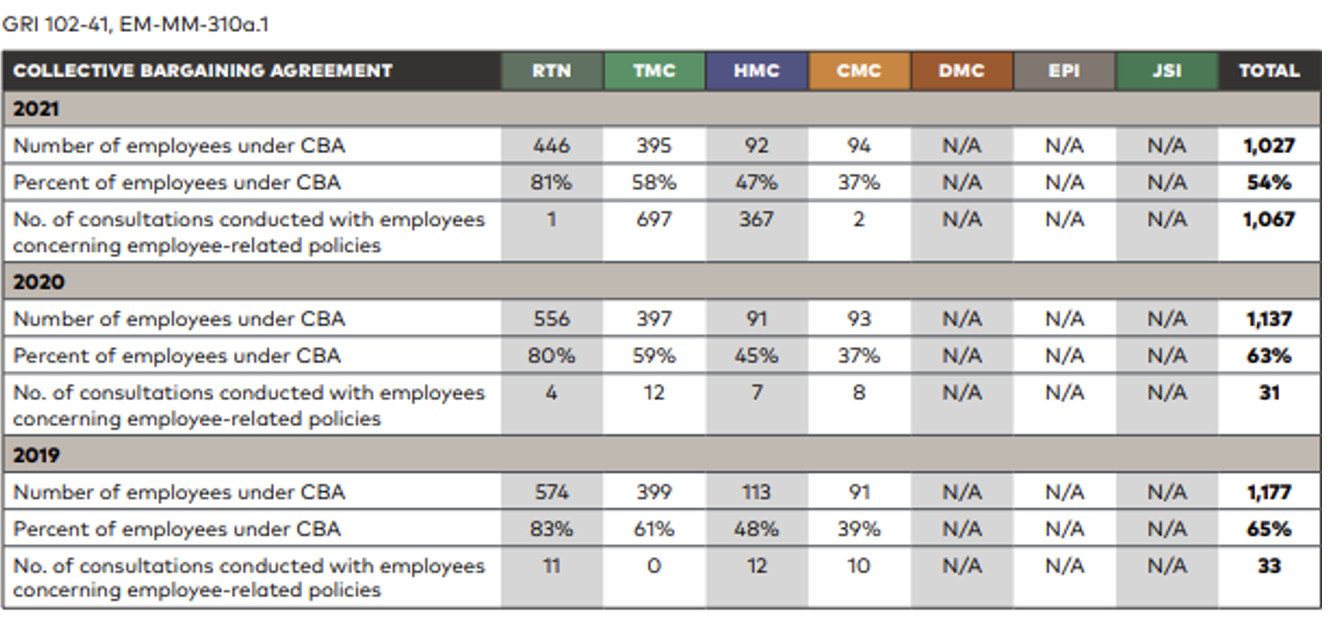 Working Hours
NAC Group endeavors to provide a healthy, safe and productive working environment for all its employees. NAC Group observes the eight (8) regular working hours per day and forty-eight (48) working hours per week. When there are exigencies to be addressed that are critical to the Group's operations, certain employees' working hours may be changed to two (2) long or three (3) shifts per day covering the whole day of operations. The regular mandated lunch and AM and PM breaks are observed, regardless of the shifting schedule being followed by the employees.
Eligible employees rendering work beyond the prescribed eight (8) regular hours of work per day are subject to receive compensation based on existing National and Local orders and respective Collective Bargaining Agreements (CBA), if applicable.
Eligible employees that are rendering work that would be subject as "Night Differential" will receive compensation based on agreed guidelines being used on Night Differential Pay