With the opening of the school calendar this year, Cagdianao Mining Corporation (CMC) and Taganito Mining Corporation (TMC), renewed their long-standing commitment to the education sector.
Before classes started, CMC and TMC, both affiliates of Nickel Asia Corporation (NAC),actively participated in "Brigada Eskwela 2016" of the Department of Education (DepEd).
The classroom maintenance program seeks to create an environment conducive to good learning for elementary and high school students.
Led by personnel from its Community Relations (ComRel) department, CMC and other community stakeholders participated in the daily activity from May 28 to June 2.
CMC donated construction materials for the improvement and repair of school buildings and facilities in Barangays Valencia, Boa and Sitio Maytubig and Bayanihan.
To help parents prepare their children to school, CMC also distributed school supplies in the host and neighboring communities, benefiting a total of 1,258 elementary pupils and high school students in Barangays Valencia (720), Boa (184), Legaspi (225), and Bayanihan (129).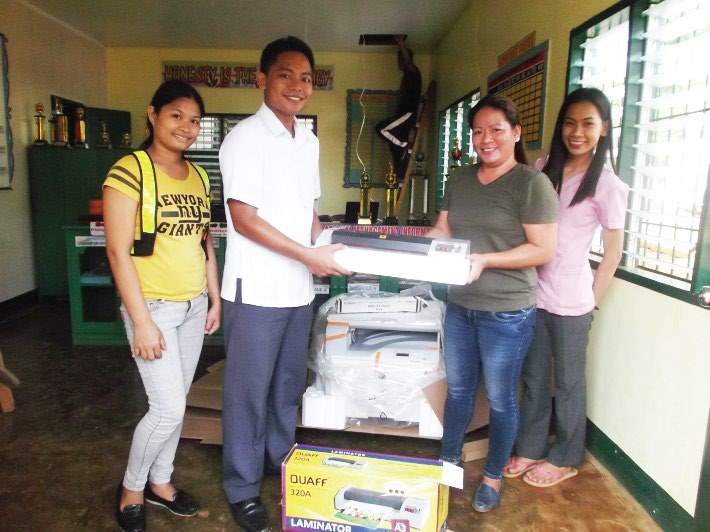 Supplementing the government's effort to promote education in the countryside, CMC has also subsidized the salaries of school teachers.
At present, the company funds the salary of at least seven daycare workers, eight elementary and high school volunteer teachers, as well as three facilitators for the Alternative Learning System (ALS).
The ALS is a parallel learning system that provides a practical option for those who do not have or cannot access formal education in schools—especially in remote areas.
Currently, CMC's partnership with DepEd has already produced 45 graduates.
Moreover, CMC has continued its yearly support for public schools by shouldering the cost for voluntary school contributions—expenses that would have been borne by parents who are otherwise hard put to cough up the amount because of financial constraints.
In the tertiary level, CMC has nine scholars who have successfully graduated from college.
While at least 12 full scholars are currently enrolled in different universities in courses as diverse as mining engineering, nursing, industrial technology, civil engineering and information technology.
25 schools benefit from TMC Brigada Eskwela
For its part, TMC also helped and assisted schools prep up their classrooms and premises in line with the National Schools' Maintenance Week or Brigada Eskwela slated from May 30 to June 4 with a theme, "Tayo Para sa Paaralang Ligtas, Maayos at Handa."
A total of 25 schools were benefitted this year, 18 of which were in Claver, five in Gigaquit and two in Surigao City.
The assistance given by TMC was in the form of painting materials such as enamel and latex paints, thinners, paint brushes, and paint rollers.
Cleaning materials which included broomsticks, soft brooms, dust pans, trash cans and pails along with garden tools and ceiling and wall fans for a far-flung high school in Gigaquit were also donated by the company.
Karyn Jane G. Dagasdas of Taganito National High School expressed her gratitude to TMC for its unending help to their school.
"For five years now, Taganito National High School is acknowledged as one of the best Brigada Eskwela implementing schools in Surigao del Norte and TMC's unfailing support proves that success is a product of collective efforts," said Dagasdas.
This endeavor was an initiative of the TMC's Information, Education and Communication (IEC) component as part of its thrust to communicate the company's commitment on responsible mining and sustainable community development.
Beyond the Call of Duty: More Turnovers for the Province
Last June 13, TMC also turned over 5,936 school bags and 13,592 heath kits containing tooth brush, toothpaste, baby powder, lice comb, towel plus some school supplies such as paper and pencil.
The items were turned over to the Provincial Office of Surigao del Norte duly represented by no less than Gov. Sol F. Matugas along with her vice-governor Carlos A. Egay, Jr., Sangguniang Panglungsod board members, capitol leaders and officials.
TMC also turned over 4,167 fully-colored and illustrated books on emergency and disaster preparedness which will also be distributed schools to schools within the province.