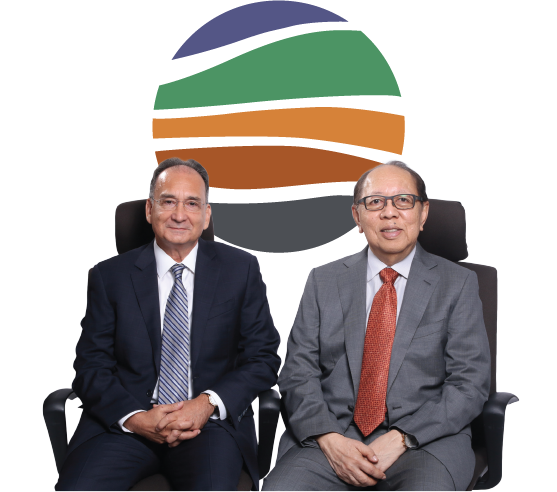 We are delighted to inform our Shareholders that after having been chosen by the Department of Environment and Natural Resources (DENR) to represent the country in the first ever ASEAN Mineral Awards in the category of Best Practices in Sustainable Mineral Development, our Rio Tuba operation bested two other finalists from Thailand and Indonesia and emerged victorious. The award was given during the ASEAN Ministerial Meeting on Minerals in Myanmar in November 2017. Our many years of commitment to responsible mining practices bore fruit and this victory encourages us to continue striving to be the best in what we do.

"Our attributable net income for the year increased by 41%, from PHP 1.97 billion or PHP 0.26 per share in 2016 to PHP 2.77 billion or PHP 0.36 per share."
Operating Results
Our four operating subsidiaries achieved total sales of 17.7 million wet metric tons (WMT) of nickel ore, 8% lower than the prior year's sales volume of 19.3 million WMT. We were again affected by the delayed start of mining operations at our Cagdianao and Hinatuan operations due to a prolonged rainy season in the south of the country, while we lowered exports of limonite ore due to low prices in favor of the more valuable saprolite ore.
Exports of saprolite ore to our Chinese and Japanese customers increased to 9.0 million WMT of ore compared to 7.3 million WMT in the prior year, while exports of limonite ore decreased from 4.3 million WMT of ore to 653 thousand WMT. We additionally sold 8.1 million WMT of low-grade limonite ore from our Rio Tuba and Taganito operations to the Coral Bay (10%-owned) and Taganito (10%-owned) high-pressure acid leach (HPAL) plants compared to 7.6 million WMT in the prior year.
The average price of our saprolite ore exports, primarily consisting of medium grade ore, amounted to USD 25.32 per WMT compared to USD 25.77 per WMT in the prior year. The price of our limonite ore exports, primarily of the high-iron variety, averaged USD 12.03 per WMT compared to USD 12.32 per WMT in the prior year. Finally, on our sales of limonite ore to the HPAL plants, the prices of which are linked to nickel prices quoted in the London Metal Exchange (LME), we averaged USD 4.67 per pound of payable nickel compared to USD 4.39 per pound in the prior year.
On a combined per WMT basis, we averaged USD 16.17 compared to USD 14.51 in 2016. It should be recalled that average prices in 2016 were the lowest we experienced since our Company became publicly listed in November 2010. The increase in average prices experienced in the year in review, while modest and by no means resulting in price levels that can be considered high, is nevertheless a most welcome development.
Higher prices and a more favorable average exchange rate of PHP 50.42 per US dollar compared to PHP 47.38 in 2016 more than offset the reduction in sales volumes, resulting in an increase in revenues to PHP 15.7 billion compared to PHP 14.1 billion in the prior year. Included in our revenues are services performed by our Rio Tuba and Taganito subsidiaries primarily to the two HPAL plants, which amounted to PHP 630.1 million compared to PHP 530.3 million in the prior year, as well as sales of power from the Subic solar farm of our 86.29%-owned subsidiary, Emerging Power, Inc., amounting to PHP 212.2 million.
Our attributable net income for the year increased by 41%, from PHP 1.97 billion or PHP 0.26 per share in 2016 to PHP 2.77 billion or PHP 0.36 per share. Contributing to the increase is our share of the income of the two HPAL plants booked under the equity accounting method of PHP 198 million compared to a loss of PHP 414 million in the prior year.
The turn-around in the results of the HPAL plants is primarily due to a substantially higher price of cobalt, recovered as a by-product by the plants, which averaged USD 29.19 per pound of payable cobalt in 2017 compared to USD 11.81 per pound in the prior year. The price increase, which continued into 2018, is in turn the result of higher demand for the manufacture of batteries for the growing electric vehicle market.

Dividends
On the basis of the operating results for the year in review, the Board of Directors on March 14, 2018 approved a regular cash dividend of PHP 0.12 per share, consistent with our policy to declare approximately 30% of our income as dividends. The cash dividends were paid on April 10, 2018 to shareholders of record as of March 28, 2018. The total dividend amounted to PHP 912.4 million.
In the prior year, a regular cash dividend of PHP 0.08 per share was declared by the Board of Directors on March 15, 2017 and paid on April 11, 2017 to shareholders of record as of March 29, 2017. The total dividend amounted to PHP 608.2 million.
Mine Audits
As mentioned in our previous Annual Report, about 13 out of a total of over 40 mining operations in the country, including three of our operations, passed anindustry-wide mine audit conducted by the previous Secretary of the DENR in 2016. Certain violations were noted with respect to our Hinatuan mine, which was served with a closure order. We have contested the findings by filing a Motion for Reconsideration (MR) with the Office of the President, which remains pending to-date. The filing of the MR stays the closure order and we continue to operate normally.
In the first quarter of 2018, the Mineral Industry Coordinating Council announced the creation of a new team to reassess the audits and conduct further inspections. As we go to press on this Report, this work is on-going. We are confident that the results on our Hinatuan mine will be favorable.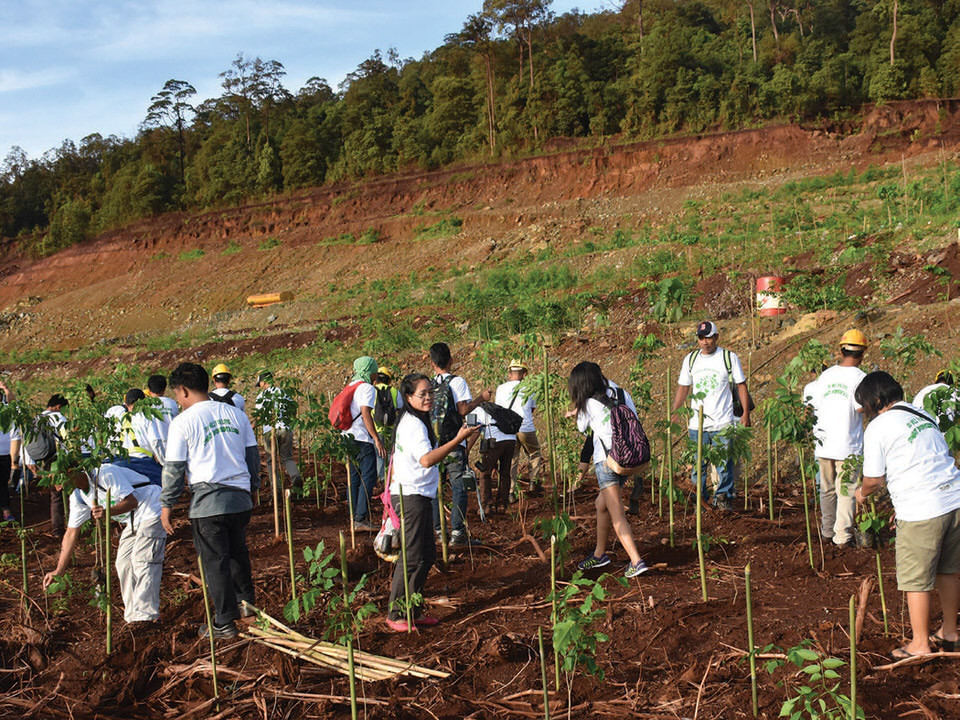 RTN - Tree Planting at Mangingidong Mine Rehab

Economic and Social Contribution
In 2017, our Company and operating mining subsidiaries paid total taxes and fees, both to the national and local government units, of PHP 3.7 billion,including corporate income taxes of PHP 1.7 billion. The corresponding figures for the prior year were PHP 3.1 billion and PHP 1.3 billion, respectively.

Our mining subsidiaries continue to participate in the Extractive Industries Transparency Initiative (EITI) process by reporting annually on all taxes and fees paid as well as social expenditures and environmental funds. EITI is a global standard to promote transparency in the management of natural resources, particularly in the payment and receipt of taxes and fees from the extractive sector. We note that in April 2018, our largest operation, Taganito, received from the Multi-Stakeholder Group comprising EITI Philippines a Transparency Award – Excellence in Reporting, in the metallic category. Our Rio Tuba operation also received a similar award in the non-metallic category relating to its limestone quarry. With respect to social expenditures under our subsidiaries' Social Development Management Programs, PHP 159.1 million was spent in 2017 primarily on infrastructure, livelihood projects, health care and educational programs within the host communities of our operations. Additionally, we spent PHP 139.2 million on various CSR programs during the year in review.
In 2017, on the average we employed 7,771 individuals, both full-time and through a number of contractors that we use for various aspects of our operations.
Details of our social, environmental, safety and health programs are contained in a Sustainability Report that is integrated to this Annual Report and prepared under global sustainability guidelines – G4.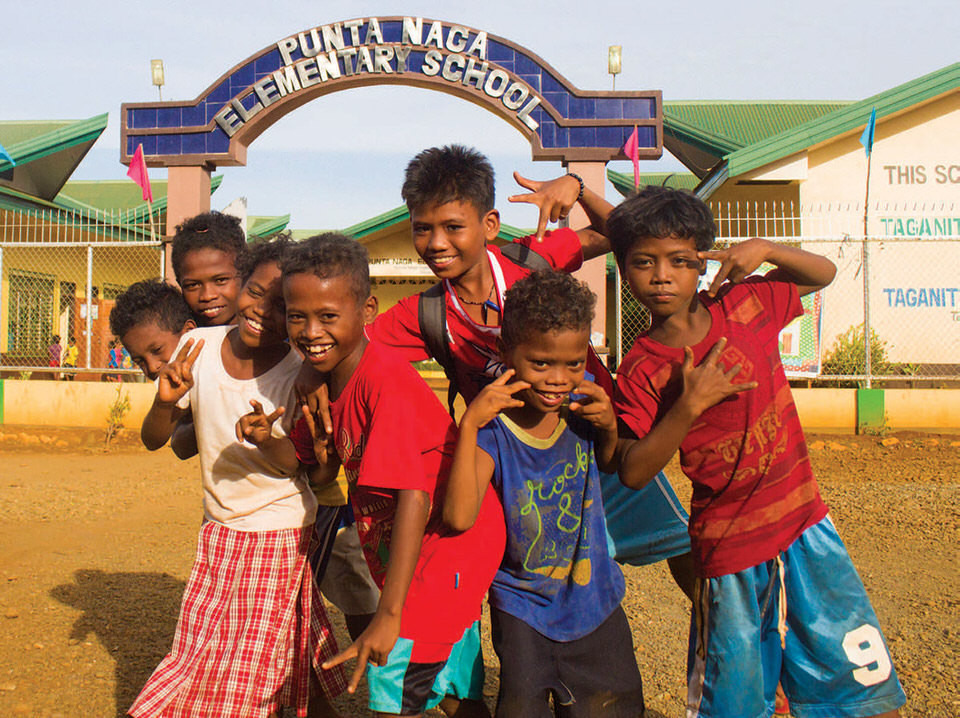 TMC - Punta Naga School funded jointly by TMC and THPAL

Renewable Energy
Our renewable energy subsidiary, Emerging Power Inc. (EPI) has a number of Renewable Energy Service Contracts, principally a 100 MW solar and 50 MW wind service contracts under Jobin-SQM, Inc. (100% owned), located in the Subic Bay Freeport; two geothermal service contracts under Biliran Geothermal, Inc. (60% owned), in the province of Biliran; and a geothermal service contract under Montelago Geothermal Power Corp. (100% owned) in Mindoro Oriental.
Early in 2017, JSI completed 32 MW of solar power, which is being sold primarily in the spot market. Further development work on this project is premised on obtaining additional power sales contracts. With respect to Biliran, while successful fluid management studies have been completed on one of five geothermal holes previously drilled by our joint venture partner, Biliran Geothermal Holdings, Inc., a problem was encountered in another previously drilled hole that would require a makeover. Under the circumstances, a decision has been made to reevaluate this transaction with our partner. In the Montelago project, discussions continue with potential joint venture partners to drill the northern part of the geothermal field.
During the year in review, we contributed additional equity of PHP 1.5 billion in EPI and approved the conversion of a Company loan in the same amount to equity, which conversion is pending approval of the Securities and Exchange Commission (SEC). Upon approval of the SEC, our ownership will increase to over 90%. Both actions are designed to significantly pare down debt in EPI and reduce interest costs.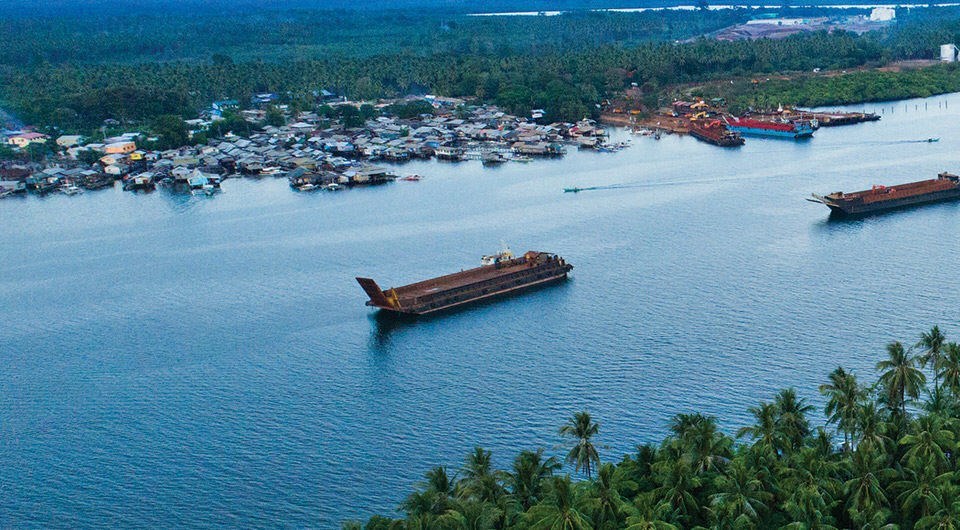 Outlook
In 2017 and for the second year in a row, a deficit in the supply of nickel occurred, resulting in firmer prices as we have noted in this Annual Report. This development is indicative of a continuing strong global demand for stainless steel, the primary use of nickel, and supply constraints due to a number of mine cutbacks and closures following years of surplus from 2011 to 2015. It is evident that 2018 will be a third year of supply deficit given the drawdown in stocks of the metal in commodity exchanges particularly during the first quarter of 2018, which should underpin prices.
A new development in the nickel market has now emerged and has caught the attention of commodity analysts and investors - an increasing demand for batteries containing nickel for the electric vehicle (EV) market. While current nickel use in batteries is only about 4% of total demand, some analysts estimate that the growth in the EV market could result in nickel use for batteries increasing by a factor of 2 to 3 times within five years. While this development should be very positive for the metal price in the years ahead, there is a different dynamic at work with respect to prices of nickel ore. The reversal of Indonesia's export ore ban in January 2017, although with certain conditions, has resulted in increasing supply of ore to China, putting downward pressure on ore prices.
Although this is a concern, we should note that our Company is in a unique position as we have two increasingly distinct markets. The first is our traditional exports of saprolite and some limonite ore for the production of ferronickel and nickel pig iron for stainless steel, historically priced on a negotiated dollar per WMT basis. The second is our supply of limonite ore to our two HPAL plant affiliates, which ultimately gets processed into refined nickel and a suitable product for batteries for the EV market. As mentioned, the pricing of such sales is linked to quoted LME prices, which prices should reflect growing demand for the metal should the growth in the EV market occur as expected.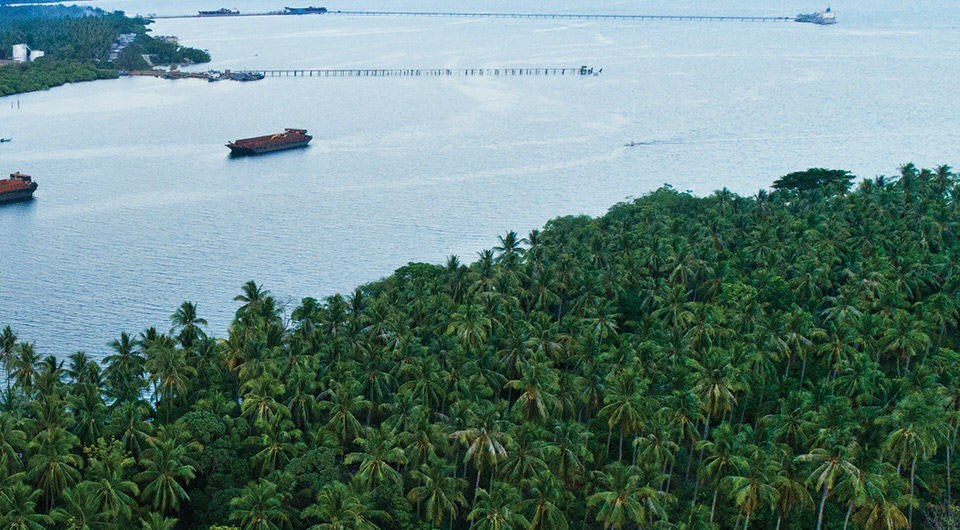 RTN - Loading Facility at the mouth of the Rio Tuba River

Acknowledgement
During the 64th Annual Mine Safety and Environment Conference, our Rio Tuba, Taganito and Hinatuan operations won the Presidential Mineral Industry Environmental Award – Platinum Achievement, while our Cagdianao operation won the Titanium Achievement award. These awards recognize excellence in environmental management. For the 3rd consecutive year, our largest operation, Taganito, also won the Best Mining Forest award for its reforestation efforts, both for mine rehabilitation and under the National Greening Program. Additionally, the recognition of our Rio Tuba operation as the best example of a sustainable mining operation in the ASEAN region is indeed a singular achievement.
These achievements could not have been possible without the full cooperation and dedication of our officers, managers, supervisors and rank-and file, who take to heart the principles of sustainable development in all aspects of our operations. We are grateful to all of them for embedding these principles as an integral part of our Company culture.
We are likewise grateful to our Directors for their continued guidance throughout the year, and to our shareholders for their support.

* Note: The information above is from the 2017 Annual Report.