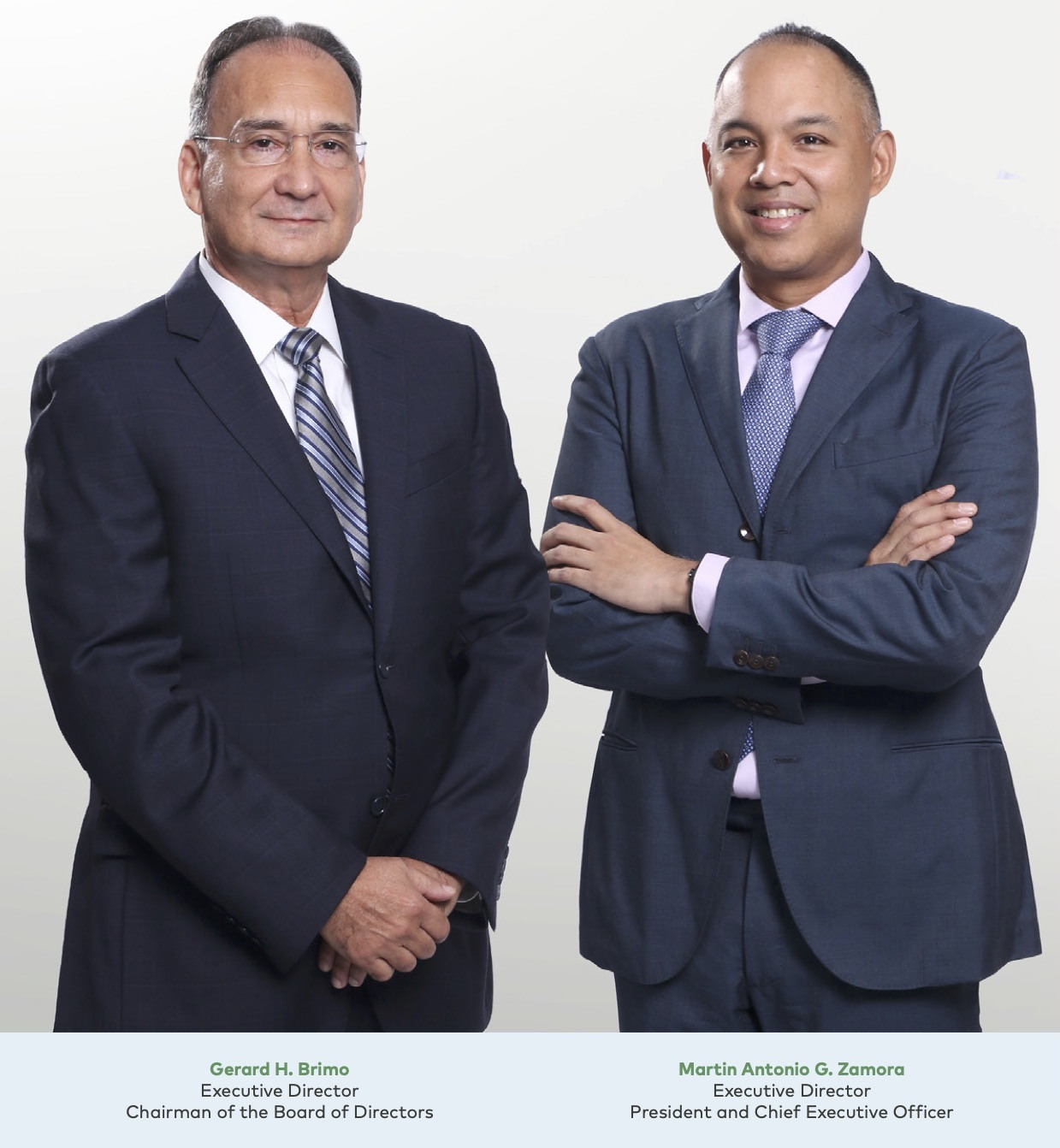 NAC has always been all about raising the bar.

"From its foundation to the present, NAC has established a track record of responsible operations that now serves as a benchmark for the industry."
When Manuel (Manny) B. Zamora, Jr., Chairman Emeritus, and Gerard (Jerry) H. Brimo teamed up to take Nickel Asia Corporation (NAC) public in November of 2010, our Company became the Philippines' largest and most successful nickel producer in the Philippines. NAC brought together under one roof four operating nickel mines, and partnered in the establishment of two nickel high-pressure acid leach (HPAL) processing plants, the only nickel ore processing plants in the country today and two of only a few successful HPAL plants in the world.

Along the way our Company has earned recognition as the epitome of responsible mining in the Philippines. NAC's subsidiaries regularly receive the highest recognition – the Presidential Mineral Industry Environmental Award – at the Annual National Mine Safety and Environmental Conference organized by the DENR-MGB. Even the biennial meeting of the ASEAN Ministers for Mining has bestowed on NAC subsidiary Rio Tuba Nickel Mining Corporation (RTN) the honor of being the very first awardee for Best Practices in Sustainable Mineral Development in 2017, as well as runner-up honors in the year just past. Again, last year, in appointing Engr. Cynthia E. Rosero as the resident mine manager of RTN – the first female mining engineer to head a large scale mining operation in the country – our Company once again raised the bar for the industry by recognizing women in leadership.
From its foundation to the present, NAC has established a track record of responsible operations that now serves as a benchmark for the industry.
Our achievements have been possible due to Manny's vision and perseverance over many years, and the dedicated leadership and guidance from Jerry, who headed the Company as CEO since he came on board in 2008. His executive leadership was a major factor in the flourishing of NAC – from the successful initial public offering to our production growth over the years to the burnishing of our reputation that is recognized both here and abroad. Beyond NAC; he helped steer the industry through the difficult years under the previous administration, and continues to do so as Chairman of the Chamber of Mines of the Philippines.
The mantle of CEO has now passed to Martin Antonio (Dennis) Zamora on 1 January 2020, while NAC continues to benefit from Jerry's wise counsel as Chairman of our Board. Dennis headed our team since his appointment as Executive Vice President and subsequently as President in 2018. As our new CEO, he will ensure that we continue to raise the bar which is what our Company is all about.

Operating Results
33.3%↑ increase in limonite ore exports compared to last year
The four operating subsidiaries of NAC achieved total sales of 18.8 million wet metric tons (WMT) of nickel ore, a slight decrease of 3% compared to the prior year's 19.3 million WMT.
Exports of saprolite ore to our Chinese and Japanese customers decreased to 8.9 million WMT compared to 10.3 million WMT in the prior year. The drop was the result of a surge in higher grade saprolite ore exports from Indonesia prior to the re-imposition of the export ban in 1 January 2020, and the consequent drop in demand for our lower grade saprolite ore. On the other hand, exports of limonite ore increased to 1.6 million WMT from 1.2 million WMT. Our Rio Tuba and Taganito operations also sold 8.4 million WMT of low-grade limonite ore to our associate companies, Coral Bay and Taganito HPAL, respectively, which operate HPAL processing plants adjacent to those mines. This compares to 7.8 million WMT in the prior year. The increase was the result of the completion of remedial work required at the Taganito HPAL plant in late 2018; thus, the plant was fully operational during the year.
With respect to prices, we averaged US$ 25.03 per WMT for our saprolite ore exports as against US$ 22.65 per WMT in the prior year, an 11% increase. The higher price was the result of a change in our ore mix to medium-grade saprolite ore while in the prior year a substantial amount of low grade saprolite ore at lower prices was exported to take advantage of market conditions at that time. The price of our limonite exports, principally of the high iron variety, also increased to US$ 15.04 per WMT as against US$ 12.06 per WMT. The increase in both our export volume and price of this product resulted from the start-up of a number of traditional blast furnace NPI plants in China.
7.7%↑ increase in low-grade limonite ore sales compared to last year
On our limonite sales to our two HPAL plants, the pricing of which is linked to LME nickel prices, we realized an average of US$ 6.23 per pound of payable nickel compared to US$ 5.95 per pound in the prior year. However, when expressed in US dollars per WMT, which accounts for credits on cobalt contained in our ore, the realized price was US$ 8.19 per WMT compared to US$ 9.97 per WMT in 2018 due to the substantial drop in the price of cobalt. On a combined per WMT basis, we averaged US$ 16.69 in 2019, marginally lower than the prior year's US$ 16.86.
The overall lower sales volume, coupled with the correction of the cobalt price and the strengthening of the peso from PhP 53.00 per US dollar compared to PhP 51.72 in 2019 resulted in a decrease in consolidated revenues to PhP 17.9 billion from PhP 18.6 billion in the prior year.
Our attributable net income for the year decreased by 10% to PhP 2.7 billion compared to PhP 3.0 billion in the prior year. Included in our income is our share of the earnings of the Coral Bay and Taganito HPAL plants corresponding to our 10% equity in each, which amounted to PhP 10.4 million compared to PhP 348.2 million in 2018. The drop in the income from the two plants was mainly driven by the fall in cobalt prices

Dividends
On the basis of the results for the year in review, on March 13, 2020 the Board of Directors approved a regular cash dividend of PhP 0.08 per share. The cash dividend in the amount of PhP 1.09 billion was paid on April 8, 2020 to shareholders of record as of March 27, 2020.
In the prior year, a regular cash dividend of PhP 0.07 per share was declared by the Board of Directors on March 14, 2019. The cash dividend in the amount of PhP 957.2 million was paid on April 12, 2019 to shareholders of record as of March 28, 2019.

Economic and Social Contribution
In 2019, our Company and its mining subsidiaries paid total taxes and fees, both to the national and local government units, of PhP 4.5 billion, including corporate income taxes of PhP 1.7 billion. The corresponding figures for the prior year were PhP 4.9 billion and PhP 2.0 billion, respectively. It should be noted that effective January 2018, the excise tax applied to gross revenues of our mining subsidiaries increased from 2% to 4%.
With respect to social expenditures under our subsidiaries' Social Development Management Programs, PhP 142.9 million was spent in 2019 primarily on infrastructure, livelihood, health care and educational programs within the host communities of our operations. Additionally, we spent PhP 84.2 million on various CSR programs during the year in review.

In 2019, on average we employed 6,971 individuals, both full-time and through a number of contractors that we use for various aspects of our operations.
Details of our social, environmental, safety and health programs are contained in a Sustainability Report that is integrated to this Annual Report and prepared under global sustainability guidelines GRI Standards.
Our mining subsidiaries continue to participate in the Extractive Industries Transparency Initiative (EITI) process by reporting annually on all taxes and fees paid as well as social expenditures and environmental funds. EITI is a global standard to promote transparency in the management of natural resources, particularly in the payment and receipt of taxes and fees from the extractive sector. In September 2019, our Taganito operation received from EITI Philippines a Transparency Award – Champion in Excellence in Reporting, in the metallic mining category. Our Hinatuan operation also placed second runner-up in the same category.
Nickel Outlook
"In the longer term, nickel demand for electric vehicles (EV) is expected to increase from the current level of about 100,000 tons to about 500,000 tons by 2025."

As was the case in the previous three years, 2019 saw a deficit in the global nickel market, leading to a firmer LME average nickel price compared to the prior year. The deficits are expected to continue into 2020 and beyond due to various factors, including the acceleration of the Indonesian ore export ban which took effect on January 1, 2020.
On the other hand, the coronavirus pandemic has had a devastating impact on commodity and other markets, and is expected to take its toll on the global economy, the extent of which is still undetermined. As we go to press, our mines continue to operate as exports are critical to our country, although prices have softened while the mandatory quarantine of vessels leads to shipment delays.
It is heartening to note that we have not experienced outbreaks of the virus within our workforce and host communities. We have put in place stringent protocols that augment government mandates to protect our workforce while we continue to assist our host communities and local government units in every possible way.
In the longer term, nickel demand for electric vehicles (EV) is expected to increase from the current level of about 100,000 tons to about 500,000 tons by 2025. The consensus is that the deficit will accelerate at an even faster pace beyond 2025, mainly due to the anticipated growth in the market share of EVs, from about 30% in 2025 to about 50% in 2030, leading to expectations of higher LME nickel prices over the foreseeable future.

On Our Power Play
"We are well- positioned to expand our solar generation capacity to 100MW by 2021."

Strong and consistent GDP growth over recent years has provided the Philippine power sector a solid foundation. However, the country faces capacity issues: aging coal plants, depletion of gas reserves with respect to Malampaya, and a limited pipeline of large-scale generating plants beyond 2020. As a result, supply is expected to fall short of future power needs.
Furthermore, the Department of Energy's Renewable Portfolio Standards (RPS), which came into effect in 2020, will require distribution utilities and retailers to procure more renewable energy. Under RPS, the target is to achieve 35% share for renewable energy in the supply mix by 2020.
The prospects for EPI today are therefore positive. Our 32MW solar plant in Subic generated PhP 63 million in cash from operations in 2019. We secured our first power Sales Agreement as part of our effort to balance revenues from fixed and WESM-based sources.
Furthermore, we partnered with a leading Chinese power equipment manufacturer, TBEA Co., Ltd., which will invest up to 20% in the equity of EPI's solar business, contributing to the financing, engineering, design and development of our solar plant.
We are well-positioned to expand our solar generation capacity to 100MW by 2021.
Stabilizing the Profit Stream While Saving the Earth
"Our post-mine rehabilitation efforts as well as our community programs— have been consistently hailed as the epitome of how mining can be done responsibly and sustainably."
We highlight our foray into renewable energy because our Company is conscious of the painful reality that the market for commodities like nickel is highly volatile, in stark contrast to the market for power; this mix brings more stability to the profit stream of NAC moving forward.
More importantly, our Company is conscious that the world has expectations of its corporate citizens to be contributors in a collective effort to "save the Earth".
And in this area we are confident we are on the right track in at least two fronts:
In our traditional business, we observe operational practices that minimize the disturbance that mining by its nature causes to the environment; our operational practices—our post- mine rehabilitation efforts as well as our community programs—have been consistently hailed as the epitome of how mining can be done responsibly and sustainably.
Just as important, our main product – nickel ore – is a central ingredient in the production of environment-friendly materials and equipment in cutting edge technologies that seek to replace the fossil-fuel dependent (and highly polluting) industries of old. Air pollution in urban areas are mainly caused by transportation; to reduce toxins in the atmosphere we need to replace more of the gas-guzzling fossil fuel powered vehicles (or vehicles relying on fossil fuels) with electric-powered ones, and to do this we need to produce more batteries, of which nickel is a key ingredient. That demand will grow.
Indirectly we are therefore contributing to the effort to reduce carbon emissions through our nickel production and improve carbon sequestration through our reforestation and other environmental programs.
And in our growing involvement in renewable energy, we provide a clear alternative to fossil-fuel power for our communities, in the process directly helping our own country achieve its obligations under the Paris Agreement on Climate Change.
"Our commitment to raising the bar remains unchanged and with your continued support and the dedication of our employees, we aim to emerge an even stronger company."
Acknowledgment
Amidst the challenging times brought about by the unprecedented threat of a new coronavirus, the dedication and perseverance of our officers, staff and rank-and-file to continue operations safely and in accordance with government mandated protocols have been exemplary,
and we thank them for their efforts.
We also thank them for their efforts to ensure that our communities are safe and secure from this virus and to reach out and assist everyone, especially the most severely affected, through in-kind donations of food supplies, face masks, test kits and the like. We are particularly proud of our donation, in partnership with THPAL, of a Molecular Test Laboratory through the Red Cross that arms not only Surigao del Norte but the whole CARAGA region with a world class facility that can process tests for any and all viral and bacteriological afflictions. Gone are the days when test samples have to be sent to Davao, Cebu or far-away Manila for processing.
We express our appreciation to our Directors for their collective wisdom and guidance throughout the year.
Finally, to our shareholders, we thank you for your warm words of encouragement as we go through this period of crisis. Our commitment to raising the bar remains unchanged and with your continued support and the dedication of our employees,
we aim to emerge an even stronger company.