Hinatuan Mining Corporation (HMC), a subsidiary of Nickel Asia Corporation (NAC) represented by ComRel Manager Antonio B. Resuera Jr., turned over soft-shell crab project to three indigent families of its host community last November 27, 2018.
The project is located at Looc, Sitio Bagong Silang, Barangay Talavera, Tagana-an, Surigao del Norte.
The beneficiaries of the project—Rosita G. Sandico, Cristine C. Baguinaon and Arnulfo C. Copag Sr. were selected based on the Local Socio-Economic Profile conducted earlier as part of the commitment of HMC to contribute to a brighter future for its people and its communities.
The beneficiaries are also not part of any People's Organization (POs) in the host community. Rosita G. Sandico and Cristine C. Baguinaon reside in Looc, Sitio Bagong Silang while Arnulfo C. Copag Sr. lives at Brgy. Talavera.
"Nagpasalamat kami sa amoa nadawat na proyekto gikan sa livelihood program sa HMC. Daku namo na kalipay ug kinasing-kasing namo nga pagadawaton kining proyekto nga soft-shell crab project (We are thankful for receiving this project from the livelihood program of HMC. We are very happy and are wholeheartedly accepting the soft-shell crab project awarded to us)," said Sandico.
She further added that, "daku kini na katabang alang kanamo, ilabi na sa among panginabuhian, ilabi na sa akoa na senior citizen na man. Nalipay kaau ko kay isa ako sa nakadawat ani na proyekto. Amo gajud kani ampingan ug palambuan aron aduna kami mapanginuhaan alang sa among panginabuhi. Sa maka usab, daghan salamat sa inyo tabang kanamo HMC (This is a big help to us, especially on our livelihood, especially to me who is already a senior citizen. I am very happy to be selected as one of the project recipients. In return, we will try our best to care and develop the project in order for it to be sustainable and become a steady source of income for our livelihood. Once again, I am very thankful for the help you have given us HMC)."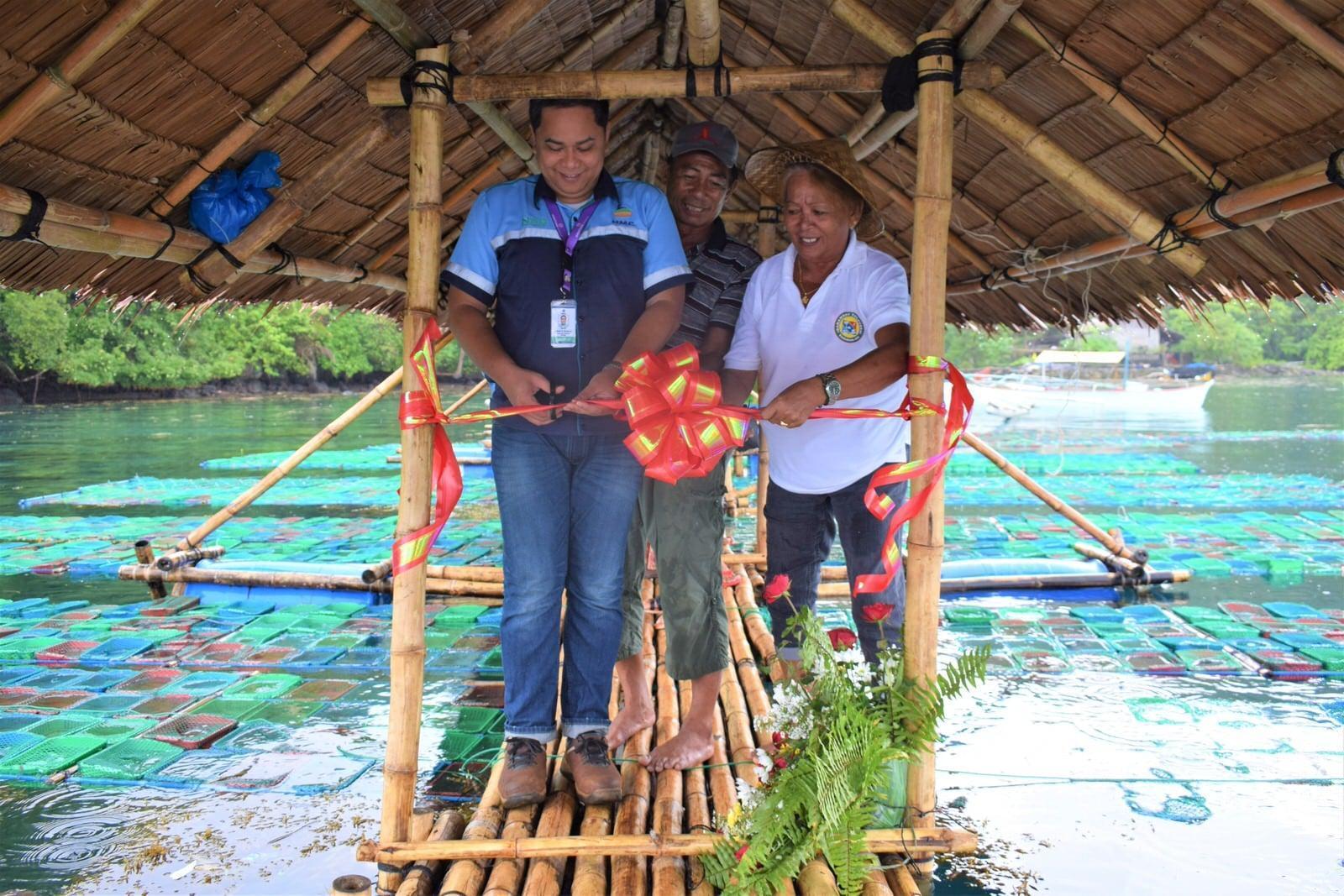 Representative of Host and Neighboring Communities (RHNC) chairman and Brgy. Talavera Councilor Eulita C. Borja, who was also present during the turn-over ceremony reminded the project recipients to not take for granted the project provided by HMC, saying that, "to the recipients, please take care of the project provided by HMC as it will be helpful to your livelihood."
She was also thankful to HMC for the support it provided the residents of the host community particularly in livelihood.
"Thank you for the help and for the care you have shown to the residents by helping them with projects for livelihood such as this, thank you HMC for the support," said Borja.
Additional supplies for the care and maintenance of the soft-shell crab project were also provided by HMC to beneficiaries to help ensure its success and sustainability.
As part of the commitment of HMC to assist its host community, technical experts from the City Agriculturists Office (CAGRO) of Tagum City were also tapped for the project.
They were also the ones who helped in establishing the soft-shell and crab fattening projects in the mine site of HMC