NAC and Sustainability
Rosalia Montanez (or Nanay Rosie as everyone calls her) is a barangay health worker in Talavera, Tagana-an, Surigao del Norte who used to be an active anti-mining advocate. But when she witnessed and experienced first-hand how Hinatuan Mining Corporation (HMC) practiced responsible mining in her area, she had a change of heart and mind. She saw and understood how natural resources can be utilized for the good of the present, as well as of the future, generations.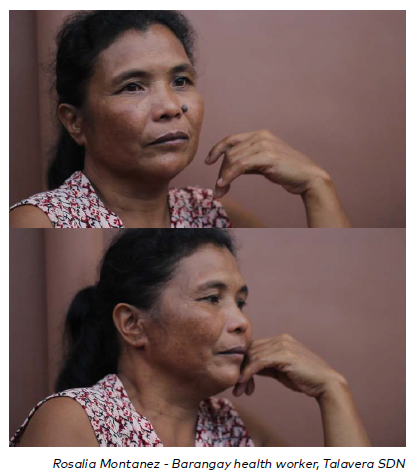 Together with a couple of other community members, this simple and hardworking mother from Talavera took it upon herself to voice out her position for responsible mining in a forum of business and industry leaders. Nanay Rosie bravely pointed out what other people refused to consider: that the poor and neglected communities are benefiting from responsible mining. She recognized how enterprising humans will always try to utilize the natural resources around them and concluded that companies who are trying to do so responsibly should be allowed to continue on their sustainable path and help build the future of communities around them.
The previous year proved how sustainability in the mining industry is a paramount concern of all stakeholders—not only of the government or the regulators. The practice of Responsible Mining that NAC has long been advocating came to the fore as a model of accountability, transparency,and community spirit, with its mining operations demonstrating ecologically-viable case studies of mitigation, rehabilitation and community-building programs that actually work.

Asean Mineral Awards Winner For Best Practices in Mineral Mining Category

As a case in point, RTN has been adjudged as the winner of the first-ever Association of South East Asian Nations (ASEAN) Mineral Awards or AMA in the Best Practices in Mineral Mining category, beating entries from other member-countries of the ASEAN.
A project of the Special Task Force under the ASEAN Senior Officials Meeting on Minerals (ASOMM), the AMA was established to honor mining companies from the ASEAN communities for their contributions in the advancement of responsible and environment-friendly mining. The AMA recognizes contributions involving actual impacts on community development, implications on ASEAN mineral supply, human resource development, productivity and resource efficiency, and actual measures to address regulators. The practice of Responsible Mining that NAC has long been advocating came to the fore as a model of accountability, transparency, and community spirit, with its mining operations demonstrating ecologically-viable case studies of mitigation, rehabilitation and community-building programs that actually work. health, safety and environmental performance.
For RTN to win this prestigious recognition on responsible mining and bring honor to the country speaks volumes – on the strides we have made on responsible mining, on what more we can achieve if we are tenacious and determined, on the unflagging commitment of NAC to a sustainable future for the industry.
Through the efforts of the Company, the industry and the communities to bring out the truth regarding the Philippine mining industry for the general public's edification, it has become clear that everyone benefits from ensuring sustainability of the country's mining industry.
Management Approach Towards Sustainability

Nickel Asia Corporation has long considered sustainability as an essential business goal and the Company works to ensure consistent high-level performance in the triple bottomline—meaning to be economically feasible, socially desirable and ecologically viable.
Mining by its very nature is an extractive enterprise that temporarily alters the environment. Operating sustainably and responsibly means that long-term perspective and planning are applied to every facet of our mining operations. This includes practicing progressive rehabilitation of our mined-out areas and bringing economic development to our host communities.
Following this sustainability principle, NAC takes steps to ensure that its mining operations are economically feasible and provide benefits through the efficient use of resources. It ensures that these operations are socially desirable as the Company engages neighboring communities, respects their culture and safety, and contributes to the improvement and betterment of lives. It ensures ecological viability by mitigating negative impacts, restoring ecosystems and developing alternative productive future use for the land.
Boosting Social and Environmental Programs
In terms of environmental sustainability, all our operating mines prepare an Environmental Protection and Enhancement Program (EPEP) annually that strictly complies with the standards and requirements of regulators. The EPEPs are reviewed and monitored by various stakeholders, particularly the Mines and Geosciences Bureau which keeps a close watch on targets and performance. The ultimate goal of the EPEP is to assure rehabilitation for mined-out areas, and the eventually restore the environment after the mine closes.
In the area of social sustainability, all our operating mines allot a percentage of yearly operating costs to fund Social Development and Management Programs (SDMP) for host communities. The SDMP, are five-year programs identified by the communities to address their most urgent needs. The implementation of these programs and other projects are overseen by a Multipartite Monitoring Team to ensure compliance.
The Company is also a strong supporter of the Philippine Extractive Industry Transparency Initiative (Ph-EITI). Ph-EITI was established in 2012 following the issuance of Executive Order No. 79 "Institutionalizing and Implementing Reforms in the Philippine Mining Sector Providing Policies and Guidelines to Ensure Environmental Protection and Responsible Mining in the Utilization of Mineral Resources".
The Company's CEO is a member of the Ph-EITI Multi-stakeholder group, the governing body for EITI implementation in the country composed of representatives from the government, the businesssector, and civil society organizations. Following the Ph-EITI directive, our operating companies submit data to the Independent Administrator of the Ph-EITI on material tax payments, social contributions, and environmental funds and disbursements.
Aligning to the United Nation`s Sustainable Development Goals

Since 2016, the Company has aligned its programs to the UN SDGs of the 2030 Agenda for Sustainable Development which seeks to end all forms of poverty all over the world.
The SDGs provide the building blocks for our framework as these goals promote prosperity while protecting the planet and recognizing that "ending poverty must go hand-in-hand with strategies that build economic growth and addresses a range of social needs including education, health, social protection, and job opportunities, while tackling climate change and environmental protection."
Our efforts are conducted with a commitment to Sustainable Development not only for the business but also for the environment and for our host communities.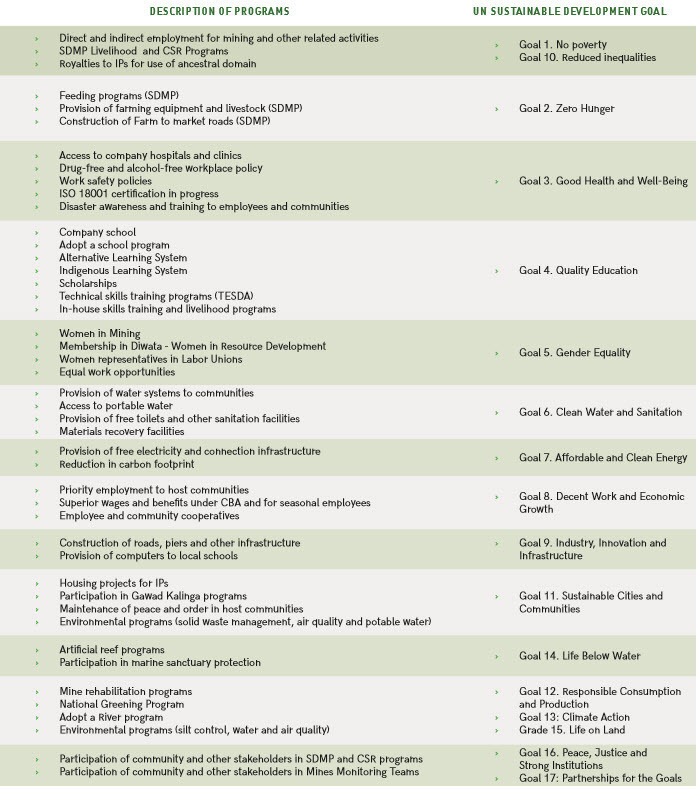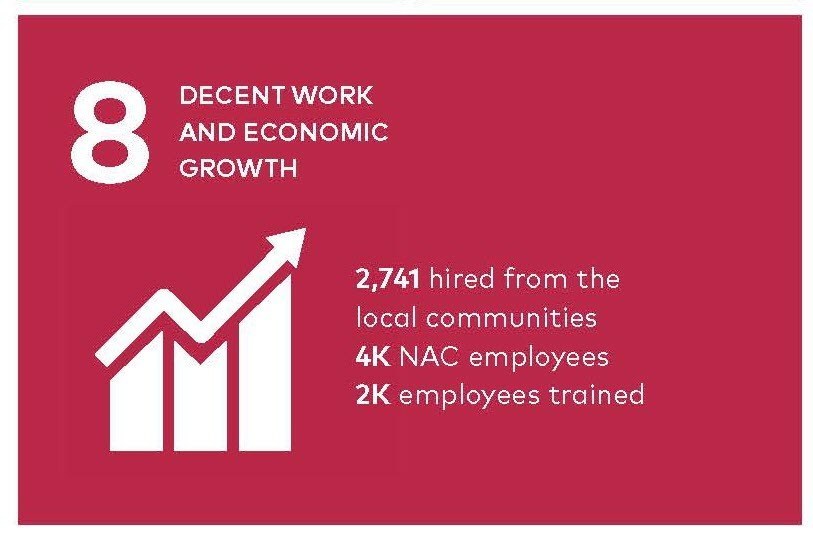 Our Commitment
We strive to act as a responsible corporate citizen and lend our expertise to help engage in constructive public dialogue and informed debate on issues of importance to us as a company, the mining industry and in the communities where we operate.

Our Focus
Leadership and Commitment
Environmental, Social and Economic Risk Management
Governance Policies
Stakeholder Management
Our Performance
The drive for sustainability begins with leadership that is committed and involved in the process. NAC leadership believes that responsible mining brings development to areas where it is allowed to operate. This belief is supported by infrastructure, technology and operational systems put in place to ensure quality execution of strategic plans.
The Company adopted its Manual on Corporate Governance on June 16, 2010, which had been further improved and amended to comply with the Revised Code of Corporate Governance as well as the SEC Memorandum Circular No.9, series of 2014. The Manual institutionalizes the principles of good corporate governance within the Company and embodies the framework of rules, systems and processes that govern the performance of the Board of Directors (Board) and of Management of their respective duties and responsibilities.
NAC has substantially complied with its Manual. The Company is taking further steps to enhance adherence to principles and practices of good governance including the designation of a Chief Risk Officer ("CRO") who is the champion of enterprise risk management at the Company and oversees the entire risk management function. It also has a Compliance Officer and a Corporate Governance Officer in its plantilla who are dedicated to helping the company achieve its sustainability goals.
Policy on Sustainability
As a sustainable enterprise, the Company recognizes its responsibility of creating an acceptable return for shareholders while at the same time understanding, managing and mitigating the impact of its mining operations on the environment and communities where it operates.
The Company aims to keep improving its sustainability performance and its earnest commitment to this is duly guided and strengthened by prevailing legislation, commercial requirements, external reporting frameworks and stakeholders' expectations.
The Company's approach to sustainability is three-fold:
‣‣ Optimizing efficiencies in production and operations to minimize environmental impact.
‣‣ Practicing good corporate citizenship and stakeholder engagement.
‣‣ Practicing good corporate governance and fair labor practices.
This three-fold approach enables the Company to directly address the top five material issues considered most critical by stakeholders, as well as the other material issues that it manages: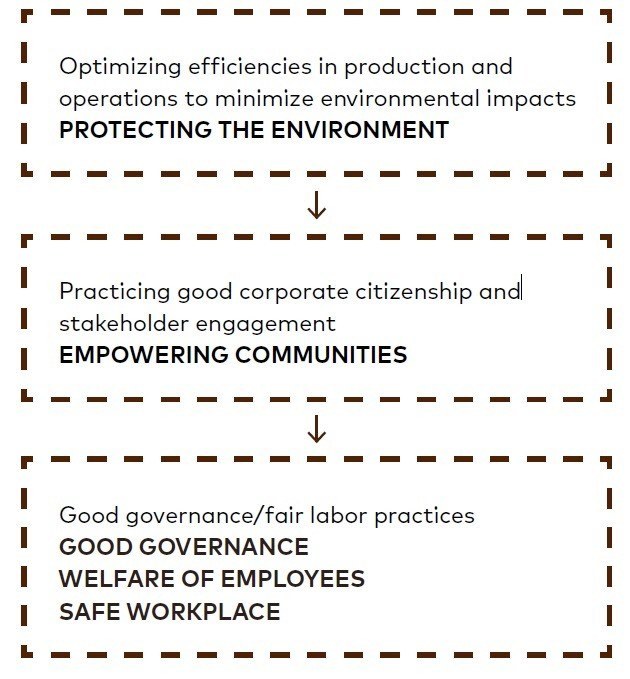 First, optimization of operational efficiencies redounds to environmental protection through costefficient use of resources. Second, good corporate citizenship builds mutually beneficial relationships with host and neighboring communities. And third, fair labor practices provide for the best workplace environment for people.
To further enhance its sustainability program, NAC mandated that all of its operating companies to be ISO 9001 certified by the end of this year.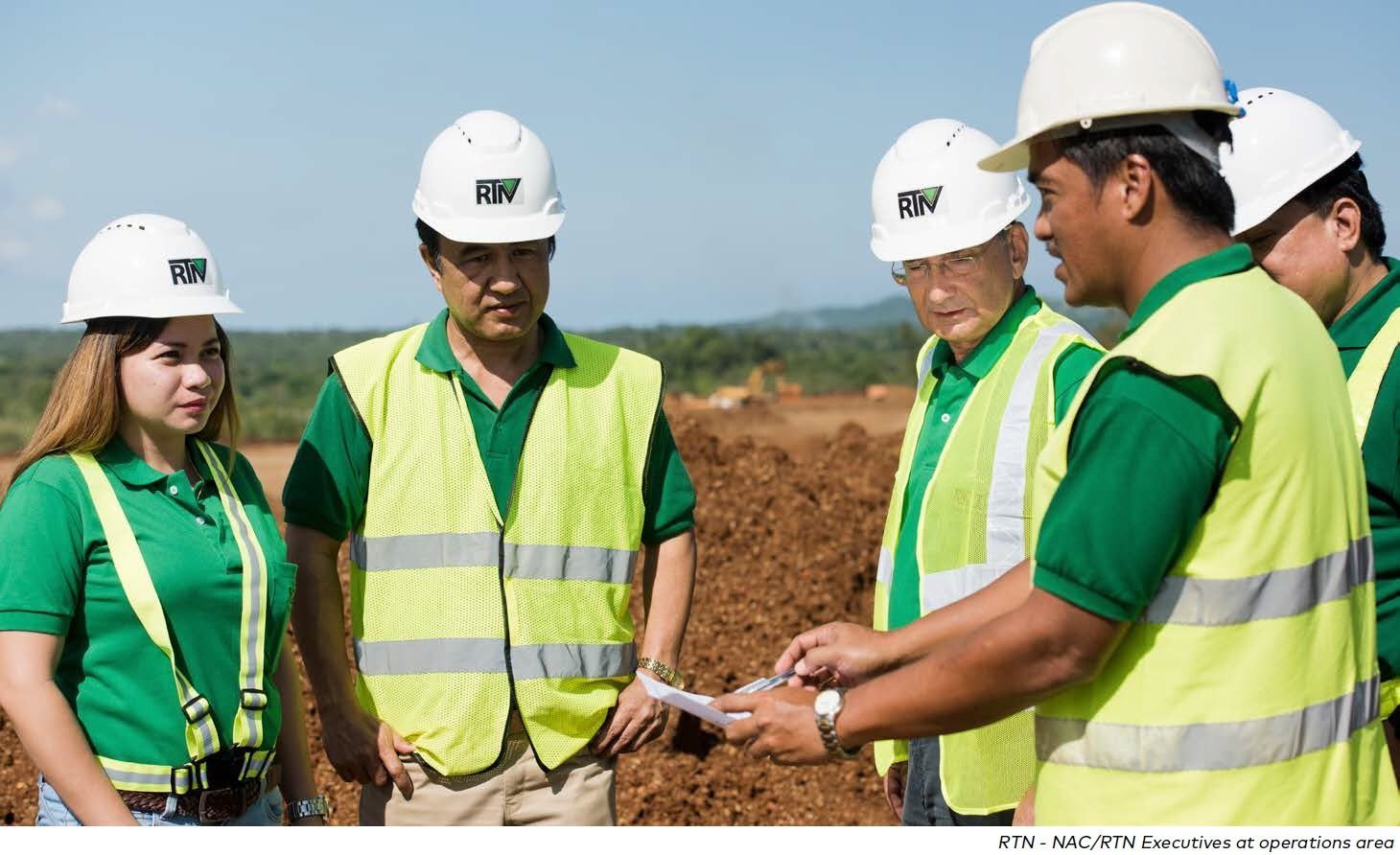 Protecting the Environment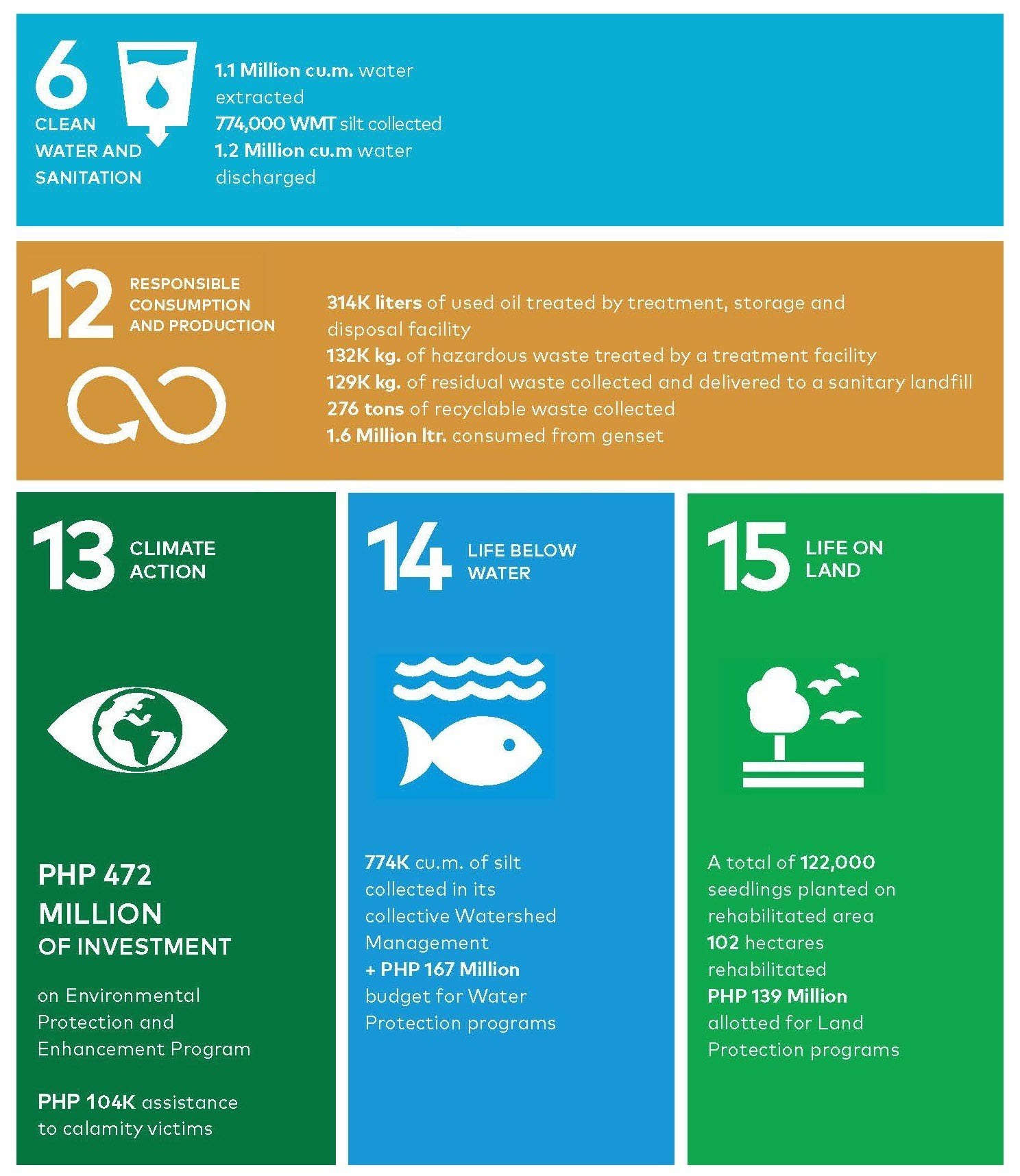 We acknowledge our responsibility to protect, reclaim and enhance the environment in which we operate through able management and steadfast environmental stewardship. Our companies address environmental impacts through their respective Environmental Protection and Enhancement Program (EPEP).
Our Focus
Energy Consumption and Management
Rehabilitation and Reforestation
Water Consumption and Discharge
Waste Management
Dust and Noise Control
Our Performance
The Company's efforts produced an overall increase of almost 30% in our EPEP spending for 2017. And its rehabilitation activities as well as reforestation initiatives have been progressing in strides, with a total of 102 hectares rehabilitated and 88 hectares reforested for the year. At the same time, conservation efforts have managed to bring down our overall electricity consumption by 20% and genset fuel consumption lowered by around 16%.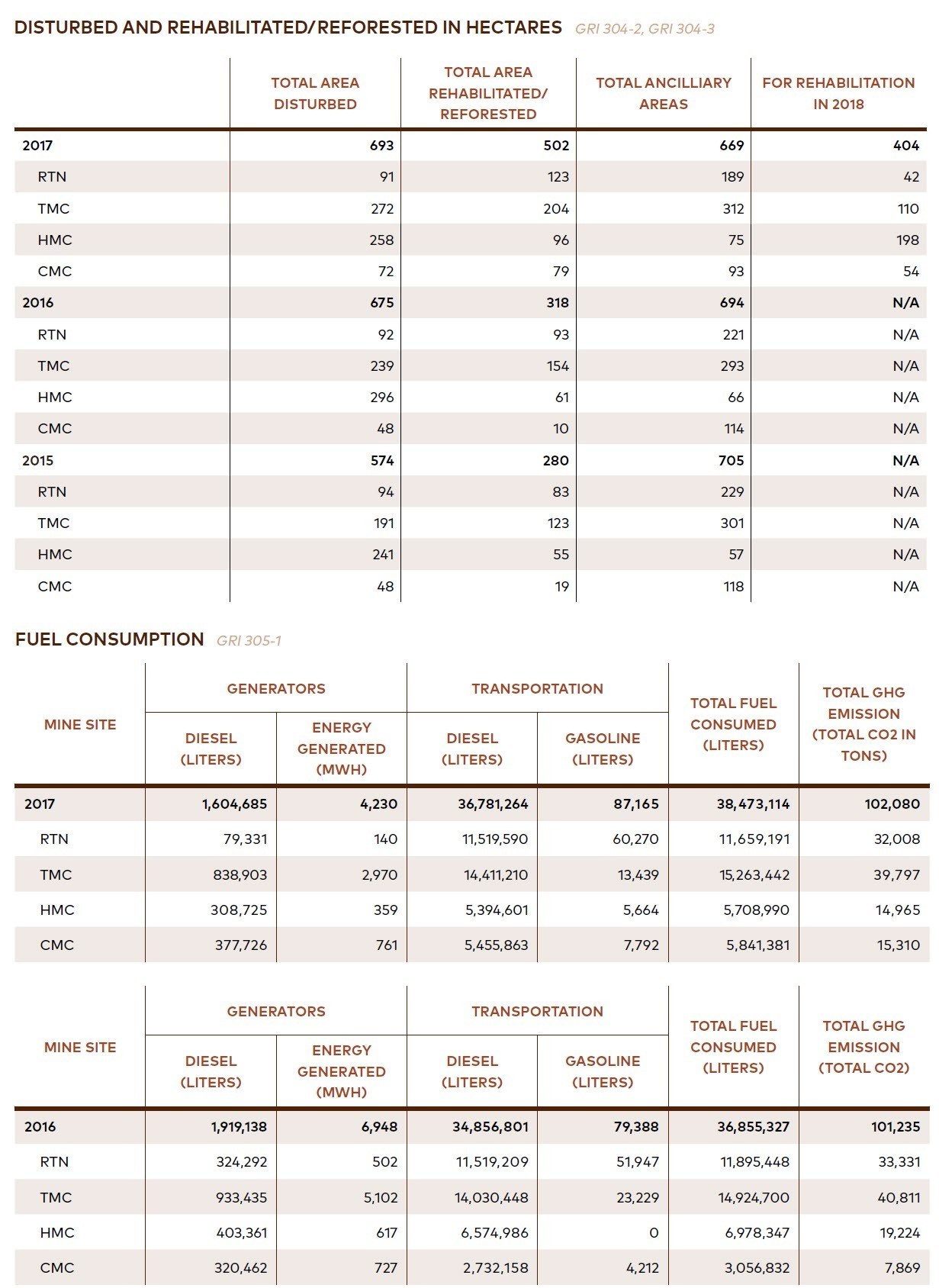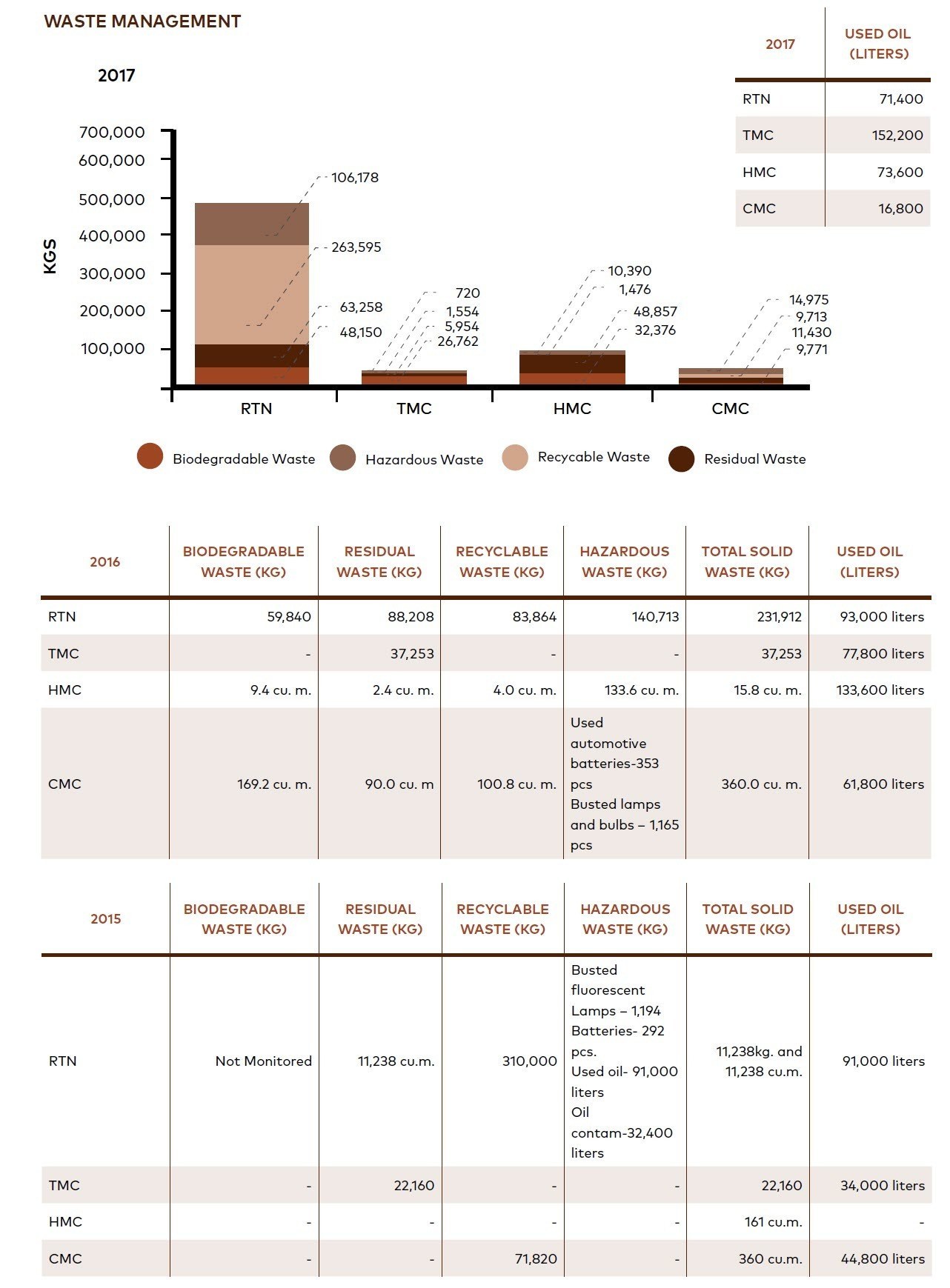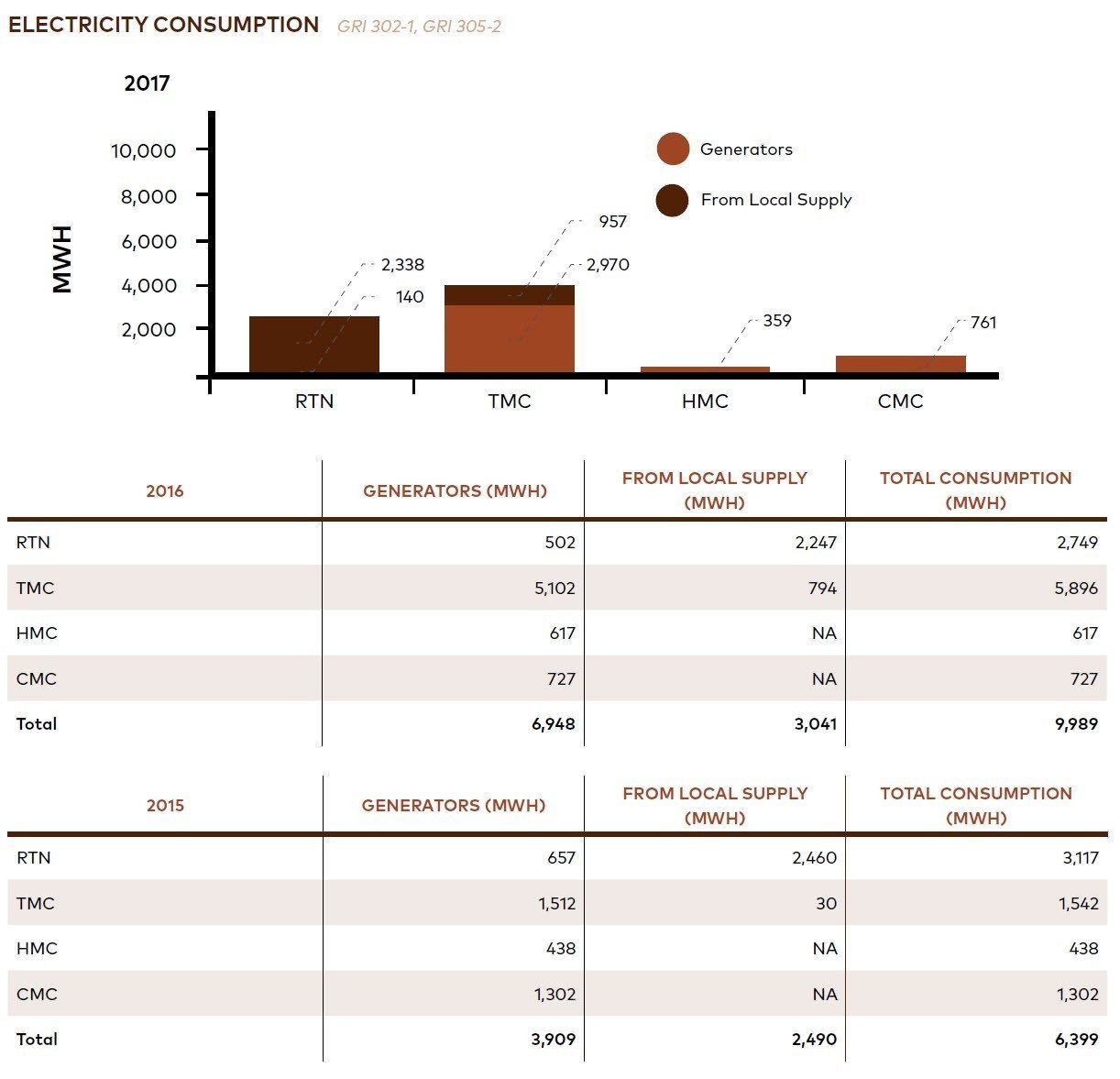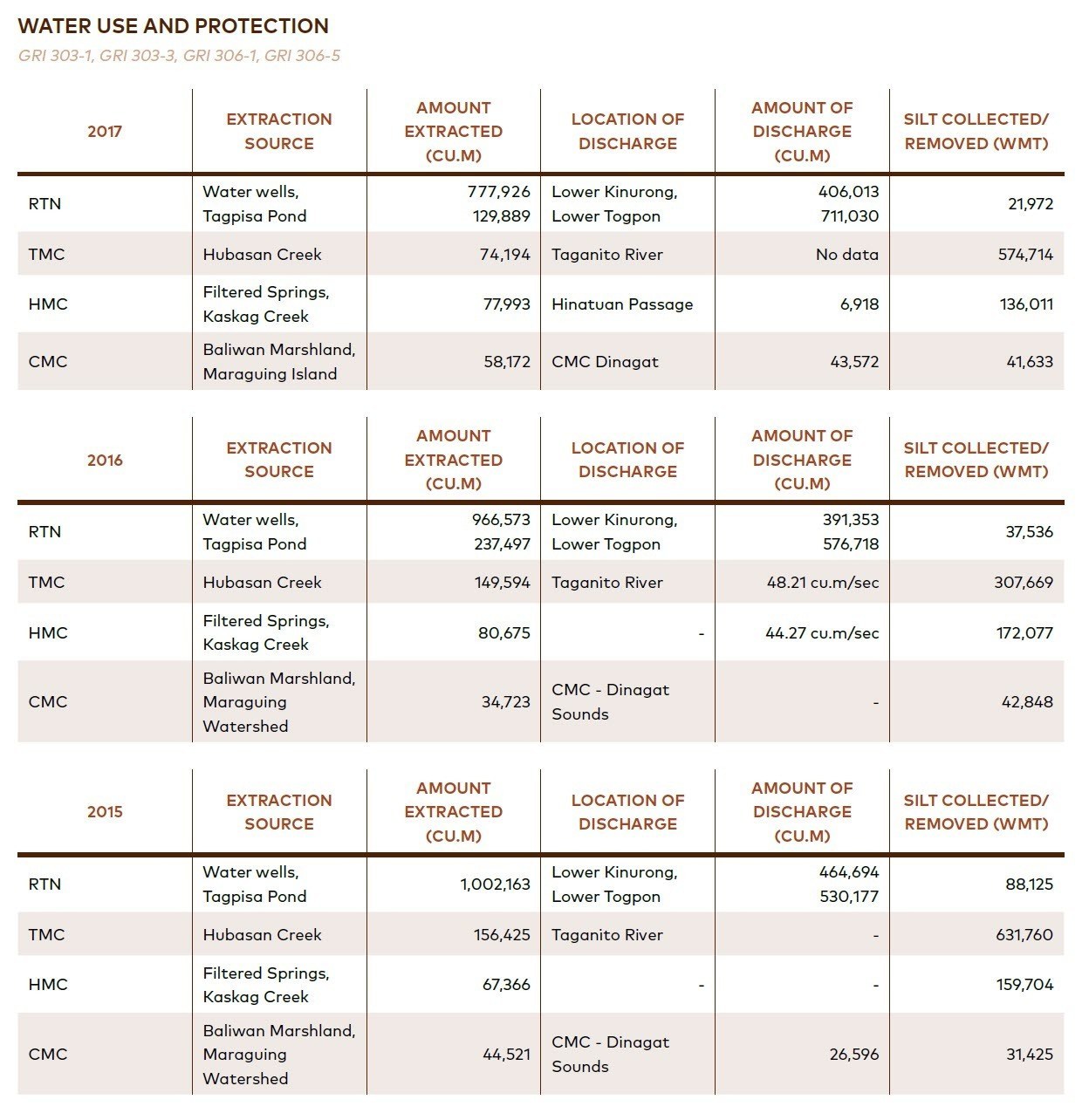 Utilizing Agro-forestry in Rehabilitation Programs
In 2017, CMC began implementing a five-year agroforestry program across its rehabilitation and land development activities. Agroforestry is the land-use or farming system in which trees or shrubs are grown in association with agricultural crops. CMC seeks to optimize the use of land for agricultural production so that the mined out areas will be suitable for providing livelihood and ensuring food security of the host community.
The project aims to test the nutrients of the soil in the mine areas in order to map a path as a guide to sustainable agricultural programs for short term and long-term crops. This is essential because fertility of the soil is needed for re-vegetation of active mining and mined out areas. Its goal is to optimize the use of land for agricultural production on a sustainable basis in the two areas it has established for agroforestry—a 600-sq meter organic farm in an undisturbed area in Maraguing and a mined-out area near a telecom tower.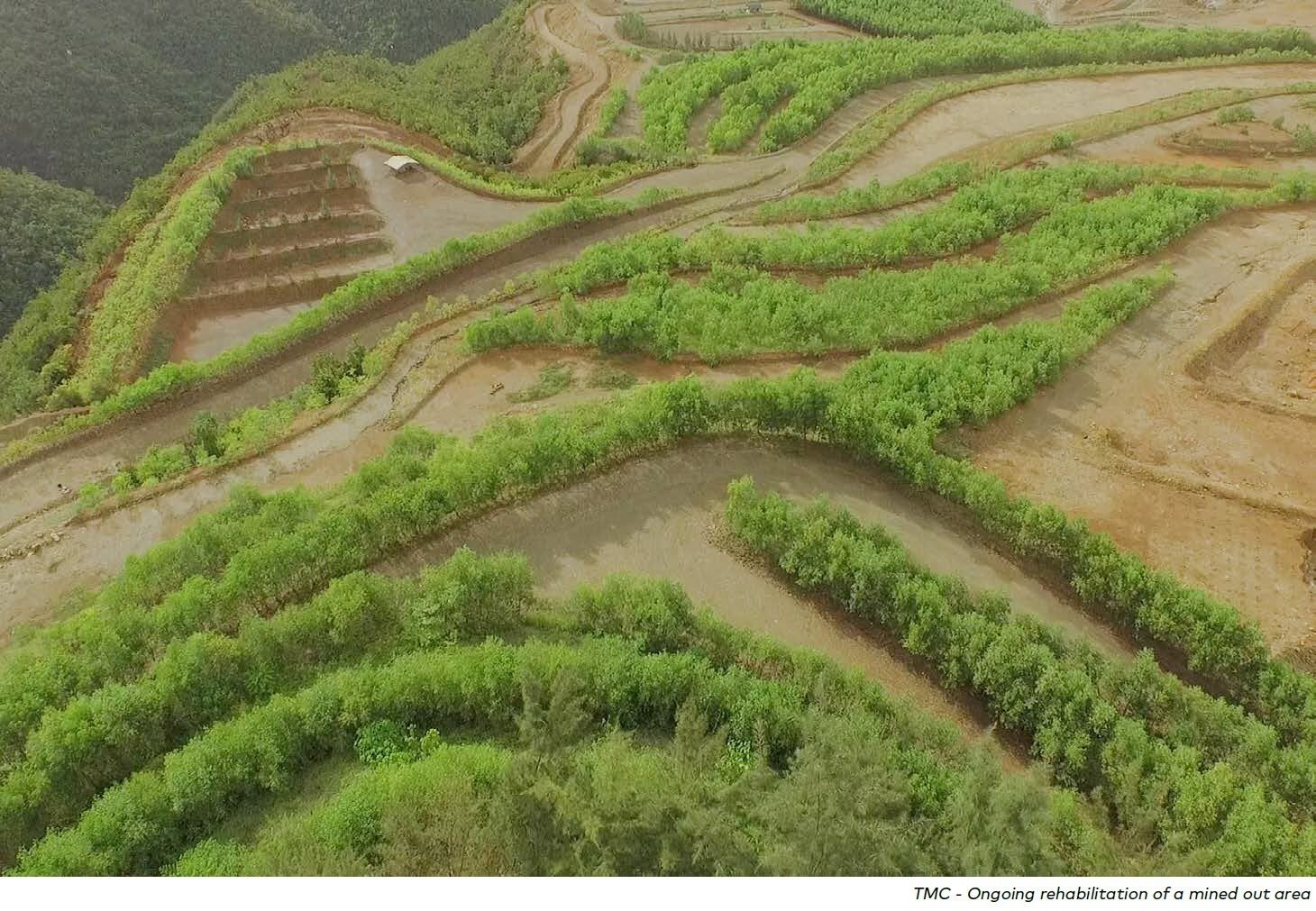 First, the company did the groundwork to incorporate trees, shrubs, crop and even animal farming systems in its rehabilitation activities. This was followed by the construction of a nursery and an operating plantation. Plantation maintenance activities then ensued. To ensure that the agroforestry approach remains consistent and sustainable, the company engaged the services of an agro-farming expert, Rene Peñalosa, to oversee the project.
The agro-forestry approach employed safe and effective agri-technologies to mitigate the effects of metal pollution on soils through the development, production, application and incorporation of bioorganic compost in the soil environment. Part of its long-term plan is to employ proven soil amelioration technologies such as biochar—a 2,000-year-old practice that converts agricultural waste to enhance soil quality and biodiversity. Another method to be used is Bio Organic Facility (BOF) which uses organic materials that have undergone rapid decomposition due to multi-strain bacteria.
This technology has been proven to increase yield and improve the quality of crops, soil structure as well as restoring microbial balance of the soil. The five-year project has actually began bearing results as the company already established a cacao plantation at its Globe Tower mined out area, as well as a coffee and calamansi plantation around its MPO mine rehabilitation area. The initial data from the five-year Agroforestry program is also a significant contribution to the awareness campaign that mining and agriculture can coexist, and that food security for the communities is one of the most important goals of a responsible mining company.
Saying No to Plastics
Meanwhile, as another important program for environmental protection, the townsite of RTN in Rio Tuba, Bataraza officially banned the use and sale of plastic bags and styrofoam as packaging materials in the townsite's markets, restaurants, sari-sari stores, canteens and other shops. Business establishments are now required to use paper bags and allowed containers in packaging their products, while shoppers are encouraged to bring their own bags or baskets. The "No to Plastics Policy" is part of the company's commitment to maintain high standards of pollution prevention practices.
Empowering Communities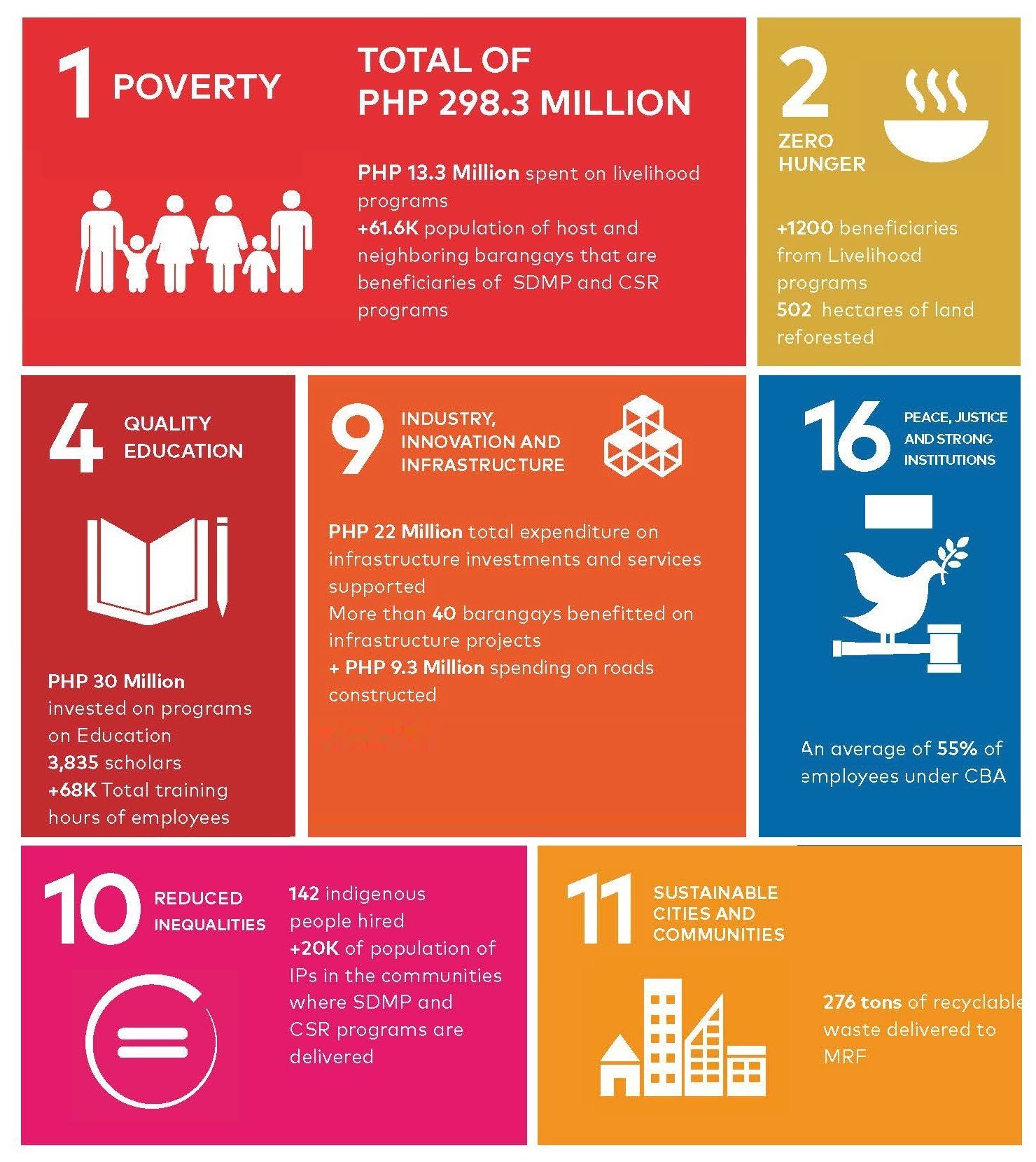 Our Commitment
The Company delivers on its commitments through two channels: SDMPs are mandated social expenditures while CSR programs are voluntary. Both SDMPs and CSR programs are made in consultation with stakeholders and in consideration of the important social, cultural, environmental, and economic factors affecting our communities. These are implemented in collaboration with and with support from local government units/organizations.
The Company has found that enabling partnerships is the best approach and most effective way forward to realize a more sustainable way of life, which is why our SDMP and CSR programs employ a participatory approach in selecting programs designed to attain shared social development goals.
Our Focus

Social Development Management Programs
Health, Education, Livelihood and Infrastructure Programs
Indigenous Peoples Rights
Social Impact Assessment
Our Performance
Practicing Responsible Mining for the Good of the Community
Beyond regulatory compliance, NAC practices Responsible Mining which means caring about sustainability of the business most directly from the viewpoint of all stakeholders—especially the host communities whose lives are impacted by our operations.
The Philippine Mining Act of 1995 or RA 7942 mandates that companies allot yearly expenditures equivalent to 1.5% of operating costs for SDMP. The projects under this address pressing needs of the host communities such as health, education, infrastructure, electricity and water access, livelihood, and socio-cultural preservation, particularly for the Indigenous Peoples or IPs who have Ancestral Domain rights over the area.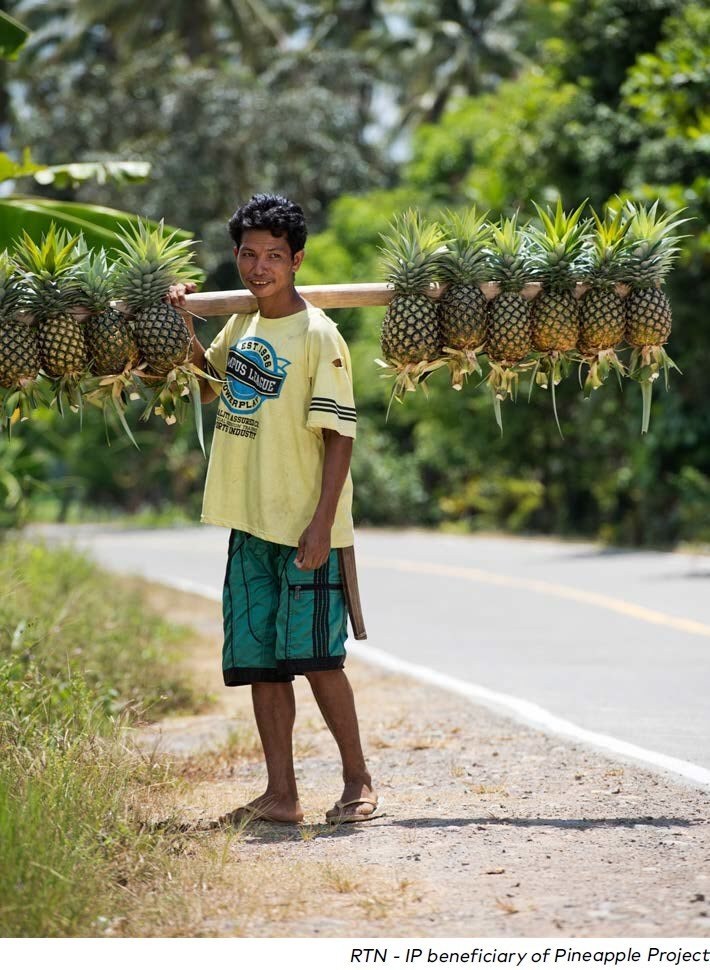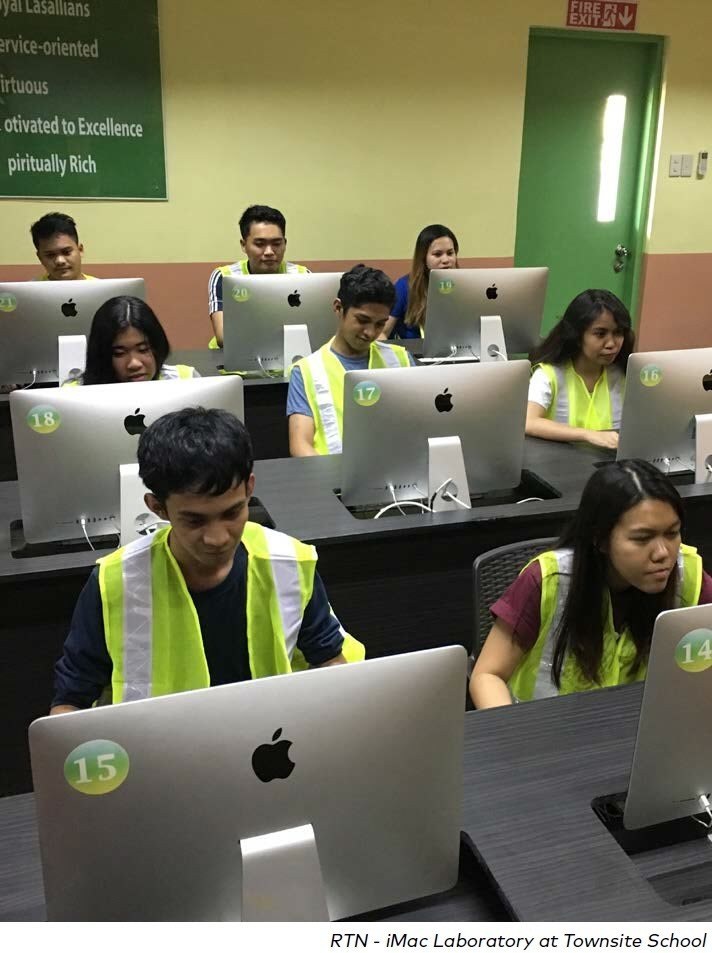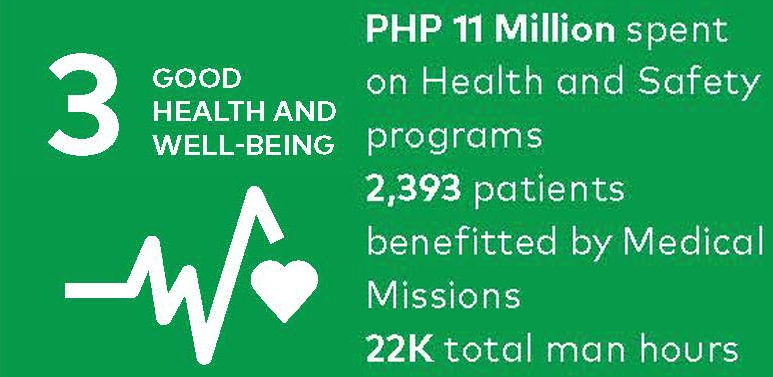 Our Commitment
We promote a strong culture of safety embedded in operational excellence and robust risk management. We approach safety with a multi-level focus to empower our personnel to embrace the value of accident prevention and control of loss.

Our Focus
Safety and Health Programs and Procedures
Education and Training on Health and Safety Topics
Emergency Response and Crisis Management
Security of Mine Sites and Maintenance of Equipment
OUR PERFORMANCE
Providing a safe workplace for our employees is a top priority for the Company. We therefore take pains to cultivate a culture of safety wherein everyone is enable to appreciate how safety is the responsibility of all personnel.
The Company promulgates a comprehensive safety program designed to minimize risks in the workplace and to ensure compliance with occupational health and safety standards that apply to our operations, such as:
Mandated use of protective equipment and safety devices.
Installation in strategic areas within the operations of first-aid and emergency equipment.
Conduct of regular safety in-house inspections to identify hazards and unsafe conditions or practices.
Conduct by Managers and Supervisors of regular safety briefings and emergency preparedness training and drills.
Safety orientation for new employees.
A rigorous system of investigating accidents and near-misses to understand causes and implement corrective measures.
The recording and monitoring of lost time injuries, medically treated injuries, minor injuries and non-injury incidents which include near-miss incidents, and property damage and their frequency rates.
Ensuring Safety for All
Proper mining and safety equipment are provided at all times to employees and visitors. Standard Personal Protective Equipment (PPE) include a skull guard, eye goggles/ spectacles, dust/chemical respirator/mask, ear muff, hand gloves, high visibility vest, rainboots, raincoat, and safety shoes.
Safety orientation and training, safety reminders and safety signages are used to communicate the safety protocols clearly, consistently and constantly to everyone in the mine sites.
A case in point is TMC which uses training to ensure that its employees know what to do, how to do it and who is in charge in case an emergency occurs. And as part of the company's safety programs, a first-aid competition is held annually. In the competition, teams from TMC and contractors are put to the test with simulations of different emergency situations. Teams are assessed based on their triage, bandaging, prioritization and care of patients.Representatives from the Philippine National Red Cross usually serve as judges and proctors during the event.
It is worth noting that TMC's emergency response teams extend their services not just within the company and neighboring barangays but also to calamity-stricken municipalities and provinces that need urgent help.
Pursuing Excellence in Safety Management
The organization is therefore very proud that TMC earned its BS OHSAS 18001:2007 Occupational Health and Safety Management System certification in September following a series of audits conducted by TUV Rheinland. BS OHSAS 18001 is the British Standard that sets out the requirements to achieve the best possible working conditions and workplace health and safety, aligned to internationally recognized best practices.
In addition to the recommendation for certification, the audit team commended the company's rescue and relief operations in the quake-hit provinces of Surigao and Leyte, its 18.2 Million Man Hours worked without Lost Time Accident as of August 2017, its fire station building and the construction of the PHP 30 million evacuation center in Barangay Taganito. An impact of the implementation of this system is the reduction of accident incidence rate from 12.33 in 2014 to 5.31 in 2017.
As NAC earnestly cultivates this safety culture, we are equally proud of RTN also achieving its BS OHSAS 18001 certification last March. The Company received 10 positive points and zero nonconformance which, as noted by the auditors, a performance deemed exceptional for a first timer.
The audit also took note of the many worldclass performance metrics including: RTN's MGB Certificate of Recognition for achieving 26 Million Safe Man-hours without LTA from July 1, 2014 to November 16, 2017; Certificate of Recognition by the DOH for having an Accredited Drug Testing Facility within the company through the RTNFI Hospital; and the Supplementary Equipment Operator Qualification which the Lead Auditor commended as a best practice that "is exceptional and unique from other companies." RTN acquired the use of a Wheel Loader Simulator at considerable cost to support the on-going qualification of heavy equipment operators.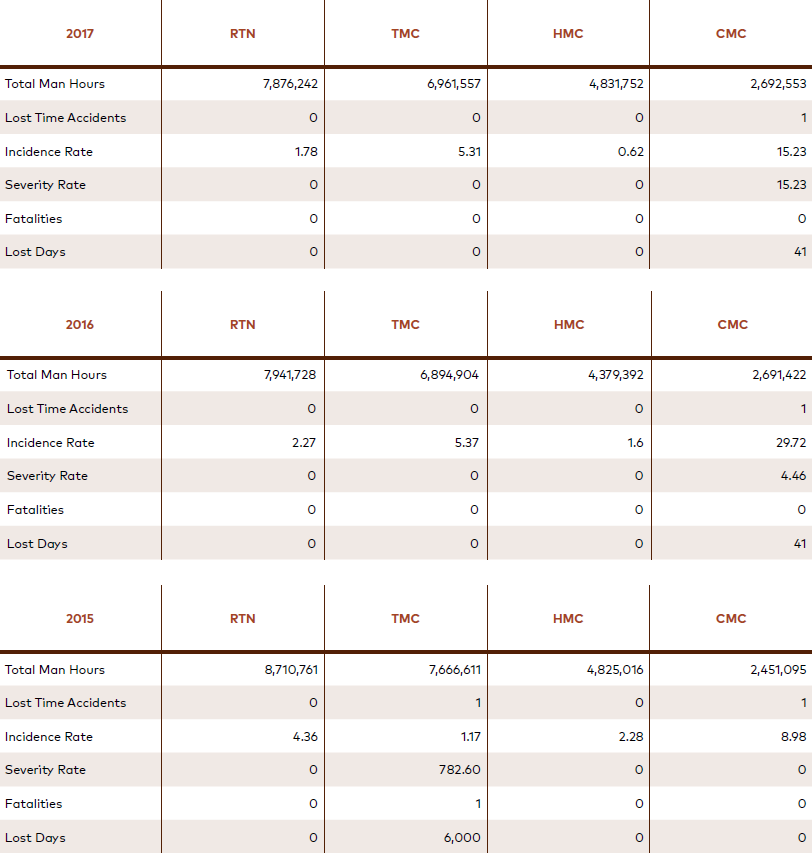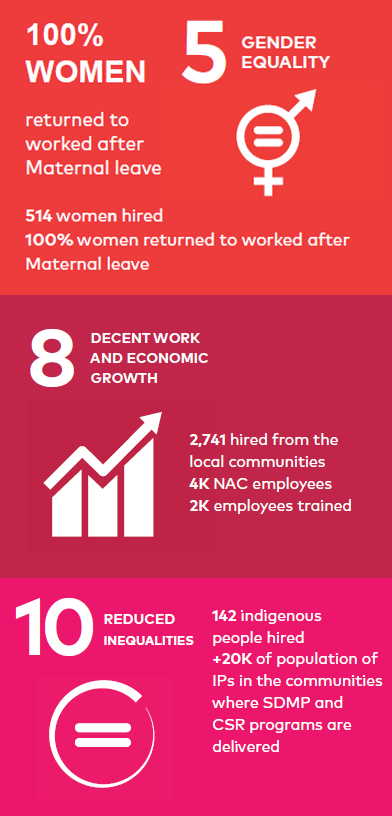 Each of our employees is respected and valued and we fully observe human rights, occupational safety and non-discrimination in the workplace. We do our utmost to develop employee potential, compensate fairly and commensurately to performance and provide growth opportunities.
Our Focus

Employee Relations and Management
Collective Bargaining Agreement
Skills and Competency Development
Human Rights and Equal Opportunities
Our Performance
As we value each employee and recognize his or her role and contribution to the Company's sustainability journey, NAC makes it a policy to compensate fairly and commensurately to performance, practice non-discrimination in the workplace, provide growth opportunities and develop employee potential.
We continue to practice Impact Sourcing by prioritizing local residents for placements in job opportunities whenever possible, and we cultivate an inclusive culture by opening the same opportunities to the Indigenous Peoples in our communities. With this, our training programs are designed to ensure every employee's skills and potential are maximized to enable a safe, productive engaged work life with the Company.