Our Approach Towards Sustainability
NAC's interests are aligned with our stakeholders. Our actions and choices reflect values that are shared with our employees, and the people in the communities where we operate. These include honesty, transparency, and integrity. The Company is committed to protecting our employees, the communities, our customers, and the environment. This is done by institutionalizing mining practices that are responsible, sustainable, and profitable.

NAC maintains an active participation in organizations that shares its values, principles,
and advocacies. The Company believes that it has a role in being a responsible corporate citizen, and is part of an industry supporting national progress.
NAC actively supports the initiatives of the Chamber of Mines of the Philippines (COMP); particularly its decision to mandate the adoption of Canadian mining standards, or "Toward Sustainable Mining" (TSM), of its member mining companies. The TSM will ensure that the COMP's member mining companies are accountable, transparent, and credible, with respect to their mining practices. The TSM standard covers key areas, including tailings management, community outreach, safety and health, biodiversity conservation, crisis management, energy use, and greenhouse gas emissions. NAC also fully supports the COMP's adoption of the Declaration of Commitment to Responsible Minerals Development in the Philippines, otherwise known as "The Baguio Declaration".
The Company's management approach is fully aligned with the five (5) main principles of the Baguio Declaration, and its five (5) elements of Responsible Minerals Development
People Orientation
Protection and enhancement of the environment
Respect for the rights and welfare of indigenous peoples
Fair contribution to the National Economy
Efficient, competitive, and compliant with international standards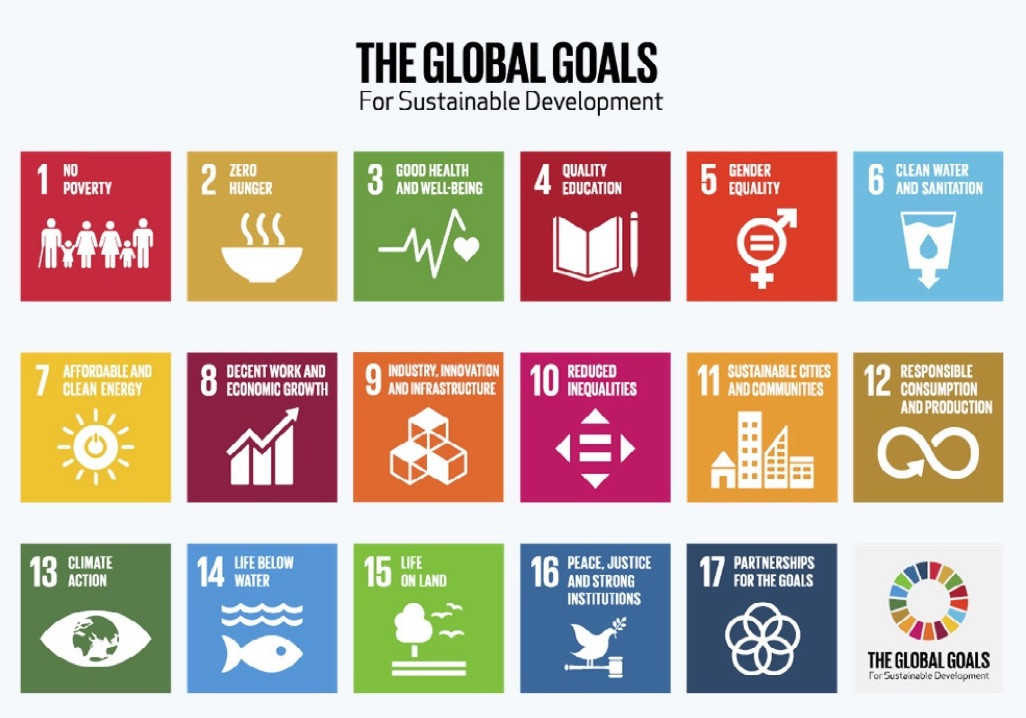 Alignment to UN Sustainable Development Goals
NAC's environment, social, and governance initiatives work in consonance with the Company's overall objective to support the United Nations Sustainable Development Goals (UN SDGs). Focused on five (5) key pillars to drive significant and meaningful impact for its stakeholders, NAC's Sustainability Framework effectively aligns its various efforts towards the world's shared goal of enabling long-term positive change.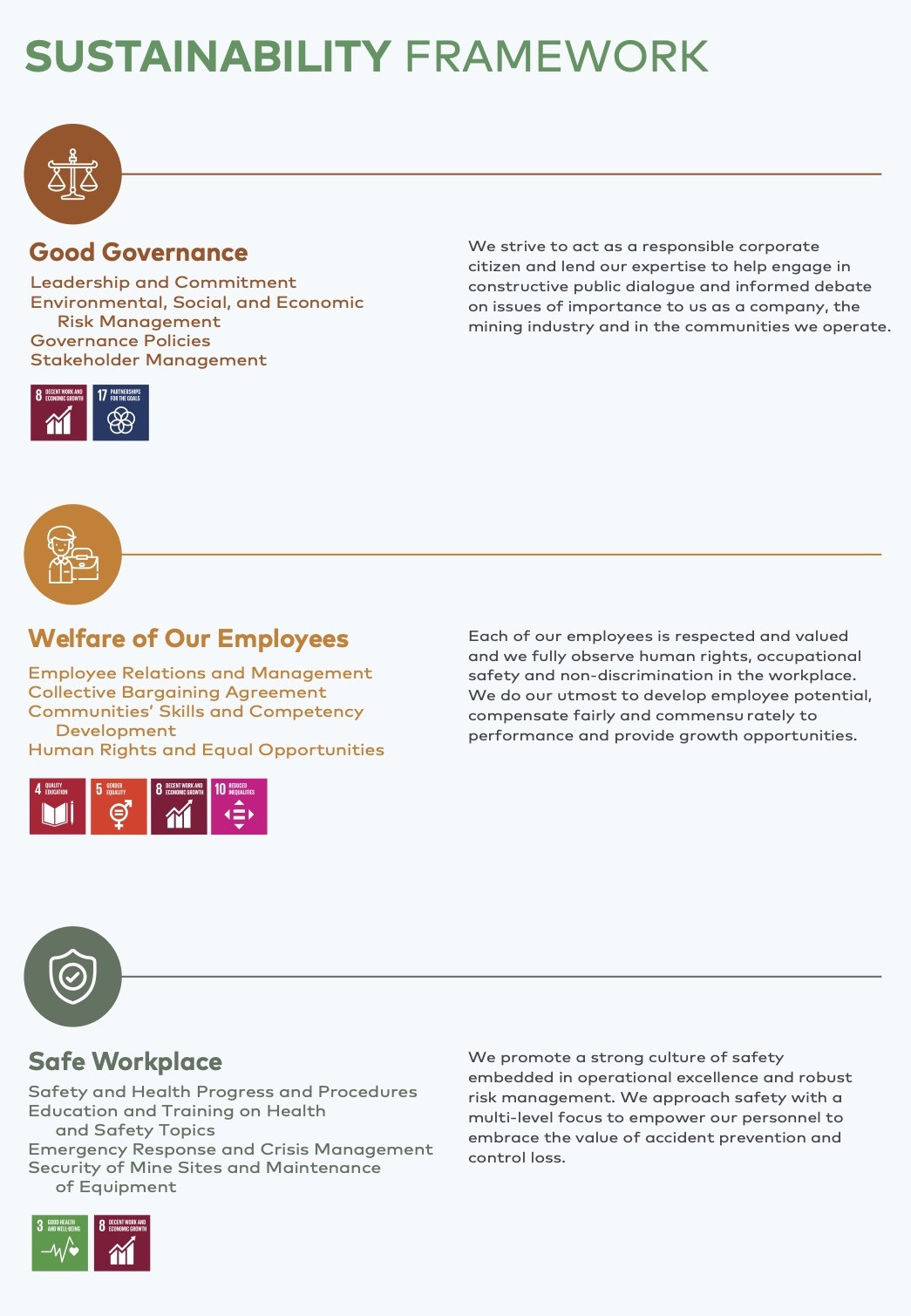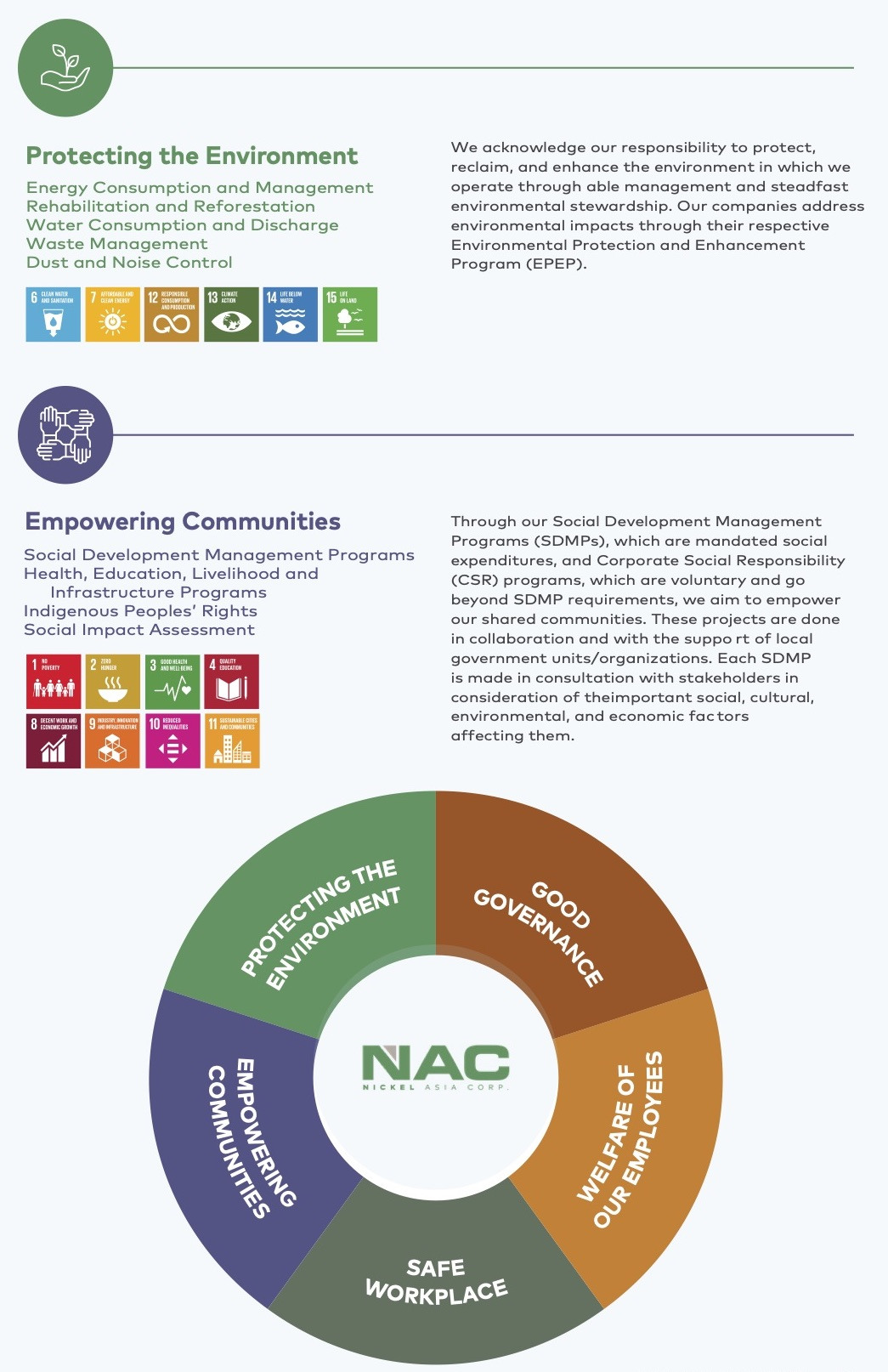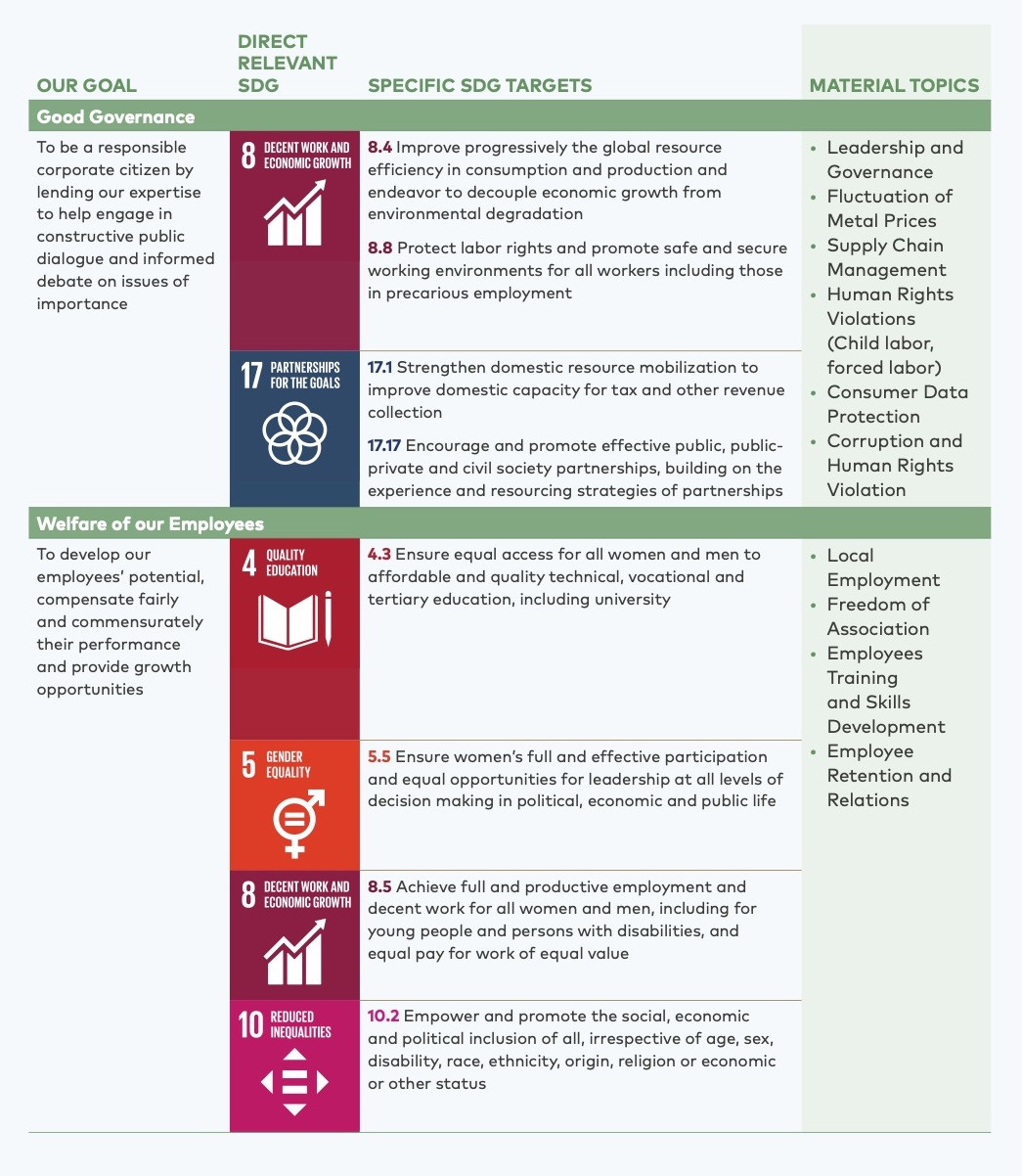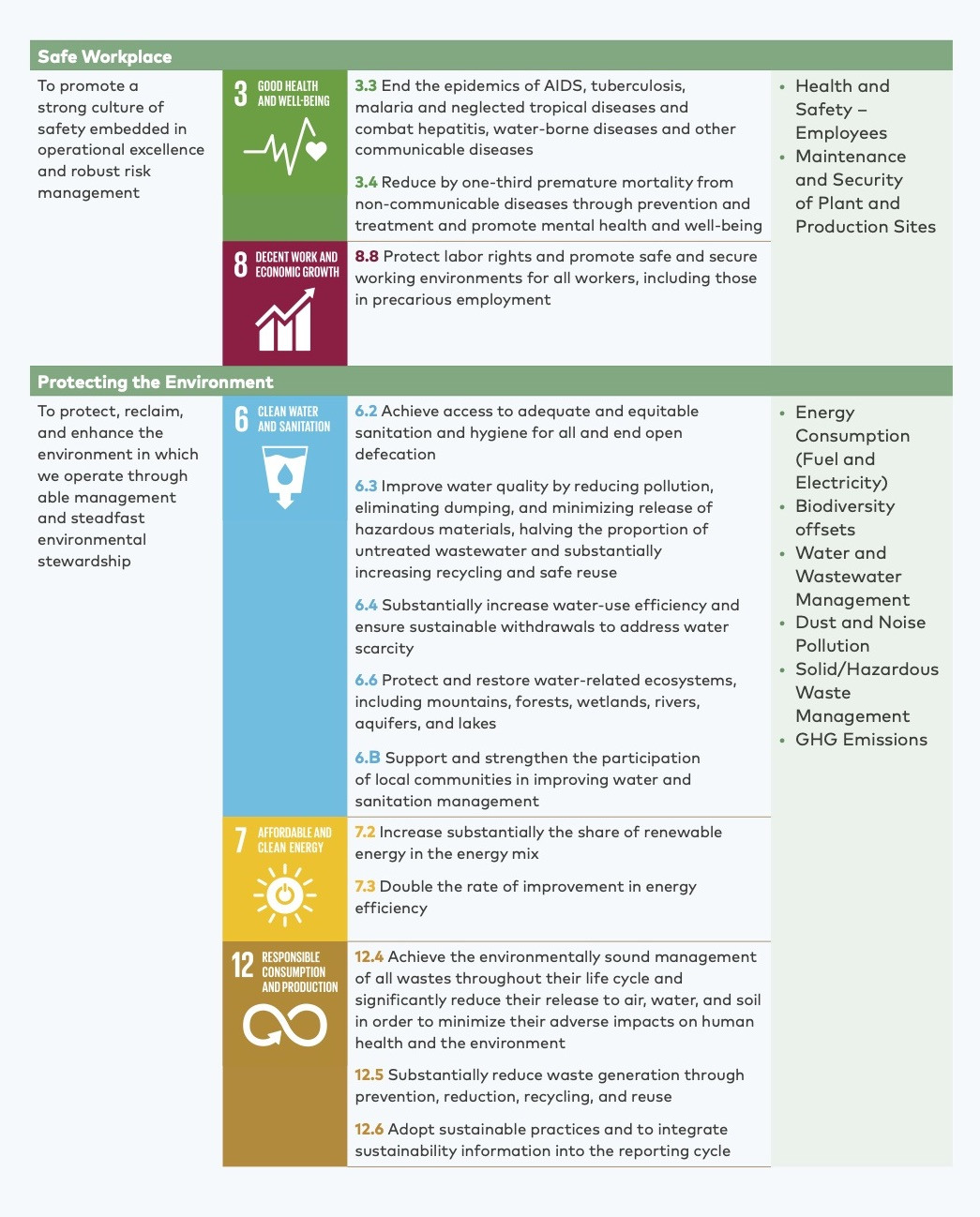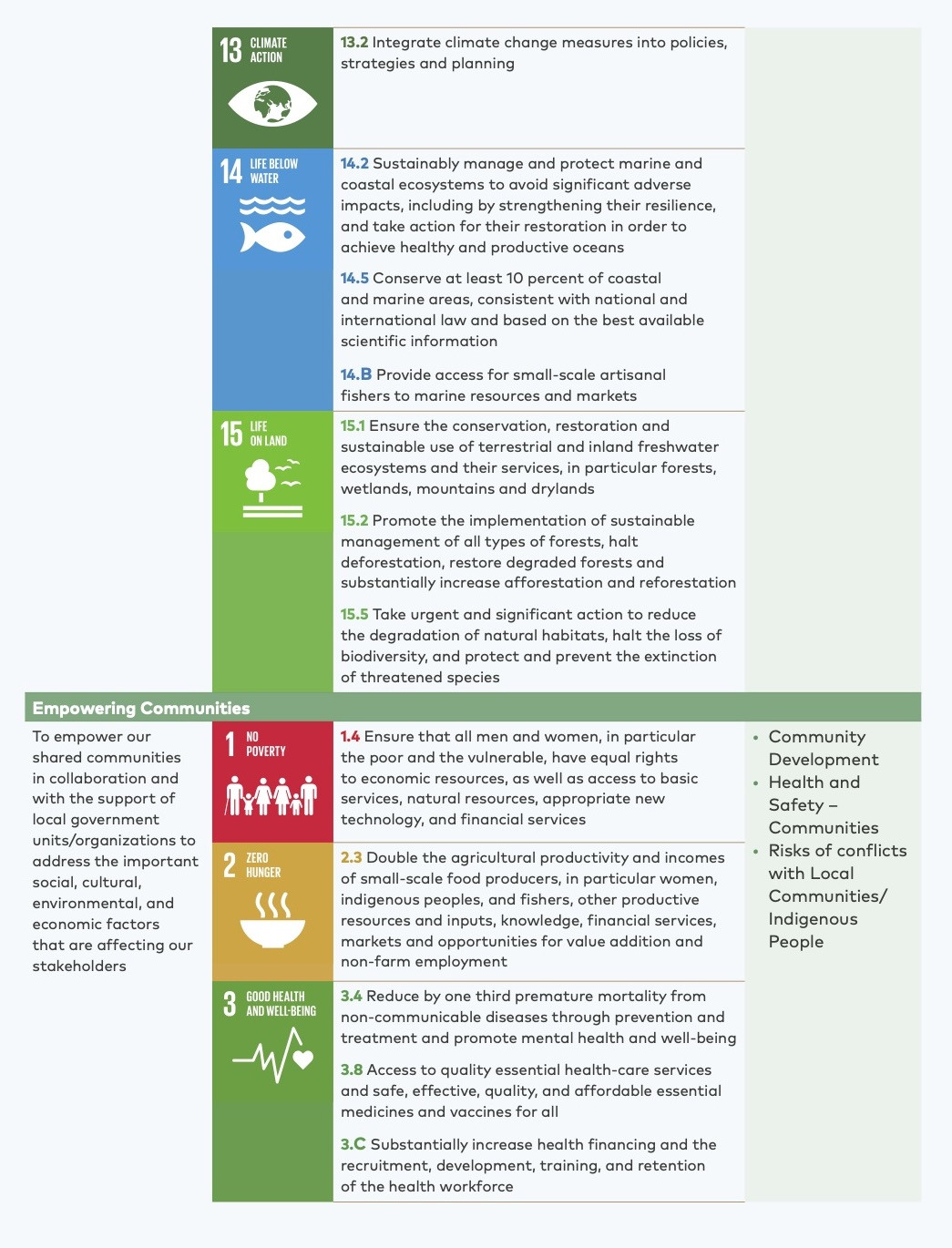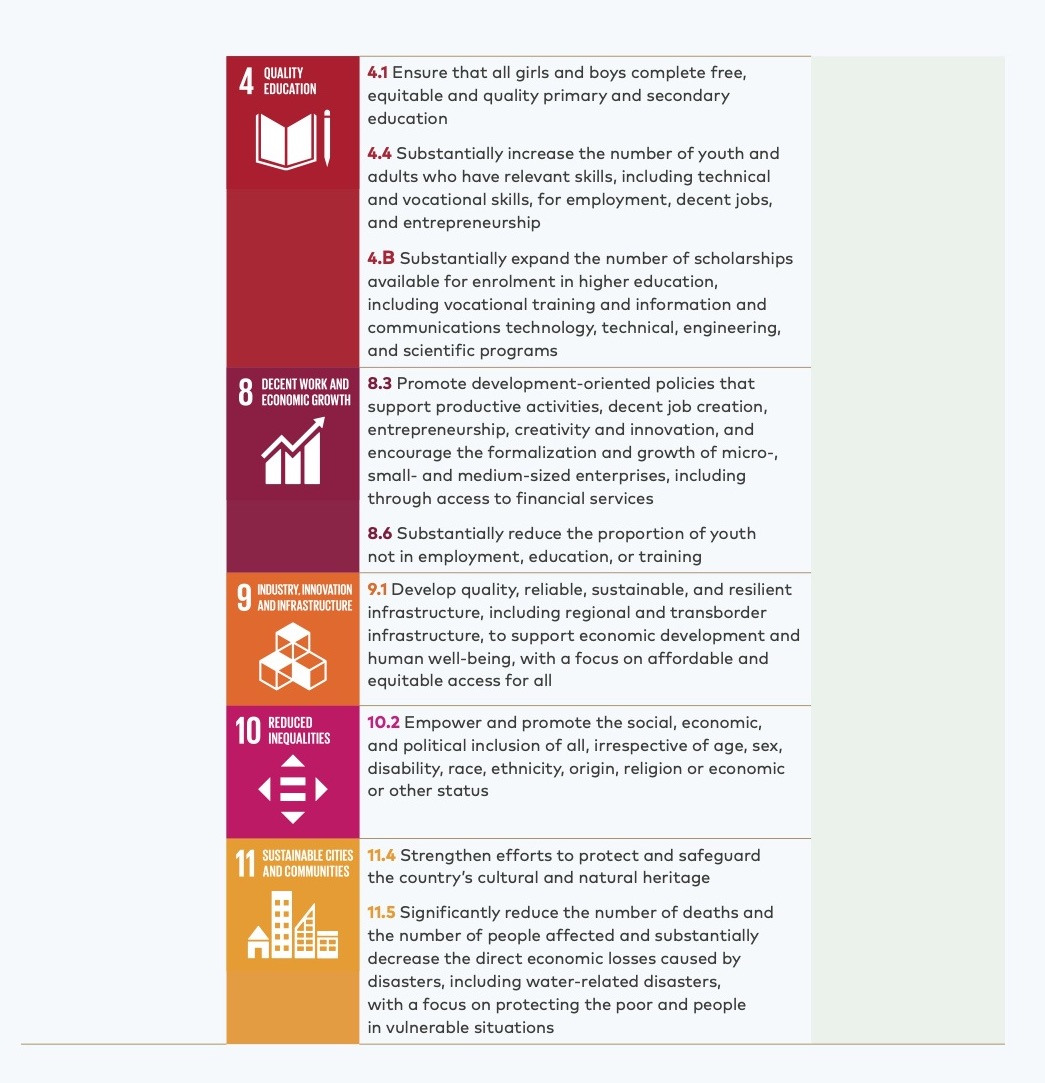 Stakeholder Engagement
Throughout 2019, NAC maintained a variety of communication channels and platforms that offer opportunities for its stakeholders to be updated and informed of its activities. Anchored on the principles of transparency and accountability, we utilize a range of tools and platforms such as the corporate website, fora and events, and official report documents. It is the policy of the Company to actively create venues for dialogue in order to make the case for responsible mining.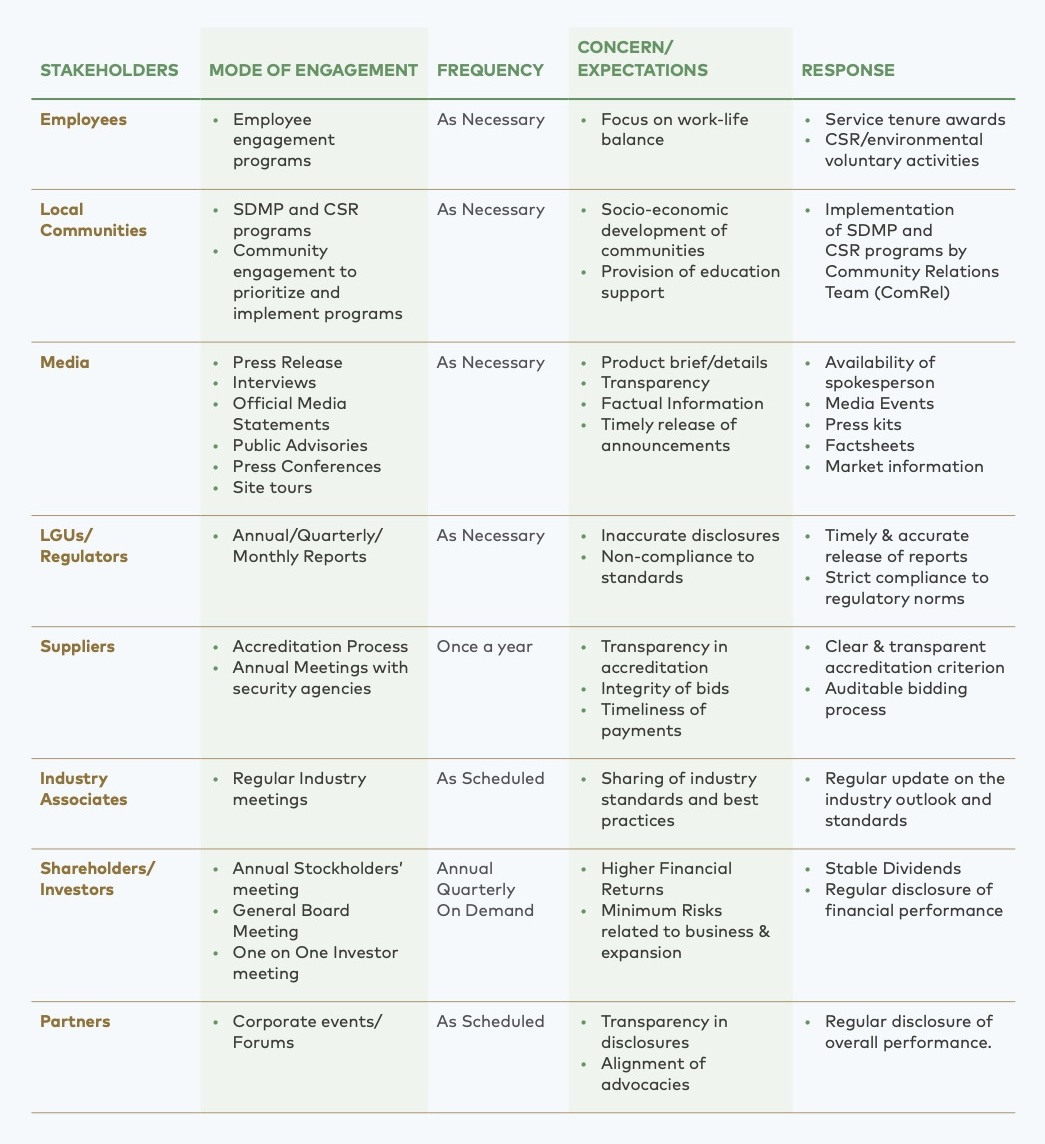 Material Topics of Sustainability
NAC subscribes to the principle of materiality promulgated by the GRI standards, making the practice of sustainability reporting meaningful.
The Company, therefore, applies GRI's prescribed five-stage process to identify material aspects of sustainability and level of criticality for stakeholders. This rigorous process maintains the quality of our reporting and helps keep our programs effective and relevant.