A bangus farming project sponsored by Hinatuan Mining Corp. (HMC) in Sitio Bagong Silang, Tagana-an, Surigao del Norte, yielded more than 1700 kilos of bangus in its first harvest ever, which happened during quarantine.
"This is a big achievement for us small fisherfolk, because the lockdown has limited our movements in the community and the bangus helped many of us during this quarantine," said Lilibeth G. Becera, President of the United Fisherfolk Association of Bagong Silang (UFAOBS) in the Municipality of Tagana-An.
According to reports, the Philippine Statistics Authority (PSA) has records showing that the country's municipal fisheries subsector has been experiencing a steady decline in production due to a host of reasons including oil price hike.
The Community Relations team (ComRel) of HMC, under the leadership of its Resident Mine Manager, Engr. Francisco J. Arañes, Jr., started working with the leadership of UFAOBS and its 90-strong membership in April of last year to address the issues of fishery and livelihood in the mining communities and decided to fund the bangus project which was officially launched on January 2020.
"It is a showcase of an ideal team effort in a responsible mining community – the Bureau of Fisheries and Aquatic Resources or the BFAR, the Mines and Geosciences Bureau or the MGB, and the dedication and hard work of the members of UFAOBS. We are all proud and thankful for the success of this bangus project," shares Arañes.
According to HMC's Community Organizer, Allan O. Bandoy, Jr., the actual harvest is 1,734 kilos. HMC bought the first harvest from UFAOBS for P140 per kilo and gave 2 kilos of bangus to each of the households in the mining community as part of the company's relief efforts during the quarantine period caused by the threats of COVID-19.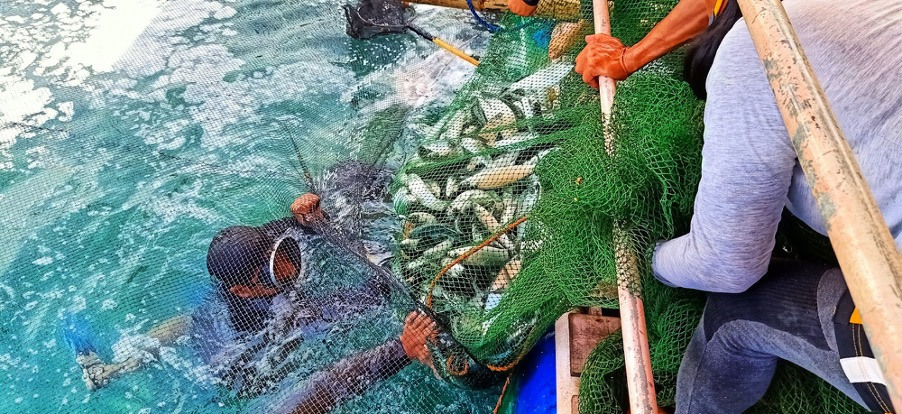 The project took almost all of last year to finalize with all the required permits to be accomplished and the documenting of all the details of the feasibility study that the members of UFABOS studied with commitment.
"The timing could not be more perfect, we didn't know last year that COVID-19 will hit and that community quarantine will restrict the movements of our fisherfolk and everyone in the community so we are glad we started this project when we did," explained Antonio "Jay-R" Resuera, Jr., HMC ComRel Manager.
"Going forward, all the income in future harvests will be split into two, one half will be divided among the members of UFAOBS and the other half will be put back to the coffer of the people's organization so their business will grow bigger," added Resuera.
HMC is a subsidiary of Nickel Asia corporation (NAC), the country's largest producer of lateritic nickel ore, and is one of the largest in the world.