IN the late 1960s, Palawan was known more for malaria, leprosy and a penal colony, and no one would imagine traveling from Puerto Princesa City to other points of the mainland.
But when a geologist discovered nickel-laden soil in a remote section of the southernmost town of Bataraza—as distant from Puerto Princesa as Manila is from Baguio but without the road network to travel over—miners and geologists began traveling by land and sea for over 10 hours to get to what later on became the operation of Rio Tuba Nickel Mining Corporation (RTNMC) in Barangay Rio Tuba of that town.
In those early days it could be argued that there were more anopheles mosquitoes in the area than there were humans. As for infrastructure, these were simply non-existent.
To entice professional miners and geologists to move to this remote location, it was necessary to build a townsite where none existed.
Houses had to rise, a church, a hospital and even a clubhouse where the residents could relax on off hours. This was the only way their families – or at least their wives – would consent to moving to what could be described as the remotest point of the Philippines.
As the community grew, and as families grew, the need for good educational opportunities became obvious.
This is why, in the late 1980s, a public school in the community was converted into a De la Salle-supervised private school, renamed the Leonides S. Virata Memorial School (LSVMS) and funded fully by the mining operations, with students coming from the ranks of employee children and outsiders who qualify for admission.
Again, imagine this: in the 1980s in the remotest southern point of the main island of Palawan, there was a De La Salle supervised school offering elementary and high school educational opportunities to children of the mining community.
Over time this has clearly benefitted the community that grew around Rio Tuba, including the town of Bataraza itself and even the province of Palawan.
A good example are the 324 graduates who are now connected with RTNMC and its affiliates.
From LSVMS, graduates have moved on to attend some of the best institutions of higher learning in the country and even abroad.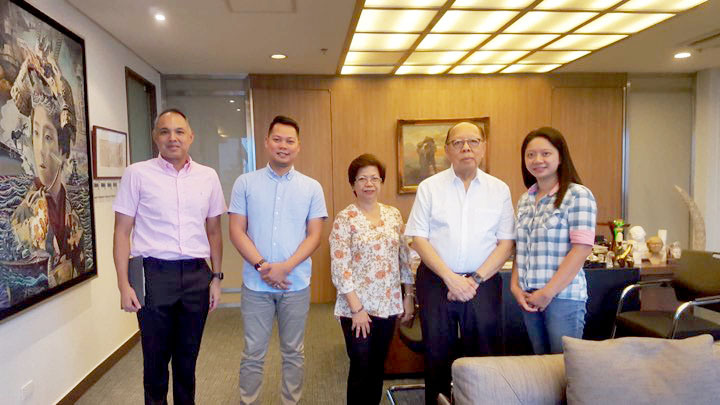 LSVMS has produced students who have since graduated from the UP system, from De La Salle system, from Ateneo de Manila and UST, from Far Eastern University, SLU Baguio and Centro Escolar, the Cebu Institute of Technology, UNO-Recoletos, STI and Holy Trinity, as well as from the University of Calgary in Canada.
As of last count LSVMS has produced 65 engineers, 62 licensed teachers, 42 licensed nurses, 16 graduates of psychology, 10 from IT (Information Technology), nine doctors, eight licensed pharmacists, seven HRM (Hotel and Restaurant Management) graduates and seven licensed medical technologists.
It has produced five architects, and five physical therapists, four CPAs (Certified Public Accountants), four management and accounting graduates, three business administration graduates and another three criminologists.
Also from its alumni ranks are three nuns, three registered social workers, one lawyer, one midwife and one real estate broker.
Mayvelyn Abiog (Mabel as she is known to friends) is one of a thousand or so young Filipinos who have passed through the portals of LSVMS.
Her mother was chief chemist at RTNMC, and Mayvelyn (as well as her two other siblings) benefitted from the educational opportunities offered.
After graduating from high school she applied to and was accepted at the University of the Philippines in Los Banos, on her way to becoming what she had dreamed of becoming as a young girl: a doctor of medicine.
Dra. Mabel is now attending to patients at the urgent care center of St. Luke's Medical Center-Bonifacio Global City, one of the best medical centers in this part of the world.
A stressful job that does not seem to daunt her, she actually chose this field of medicine because, she says, "there's only very few doctors trained for emergency services."
Cyrus Dabon is another graduate (Class of 2002) who is enjoying the benefits of quality foundational education offered by LSVMS.
The third and youngest child of parents Teddy Dabon and Alma Hulguin who worked at RTNMC, Cy took up BS Psychology at the University of St La Salle in Bacolod, earning his degree in 2006.
He immediately found work as HR coordinator for Sitel Philippines but in 2009 returned to Rio Tuba to join RTNMC as a Production Division Clerk.
A year later he was transferred to the Administration Department as Admin Assistant before being promoted to the post of Admin/HR Supervisor two years later.
In 2016 he was again transferred, this time to the head offices of Nickel Asia Corporation (NAC), the parent company of RTNMC, in Taguig, Metro Manila, joining the HR Department as Training and Development Officer and then earning another promotion in July 2017 to the post of Training and Development Manager.
His elder siblings, a sister (a nurse) and brother (a chemical engineer), also products of LSVMS, are now working abroad.
"Iba ang dating ng mga taga-LSVMS (LSVMS students have a different aura)," Cyrus says, recalling his student years representing the school as a tennis player in provincial and regional meets.
"Because of our facilities and because of the quality of instruction, we were looked up to by our fellow student-competitors. Whether it was academics or sports, LSVMS was considered one of the best if not the best schools in the province and the region," he added.
Dra. Mabel concurs: "the La Salle quality of instructions at LSVMS gave us an advantage over our fellow students in Palawan, and equipped us to compete with even those from Manila."
She adds that the regimen of study at LSVMS prepared her for the rigors of medical education.
They both marvel at how much the school has expanded in terms of facilities as well as student population, and are happy for all those who have entered the school after them because they know how much the LSVMS education has impacted their own lives.
Dra Mabel and Cyrus are just two examples of the impact that the LSVMS has made not just on the immediate mining community but on the bigger national community as well.
First time visitors are always surprised to see how a community has grown and thrives in that remote spit of land close to the southernmost tip of Palawan island, thanks to excellent educational opportunities provided by responsible mining practices.
But when the mining executives themselves like founder Atty Manuel B. Zamora Jr. tell you that they got their breaks in life thanks to the educational opportunities they had when they were younger – when even they had to commute by bus and jeep and sometimes even by foot to and from school—then it is almost inevitable that they take it as one of their missions to help provide similar educational opportunities to others.
Hence the LSVMS.
And the result? A continuous cycle of positive transformation, in lives and in futures, in ways that only a good education can make possible.
This in effect is what the Leonides S. Virata Memorial School has been all about—from the very first day it opened its doors.