Representatives of government agencies visited Manicani Island to prepare the residents for possible resurgence of jobs when Hinatuan Mining Corp. (HMC), a subsidiary of Nickel Asia Corp. (NAC), resumes the operations of its Manicani Nickel Project (MNP).
Representatives from the Social Security System (SSS), the Philippine Health Insurance Corp. (PhilHealth), and the Philippine Statistics Authority (PSA), came all the way to Manicani in Eastern Samar and met with residents of the island to conduct orientations, respond to queries, and provide updates regarding employee rights and benefits.
The four barangays in the island of Manicani – Banaag, Buenavista, Hamorawon and San Jose – were given the chance to put their business in order when HMC invited and hosted the representatives of these government agencies in the island.
Rosalinda Eguia was one of the many residents who benefited from the visit of the PSA in the island. She and her husband couldn't get married because they both didn't have livebirth certificates and her husband was worried he might not be able to apply for any job because he didn't have that requirement.
"Going to Tacloban or even just Guiuan is so expensive for us, my husband was worried that he won't be able to apply for work when mining resumes, PSA's coming here in the island is a big help, we are very thankful to the mining company for making it happen, maybe next time we can also get livebirth certificates for all our 4 children," Eguia said.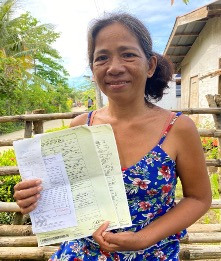 The island of Manicani with more than 3000 population is a one-hour motorboat ride from the mainland of Guiuan, which is 3 hours away by land from Borongan, the nearest business, center in the province of Samar.
The island is also where HMC-MNP is located.
The mining company was recently granted the permit to resume its operations in Manicani by the Department of Environment and Natural Resources (DENR).
Engr. Lito Javar, HMC-MNP Project Manager, said the residents of the island welcomed the reps of the government with hope. They appreciate the efforts of the agencies in coming all the way to the island, with the support, of course, of HMC-MNP.
"The residents of the island, although not all of them will be hired by the mining company when operations resume, understand that economic activities will be heightened and they know that the government agencies were here to prepare them for that eventuality."